Signed, Sealed, Delivered
Customized wedding postage is a perfect way to tie your invitation together for a cohesive look.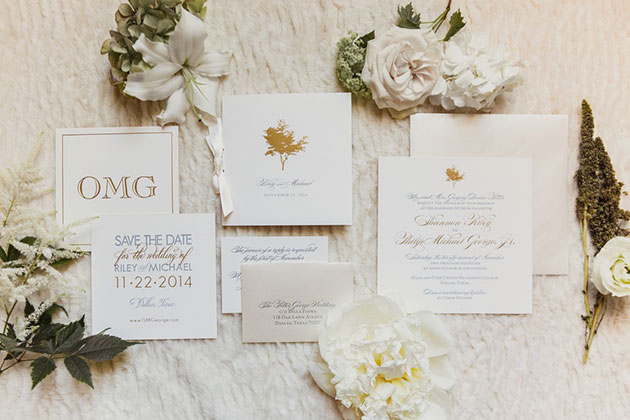 I'm a sucker for good wedding paper.
Well. If we're being honest, I'm a sucker for good paper in general. Wrapping paper. Thank-you notes. Stationery. I've been known to spend a pretty penny on irresistible paper items that end up in the garbage. (I'm totally OK with it!)
When it comes to wedding invitations and save the dates, I'm a firm believer that the first piece of mail your guests receive sets the tone for your big day. Will it be relaxed and whimsical? Will it be formal and glitzy? Will it be a vintage affair with ice cream trucks and lawn games? Choosing the right paper reflects not only the important details of your day (you know – the who, what, when, where, why) but also the attire, as well as general expectations (6 p.m. ceremony means dinner will be served, whereas a ceremony beginning at 3 p.m. usually means hors devours).
One way to add a "stamp" of personality to your invitations is by ordering customized postage. Websites like Wedding Paper Divas, Zazzle, and Ever Mine all offer customizable stamps for about the same price as what you'd pay at the Post Office. It's the first thing guests will notice as they pull your invite out of the mailbox.
Check it out – how cute are these?