South End Beach Week Kickoff, Day Parties, Tritonal DJs, Yacht Party, and More July 12-14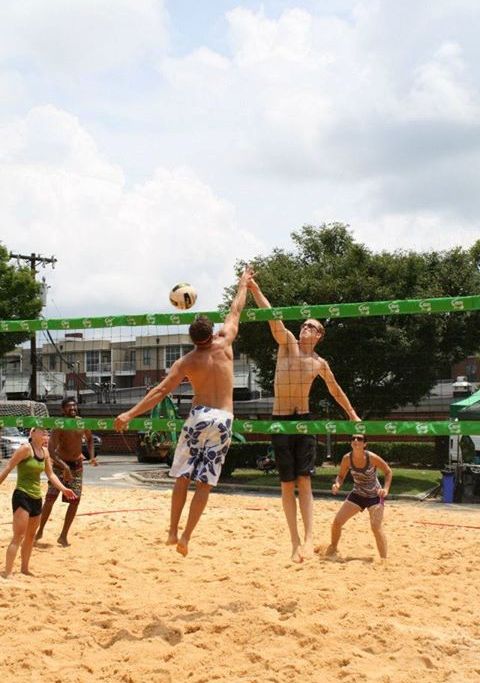 This weekend is filled with social events and parties that highlight that it's summertime in the city. Whether you party on the inside or out, day or night: stay cool, my friends.
South End Beach Week (July 12-21)
Tons of sand have been dumped into the parking lot at All American Pub, transforming it into a city beach. Ten days of events are scheduled, beginning with the kickoff party (Friday, July 12), featuring live bands and DJs, games, and drink specials. The following days will include volleyball, dodgeball, and soccer tournaments, happy hours and parties, and more. Presented by SportsLink and RockHouse Events. Visit SportsLink's website for full schedule.
All American Pub
, 200 E. Bland St.,
allamericanpubclt.com
,
sportslinkus.com/event-calendar
.
Friday, July 12
Friday Night Live (new weekly event)
This live music on the patio series kicks off this Friday and runs through mid-August. This week's band is Sinners and Saints. 7-10 p.m. Free.
StrikeCity
, at EpiCentre, 210 E. Trade St.,
strikecitycharlotte.com
.
Wrecked on Deck: Summer Cruise Giveaway and Patio Kickoff Party
Check out the new patio at this Uptown hotspot, and enter to win a summer cruise. Drink specials: $3 Bud Light Lime and $4 Surfer on Acid. 5 p.m.-midnight.
Whisky River
, at EpiCentre, 210 E. Trade St.,
whiskyrivercharlotte.com
.
Mindelixir Album Release Party
Saturday, July 13
Bliss: Day Party Mixer
This day party offers old and new-school music, a full appetizer, dinner, and dessert menu, cocktails, hookah, and more. Presented by Tailor Myde Ent. and Nit2WinIt. 4-9 p.m. General admission $20; VIP $50; tickets must be purchased online.
505E Restaurant and Lounge
, 505 E. Sixth St.,
the505e.com
,
bliss505e.eventbrite.com
.
Signature Saturdays
Mix and mingle at this posh venue, while you're treated to live jazz by EMF Band, followed by music by DJ Flemingo. Drink specials include $6 martinis, $3 bottled beers, and $99 Moët bottles, and order from the pizza and pasta bar. Presented by Eddietainment. 9 p.m.-2 a.m. Free until midnight; cover charge after.
Vapiano
, 201 S. Tryon St.,
vapiano-charlotte.com
,
eddietainment.com
.
Tritonal
Party to the best in EDM when this DJ duo from Austin bring their Metamorphic Tour to Charlotte. Opening set by DJ Chiments. Presented by Disco Donnie and Sugar Society. 10 p.m. $15-$20 in advance.
Phoenix
, 300 N. College St.,
phoenixofcharlotte.com
,
tritonalclt.eventbrite.com
.
Captain Munnerlyn's Back To Camp NFL Party
The Carolina Panthers cornerback hosts this party with several of his NFL friends. Music by Power 98's DJ Danny Diaz and DJ Ace. 10 p.m. Free before 11:30 p.m.; cover charge after.
Club 935
, 935 S. Summit Ave.,
club935.net
.
Sunday, July 14
Yacht Lift Off
Popular nightclub Label is taking the party to the water. Music by DJ Aeroplane, along with Greg Pappanastos and Nick Spain. A complimentary full bar will be served. A portion of proceeds will go to cancer organization Amped For A Cure. 2-6 p.m.; arrive to the dock by 1:30 p.m. $50.
Championship Charters
, 18665 Harborside Dr., Cornelius,
aeroplaneyachtparty-website.eventbrite.com
.
Summer Freakout 2
Enjoy live music by several local hip hop and R&B artists, DJ Aswell, food, drinks, and a tattoo pop-up shop. Presented by Nameus and Dupp & Swat. 4-8 p.m. $8 in advance.
Chop Shop NoDa
, 399 E. 35th St.,
chopshopnoda.com
,
summerfreakout.eventbrite.com
.
Verify dates, times, prices, and other info at the web addresses listed for each event.
Be sure to bookmark www.charlottemagazine.com/Blogs/Dusk-Till-Dawn to stay plugged into Charlotte nightlife. Follow me on Twitter @HollidayInk; email me at jarvish@grownpeopletalking.com.