South End, Charlotte's Furniture Row
A guide to navigating historic South end's furniture shops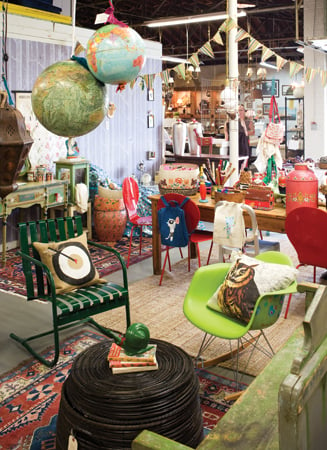 Historic South End has transformed from a textile and manufacturing district into Charlotte's prime design destination. Today it boasts an array of eclectic and classic findings that span the design spectrum, from contemporary to traditional. Now with more than 125 design and home furnishing businesses, South End links Charlotteans to artisans and designers from around the world.
POST & GRAY
Two and a half years ago, Interiors Marketplace owners John and Kelley Vieregg narrowed in on an unmet need for Charlotteans—a place for merchants to sell their unique and creative collections at an affordable price. Scour items like iron sconces, area rugs, vanities, wall clocks, vintage one-of-a-kind baker's racks, original artwork, ottomans, and more. Prices range from as low as $5 up to the highest point of $8,500.
WHAT WE LOVE:
Find discounted drapery panels and table skirts up to 80 percent off.
WHERE:
2139 South Tryon Street
Charlotte, NC 28203-4957
(704) 332-2252

Each piece at this South End storefront is built entirely from reclaimed wood found in American barns, covered bridges, and sawmills. Found mainly in Northern Virginia and Pennsylvania, most of the wood is white or yellow pine and sometimes hardwood and between eighty and 200 years old. Each piece is handmade and finished in-house. From benches and dressers to kitchen tables, these classic rustic furnishings, which can be custom ordered, are each one-of-a-kind.
WHAT WE LOVE:
Cross sections of trees are perfect for center tables. The owners recently made a six-foot dining table from a black walnut cross section ($2,600).
WHERE:
120 West Worthington Avenue
Charlotte, NC 28203-4418
(704) 333-0339

Inside this South End shop are pieces from France, Italy, and Scandinavia. With iron demilunes, Italian multitiered chandeliers, nineteenth-century French buffets, petrified wood tables, and more, owner LaDonna Harris and her associates offer an elegant selection to complement your home. Harris often finds her exquisite pieces in Atlanta, where she's invited by showrooms like Don Scott to get first dibs before shows.
WHAT WE LOVE:
Unlike many designers, who hop across the Atlantic once or twice a year to scour European flea markets, Harris relies on domestic vendors to do the searching and buying with her taste in mind.
WHERE:
2216 Hawkins St.
Charlotte, NC 28203
704-375-0082
Inside this warehouse, you'll find affordable and luxurious furniture, fabrics, and rugs. There are hundreds of pieces to choose from in an array of styles. From Century armoires, loveseats, and cabinets to worldly rugs, dining chairs, and sectionals, Boulevard Bazaar is your one-stop destination to furnish every room in your home. Here you can choose from North Carolina lines like Highland House, Woodbridge, and Century.
WHAT WE LOVE:
The upholstery services are excellent. With a four- to six-week turnaround time, you can choose from thousands of beautiful fabrics to create stunning drapes or sofas. And although it's only open Friday through Sunday, every second Thursday of each month, Boulevard is open to the public with more than a thousand fabrics, including Oscar de la Renta, and priced between $1-$12 a yard.
WHERE:
3021 Griffith Street
Charlotte, NC, NC 28203
(704) 527-4223
More than just a retailer, Abode is a full-service interior design firm where owner/designer Mary Tobias Miller demonstrates her refined and ingenious taste. Boasting a transitional style, Miller offers an eclectic yet neutral collection of furniture, lighting, original artwork, linen, and accessories. From sunburst mirrors and oyster shell candleholders to hurricanes and consoles, Miller's finds, which come from European flea markets as well as all over the United States, mix well with any décor. You can find John Robshaw, Julie Neill, Oly, Noir, Bungalow 5, and more.
WHAT WE LOVE:
With Miller's discerning taste for unique treasures, there's just not enough room, so she expanded next door, providing a greater selection for your every design desire. Here you can find more studio-style furniture, area rugs, and a good bed and linen selection.
WHERE:
201 W. Worthington Ave.
Charlotte, NC 28203
704-332-3731
Here you'll find a great mix of styles in furniture, lighting, accessories, and art from designers like Dovetail, Four Seasons, Hooker, Paladin, and Caracole. Its inventory includes wooden consoles with wrought-iron bases, beautifully constructed sofas, étagères, and more.
WHAT WE LOVE:
Create symmetry within your home by doing a little coupling. Add a handsome pair of Barbara Cosgrove horse head desk lamps ($200 each) to a center console.
WHERE:
2905 Griffith St.
Charlotte, NC 28203
(704) 523-3163
Here you can find contemporary pieces with European design and American scaling in mind. A vast selection of desks, cabinets, and tables are available, and you can choose from a number of low-seating sectional couches, beds, and chairs in a variety of styles. For instance, you can find a vinyl leather lounge chair with a chrome frame for $798 or an accent glass-top table with an arc chrome stand for $118.
WHAT WE LOVE:
By Design offers a great selection of sleek furniture and works with manufacturers from around the world, which means you can find international pieces that won't put a dent in your wallet.
WHERE:
2130 South Boulevard
Charlotte, NC 28203
(704) 342-4600
This fine-home-furnishings consignment shop offers an eclectic mix of new and antique pieces, including vintage French mirrors, floor lamps, secretaries, mink stoles, glassware, and more. And although most merchandise is sold on consignment, Southend Exchange does add a few pieces from outside reps.
WHAT WE LOVE:
To keep merchandise moving, prices roll back as time elapses. But just like at auctions, if you wait too long to get your hands on these treasures, they'll be sold to the highest bidder.
WHERE:
1616 Camden Road
Charlotte, NC 28203
(704) 353-4600
This 7,000-square-foot eclectic storefront boasts a collection of highly customizable, American-made furnishings from designers such as Annie Selke, Thom Filicia, and Michael Weiss. A lot of inventory is between 40 percent and 50 percent off manufacturers' retail prices. High Cotton also offers an array of upholstery fabrics by Hickory's Vanguard Furniture, all of which are eco-friendly.
WHAT WE LOVE:
Today customization means everything. Since all of High Cotton Home's wooden pieces are made in North Carolina, you have more than fifty finish options to choose from.
WHERE:
2137 South Boulevard #100
Charlotte, NC 28203
(704) 335-1220