Specialty Cocktails Highlight the Bar at La Tagliatella
Upscale Italian restaurant and bar has recently opened at the EpiCentre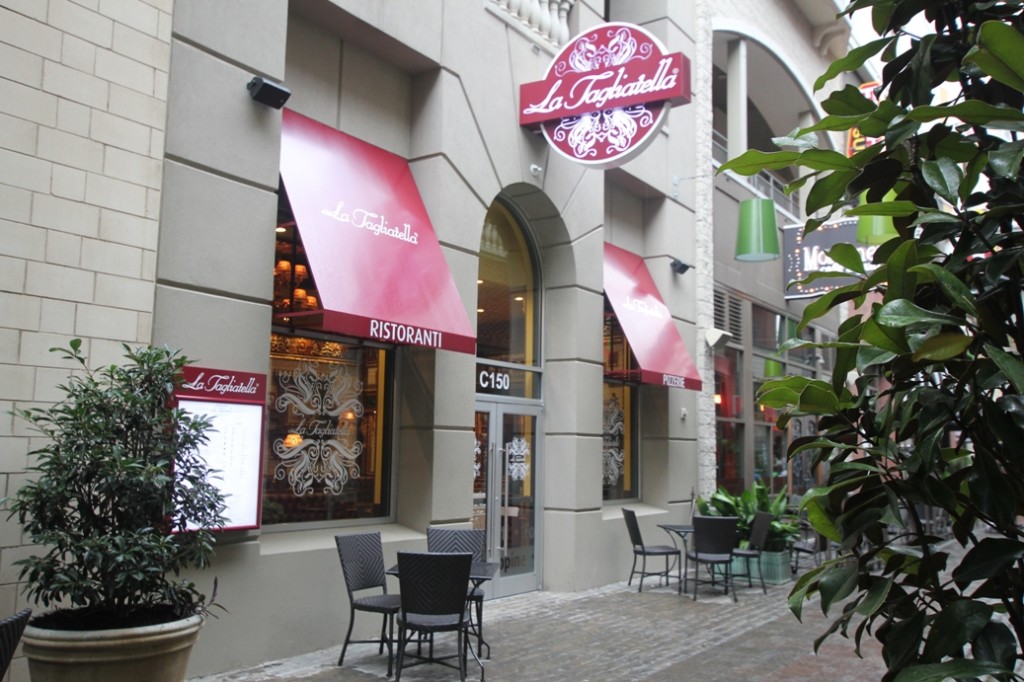 There's a new TV
commercial
by automaker Fiat that declares "the Italians are coming." The minute-long visual is clever, witty, sexy, and plays off a piece of American history (Paul Revere). By the time the commercial ends, the Italians have arrived (much to the delight of the women). Well, in a nonfictional role, the Italians have arrived at the
EpiCentre
as well, in the form of
La Tagliatella
, a fine dining Italian restaurant and bar.
La Tagliatella opened a few weeks ago in a previously unoccupied space on the first floor of the EpiCentre (next to Mortimer's on one end and across from StrikeCity on the other). It's an authentic Italian restaurant with an attractive menu of salads, pastas, pizzas, and other dishes such as pork tenderloin and filet mignon. But since this is the Dusk Till Dawn blog, I'm going to highlight one of its features in particular: the bar.
First off, the entire space of the restaurant has been beautifully built out: rich woods and leathers, dark reds and golds, vintage chandeliers. It appears to have similar décor to the other four La Tagliatella locations in the U.S. (two in Atlanta and one each in Miami and Arlington). The franchise is largely located overseas, where there are more than 130 La Tagliatella restaurants in Europe, Asia, and India.
So about the bar, you'll want to stop in here even if you aren't staying for dinner. The reason is because of the specialty cocktails. There are about 10 of them on the menu, each served with top-shelf liquor and fresh ingredients. On Wednesday, I attended the Media Night event La Tagliatella hosted, and had the opportunity to sample four of the cocktails:
Sangria Emilia: cabernet sauvignon, blood orange syrup, pineapple juice, brandy, fresh blackberries.
Limoncello Collins: gin, Limoncello di Capri, simple syrup, basil.
Pastrocchio di Mora: Buffalo Trace Bourbon, Tuaca, fresh lemon, blackberries, mint.
Tiramisú Tini: vodka, Patron XO Café, amaretto, cream, espresso.
Each of the drinks was pleasing to the palate—the Pastrocchio di Mora and Tiramisú Tini were my favorites. Another thing that should appeal to you is the price of the cocktails—each is $9 or less. You'll easily pay $11 or $12 for these types of drinks at other Uptown establishments. The drink menu also features about 40 wines and a handful of regularly stocked beers plus a selection of seasonal craft beers.
There are numerous windows surrounding the bar, so you can get a pretty good view of what's going on outside at the EpiCentre. And if you want a better view, you can get even closer to the action by sitting out on La Tagliatella's patio (
pictured right
). The patio, which is off of the EpiCentre's courtyard, has a bar counter that lines up against the windows of the interior bar.
The general manager told me he plans to bring in live music (acoustic artists, soloists) from time to time. Overall, I think La Tagliatella is a great addition to the EpiCentre, and I'm interested in seeing how it carves out its niche.
Be sure to bookmark www.charlottemagazine.com/Blogs/Dusk-Till-Dawn to stay plugged into Charlotte nightlife. Follow me on Twitter @HollidayInk; email me at jarvish@grownpeopletalking.com.