Standout Dishes from Taste of the Nation
See some of the best offerings from chefs at the No Kid Hungry benefit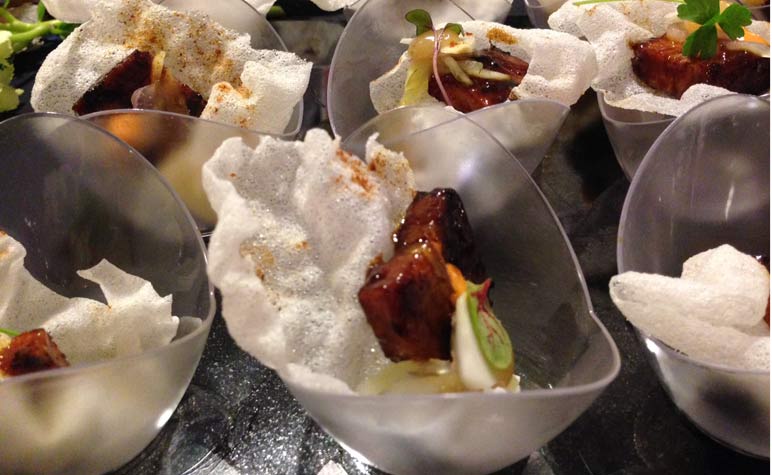 Last night, Charlotte's Taste of the Nation brought together chefs from nearly two dozen restaurants to give attendees a taste of their style. Despite having very little prep space, the chefs pulled together some pretty impressive dishes. Pork belly seemed to be a theme of the night, popping up frequently in the Two Wells Fargo atrium. Here are a few standout dishes.
300 East brought a trio of desserts to their display at Taste of the Nation. There were chocolate and lemon bite-sized delights, but it was this vanilla custard with fruit that stood out. The colors, texture, and flavors all came together in a beautiful plating, even though they were being consumed pretty rapidly.
Baku's wagyu beef rolled around pickled diakon with white truffle oil was a great representation of the restaurant's style. Artfully displayed, this dish was something you could eat in one bite—and you'd return for more. The roll won the restaurant an award for the best cold dish of the event.
Midwood Smokehouse had one of the most filling courses of the night, with mac and cheese covered in chopped brisket. It's not on the menu at the restaurant, but order a side of mac and cheese and a side of brisket, and you've got the ingredients to put together this hearty treat. This team also won an award for best display, using firewood to hold their brisket over an array of candles.
My personal favorite was Gallery Restaurant's creative serving of pork belly. The chefs behind The Ballantyne Hotel's restaurant cooked up rice crisps to hold a bulgogi-style pork belly, pickled vegetables and a kimchi garlic puree. The resulting bite was a complex crunch with complementing flavors and varying textures.