Star Pitmaster Bryan Furman Returns to Charlotte
His road from rural South Carolina to Charlotte's North End to international fame has swung him and his barbecue back to the QC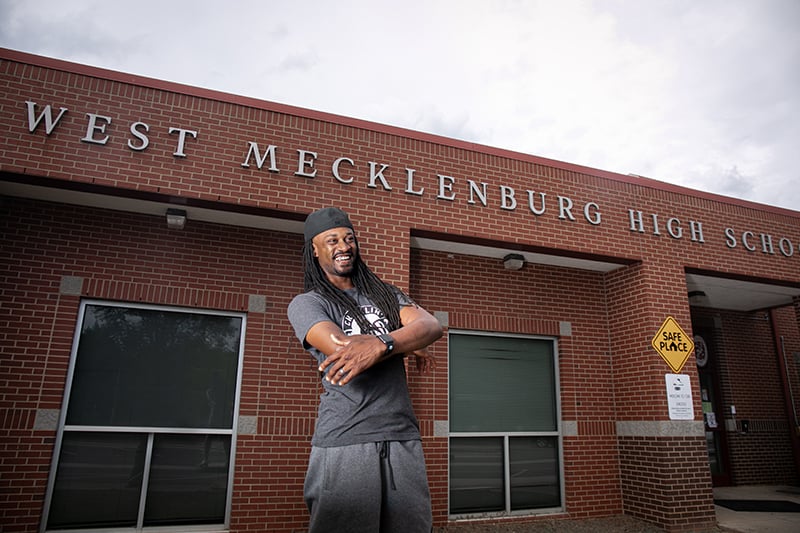 IF YOU PAY ATTENTION to the barbecue world these days, you may already know the name Bryan Furman.
The Georgia-based barbecue star has been written about by national publications like Bon Appetit and Southern Living. He was named to Food & Wine's 2019 list of best new chefs, a first for a pitmaster. In August, he cooked at London's Meatopia, the international meat festival that drew chefs like Calvin Von Niebel of Ottolenghi.
When Furman's Atlanta restaurant, B's Cracklin' Barbecue, burned in March, barbecue stars from around the country rallied to help him rebuild. Their efforts included a March 30 fundraiser in Houston that brought together storied cooks like Wayne Mueller of Louie Mueller Barbecue in Texas and Elliott Moss of Buxton Hall BBQ in Asheville.
In the low-and-slow barbecue world, Furman is hot and climbing fast. So what's he doing driving around Charlotte, looking at real estate? It's simple: Bryan Furman wants to come home. That means Charlotte, the place he considers his hometown. And, yes, he wants to bring his barbecue with him.
"I'm not saying I owe something to Charlotte," he says. "But at least I can come back and bring something."
***
IN THE BARBECUE WORLD, fame usually gathers around grizzled men who are a lot older than Bryan Furman. A lot older—and white. But the national barbecue conversation is changing, and African-Americans are finally getting long-overdue credit for their contributions, both in the past and in what's being cooked today.
Many watchers of the national barbecue scene cheered when South Carolina pitmaster Rodney Scott won a James Beard Award as the best chef in the Southeast in 2018, an award that many saw as signaling new respect for both African-American chefs and for pitmasters. Scott wasn't the first pitmaster to win a James Beard Award as best chef—that was Aaron Franklin of Franklin's in Austin. But Scott—and now Furman—aren't in the conversation just because they're African-Americans. It's also the kind of cooking they do. Furman uses heritage-breed pigs instead of industrially raised pork and is devoted to cooking over wood. It's about raising the level of barbecue from a cheap sandwich to serious food.
Furman is 38 but looks younger, with long, thin dreadlocks pulled into a bunch at the back of his head and a neat goatee. When I meet him at King's Kitchen to talk about his Charlotte roots, he arrives with his wife and business partner, Nikki, and his best friend from West Mecklenburg High School, Illia Hayes, who now works as the chief operations officer of B's Cracklin'.
Furman isn't a native of Charlotte. He was born in Columbia, South Carolina. But that was only because that was the nearest hospital, he says. His extended family is really from the area around Cassatt, "basically in the country." His grandmother had eight children, and some of them lived in the area, farming, raising hogs—and cooking lots of barbecue.
Furman was four when he saw his first hog killing. That's what people in the country did. Everyone raised hogs, and in December and January, when the weather was cold enough, they would work together to slaughter them and fill their freezers. Barbecue was what everyone cooked and ate in the summer, or what they'd buy from small local places.
In 1990, when Furman was nine, his parents did what other people in the family had already done: They moved to Charlotte to find work. There weren't many jobs around Cassatt. His father became a truck driver, and the family got an apartment in the Double Oaks neighborhood off Statesville Road. Furman started the fifth grade at Lincoln Heights Elementary.
Life in Charlotte's predominantly African-American neighborhoods wasn't easy for a black kid from the country. Until the city focused on new developments like Brightwalk, Double Oaks was one of the city's poorest neighborhoods.
It was frightening, Furman admits today. The adjustment to life in a big city was tough, and he struggled with anxiety and other health problems.
There were good memories, too, though, of trips to Golden Wok for Chinese food and Price's Chicken Coop for fried chicken. One of his best memories was the chopped pork and barbecue hash his family would eat on trips to South Carolina. "He always said Charlotte had no barbecue," Furman remembers his father saying.
"If you grew up in Charlotte, you had Bill Spoon's and Sonny's," Furman says with a laugh. "It was Lexington and Eastern North Carolina that you heard about."
Furman's family moved around town several times, but he made a lot of friends, particularly at West Meck. His parents recently moved to Florida, but for years after he grew up and moved away, his mother was constantly running into people who knew him.
***
WHEN FURMAN GRADUATED from West Meck in 1999, he knew he wasn't going to college. His father had always told him that if he wasn't going to college, he'd better learn a trade. Furman had always been artistic and loved drawing, so he became a welder. For 10 years, he bounced around Charlotte and the South—Cassatt, South Carolina; Suwanee, Georgia; Atlanta, Savannah.
In Savannah, he met Nikki and he was ready to come off the road. Her family worked in the food business, and Furman had always liked to cook. In 2012, he and Nikki took a chance and looked for a location to open a small barbecue restaurant.
When Furman told his father he wanted to cook barbecue, he wasn't impressed.
"He said, 'What's going to make yours different?' I'm like, 'Different? It's barbecue!' I'm about barbecue being the meat, with the sauce on the side. It's my style."
The Furmans found a spot in a small neighborhood in Savannah and opened in 2014. Despite the location, the first B's Cracklin' took off quickly. Then, eight months after they opened, a faulty soda machine blew up in the middle of the night and set off a fire. The building was a total loss. But Savannah fans rallied around them, and they reopened quickly.
When Atlanta rapper Killer Mike, who encourages black community investment as part of his message, tried Furman's barbecue, he became such a fan that he pushed the Furmans to open in Atlanta.
It was a tough decision: "It's hard enough to run two locations in the same town," Nikki says. "Two locations four hours apart?"
But they did it, opening in Riverside, an outlying neighborhood on the West Side of Atlanta along the Chattahoochee River. That's when things really got crazy. Martha Stewart became a fan. Bon Appetit wrote about him. He started working with Erika Council, the granddaughter of the late Mildred "Mama Dip" Council, to host biscuit popups on Saturday mornings.
Furman still shakes his head at it all. He doesn't consider himself a chef, or even a pitmaster for that matter. If you ask him what he is, he'll say "an entrepreneur."
That's what's saving him now. On March 6, the Atlanta location caught fire in the middle of the night and burned to the ground. Furman is moving fast, trying to keep his business alive and his employees working while he scouts for a new permanent location.
He has a location at State Farm Arena, home of the Atlanta Hawks, and he's working on a deal (he can't yet share the details) to get a temporary location in Atlanta. In what little spare time he has, he's been making trips to Charlotte, looking for a spot to open here.
It may have to wait until his Atlanta restaurant reopens, but Nikki Furman doesn't doubt it will happen. Her husband has always had two things going for him, she says: "Persistence. And resilience."
***
WITH ALL THAT GOING ON, why is Furman so interested in coming back to Charlotte?
Partly it's about community, he says.
"It's like when you go away from home and bring something back with you. A lot of people who leave home never come back." In Savannah and in Atlanta, he says, he found community around barbecue.
In Charlotte, he says, he already has a community. Now he wants to bring barbecue to it. "Charlotte is a city that supports their own," he says. "How many great chefs came here and didn't make it?" And partly, he admits, it's because Charlotte is a different place than it was when he was a kid.
On one of their trips back to town, the Furmans and Illia Hayes ended up at the Midnight Diner near uptown and ran into a group of old friends from high school. It was special, meeting up with people he had known, in a town that has grown up.
When they left, he told Nikki, "I can come back now."
"I felt at home," Furman says. "I felt welcomed back. I've been gone so long."
KATHLEEN PURVIS is a longtime Charlotte food journalist who writes extensively about barbecue and Southern regional cuisine.