Star Power: e2 Emeril's Eatery
The new restaurant from celebrity chef Emeril Lagasse opens uptown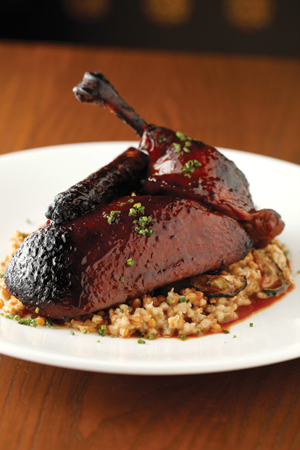 The evening crowd at e2 Emeril's Eatery, the new casual-dining destination from celebrity chef Emeril Lagasse, is surprisingly diverse—perhaps a nod to the TV cooking star's universal appeal. In the dining room, divided in half by a decorative glass wall, a table of lively college students sits next to an older couple enjoying a quiet meal, while a few feet away, a group of women laughs over cocktails. And while the chef's food bar—arguably the best seats in the house if you enjoy watching a professional kitchen at work—is empty, there are bonus views straight into the bustling kitchen from nearly every seat. A bar area with flat-screen TVs and a sports bar feel opens into the unfussy dining room, with a combination of high-tops, regular tables, and banquettes. Broad windows overlook Levine Avenue of the Arts, which is nice—except when the large screen on the side of the Knight Theater projects blindingly into the restaurant.
The menu from Chef de Cuisine Justin Sells, who has previously worked in Lagasse's restaurants in New Orleans and Orlando, is just as eclectic as the patrons. A raw and chilled menu gives way to a seafood-heavy selection of starters, followed by salads, a roster of Southern-inspired entrées, and finally steaks. Shaved Iberico Ham Two Ways ($14) and Barbecued Niman Ranch Lamb Ribs ($12) keep company with shrimp cocktail ($12) and a New Orleans-style gumbo of the day ($8) on the starters menu. Although the prices feel upscale, the atmosphere is stubbornly casual, with servers in jeans and plaid button-downs. It's easy to overlook this disconnect when the service is prompt and the servers are knowledgeable, even down to the details of the farm that grew the microgreens atop the Scottish Salmon Crudo ($10)—Tega Hills Farm in South Carolina.
Despite the somewhat scattered menu, there are plenty of tempting options. A Ceviche Avelar ($9) is delicate and refreshing, if small. The Citrus Tea Lacquered Five-Day Duck ($30) with slow-cooked farro, stir-fried zucchini, and shiitake mushrooms, is tender and buttery, but missed a contrasting crispness in texture. The Herb Roasted Ashley Farms Chicken ($22) is juicy and sweet, a generous portion on a bed of baby carrots, marble potatoes, and creamy Sea Island red peas.
As a lunch spot, e2 holds the most promise: servers are efficient, and the casual-but-upscale atmosphere is a good match for a business-minded lunch crowd. But given the recent addition of patio dining (a great spot for sipping a signature cocktail like the Prickly Moon, a mixture of moonshine, prickly pear juice, hibiscus syrup, lime juice, and maraschino liqueur), complimentary valet service, and a chance for the menu to mature, it's a welcome addition to the uptown dining scene.
Location:
135 Levine Avenue of the Arts, Ste. 100
704-414-4787