State of Confusion: All Mixed Up in LoSo
State of Confusion is a hodgepodge of cuisines, cocktails, and decor.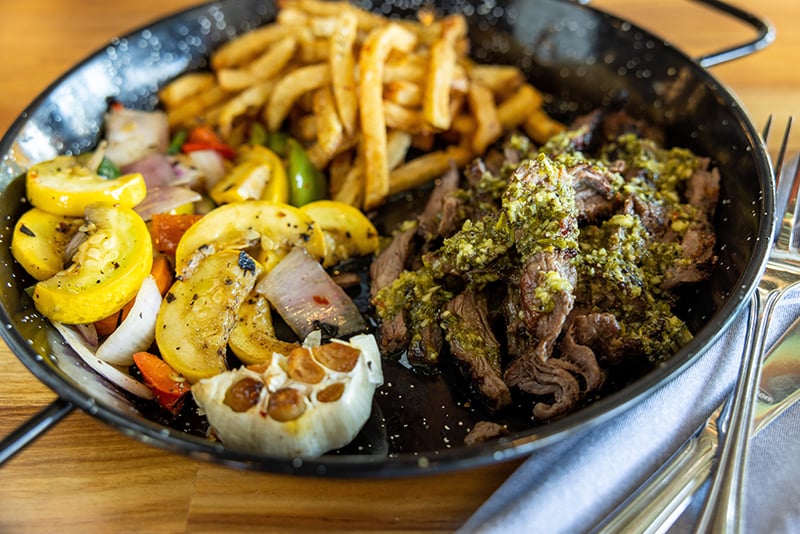 From the DeWitt Lane side, with its modern black window frames, doors, and railings, State of Confusion looks like one of the many refurbished brick buildings in South End. Along the right wall is a Nick Napoletano mural that depicts two children emerging from a dream. From Clanton Road, it looks like a shipping container reinforced by steel beams with garage doors that open to a dog-friendly patio. And the globe lights? Yeah, those are mermaid sconces.
At the hostess stand, patches of diagonal wood siding flank the entrance, and an outdoor staircase leads to the rooftop patio. Upstairs, people watch a Charlotte FC game on the flat-screen behind the bar; off to the side are two cabanas where guests sip margaritas and snack on ceviche and egg rolls.
State of Confusion is a fitting name for this restaurant and bar, which opened this spring in LoSo. (That's what the cool kids call Lower South End these days.) The mismatched, repurposed decor echoes its flagship location in Chattanooga, which opened in 2018 inside a former salvage yard called Estate of Confusion.
The menu is deliberately incoherent, with influences from Peru, Florida, south Louisiana, and the low country. The diversity grabs your attention, but this restaurant masters none. The unexpected combinations are the whole point, and peculiar pairings are encouraged. Order Peruvian Paella with Ranch Water, Jambalaya with a Sugarcane Mojito, or Wood Fired Steak Skewers with Chicha Morada.
On a clear night, grab a table on the patio beneath the string lights, play some oversize Connect 4, or enjoy a cocktail by the fire pit. Nothing wrong with the interior—it's got a mix of high-top tables, wood booths that look like picnic tables, graffiti wallpaper, and another bar made of more shipping container remnants—but food just tastes better outside.
Start with a Draft Margarita ($12) or Machu Picchu ($12), a take on a pisco sour with Chilean pisco and hibiscus-raspberry-pomegranate-matcha green tea syrup. Or go to the walk-up bar for a Sugarcane Mojito ($12) and watch the bartender extract the nectar from the sugar cane stock grinder. The drinks come out fast, but they get watered down after the first two sips.
Executive chef William "Bill" Heckler and his team traveled to Peru, New Orleans, Miami, and Charleston to develop the menu. It has six ceviches, which Heckler learned to make in Lima. If you can't decide on one, go for the Ceviche Sampler ($29.95), with a mix of Mexican, Peruvian, Fried, and Avocado Mahi.
Other bar snacks include Fried Beef Tacos ($10.95) and Potato Chip Nachos ($13.95). The most surprising (and popular) appetizer is the Savory Monkey Bread ($9.95). This isn't the sweet, gooey, pull-apart bread you see at holiday parties. Instead of cinnamon and sugar, these bread knots are layered with three types of cheese, baked in an iron skillet, and topped with green onions, seasoning, and more bubbly cheese. You can get after it with your fingers, but it's best to use a knife and fork. This one can get messy.
The South American-inspired eats also include Peruvian Pesto Shrimp Linguine ($23.95), Plancha Chicken ($18.95), and Peruvian Paella ($26.95). While State of Confusion's ceviche game is strong, the entrées taste more "fusion" and less complex than the dishes at Yunta, the Peruvian Nikkei restaurant a few blocks away on South Boulevard.
The Jambalaya ($23.95) is fine but will hardly transport you to Bourbon Street. The Skirt Steak Chimi ($24.95) is served nice and rare with tangy green chimichurri and a heap of fries. For vegetarians, there's Stuffed Sweet Potato ($15.95) and Vegan Ceviche ($14.95). For dessert, they've got Beignets ($5.95), Peruvian Lucuma Ice Cream ($5.95), and Mini Snickers Pie ($4.50).
State of Confusion's menu is ambitious, but nothing stands out as the best you've ever had. It's a collision of too many cuisines that leaves you feeling like they lost the plot. But it also has a fun, "anything goes" attitude and doesn't take itself too seriously. The service is stellar, they've got seating for more than 500, and if they're really slammed, you can order a drink at the walk-up window while you wait for a table.
On a Saturday night when every other brewery and restaurant on the block has a 45-minute wait, this makes it easier to forgive a meal that doesn't blow your taste buds away.
TAYLOR BOWLER is the lifestyle editor.
---
3500 Dewitt Lane
Hours:
11 a.m.-midnight, Monday-Thursday
11 a.m.-1 a.m., Friday
10 a.m.-1 a.m., Saturday
10 a.m.-midnight, Sunday
KNOW BEFORE YOU GO:
Street parking is limited, and the restaurant's gravel lot doesn't hold many cars, so consider a ride-share.