Stay cool during your summer wedding
Temperatures are rising and it's only getting hotter! Here's how to stay cool on your big day.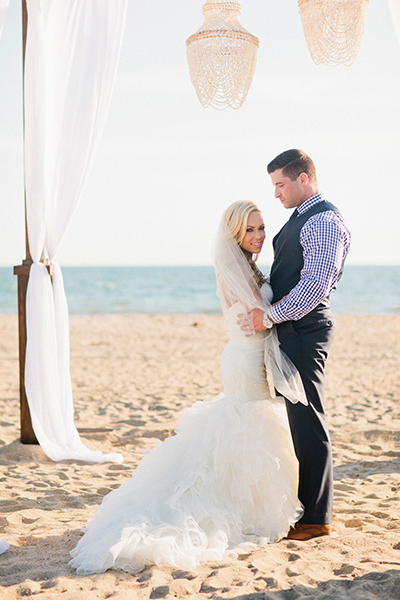 No one wants to see a bride with sweat rings but sometimes, it's hard to keep from "glistening" especially when you're getting married outside in North Carolina during June, July or August.
Preparation is key when it comes to keeping cool during your big day. We love outdoor weddings and it's hard not to swoon over photos with blue sky backgrounds and blooming roses, but make sure to prepare for temperatures that could reach 90 degrees.
Mind these tips to make sure your wedding is enjoyable from start to finish – no dripping bronzer or sweat rings allowed!
Choose a dress with lighter fabric. Sticking to a lighter fabric such as chiffon or tulle will look beautiful during a summer evening but also keep air circulating so you don't overheat.
Save your lingerie for later. We know, there's something romantic about wearing your wedding night lingerie underneath your dress but wearing something lighter and more comfortable will keep you cool and prevent your lingerie from getting sweaty or out of shape.
Drink water. Begin drinking water from the moment you wake up and keep a water bottle on hand to stay hydrated. Don't forget to keep chugging post-ceremony as well, since you'll likely be dancing and sipping champagne.
Consider airbrush makeup. OK, so it's a little pricier but it's worth considering for an outdoor wedding. Airbrush makeup usually stays in place for 16 hours and is waterproof so sweat (and tears) don't stand a chance. As an added bonus, you'll love the way the matte finish looks in photos.
Get shady. If possible, plan your ceremony or reception near some sort of shade, whether it be a stand alone building, barn or tent. You (and your guests) will need somewhere to escape from the sun's rays.