Stegall Smoked Turkey: A Secret Family Recipe More Than 70 Years Old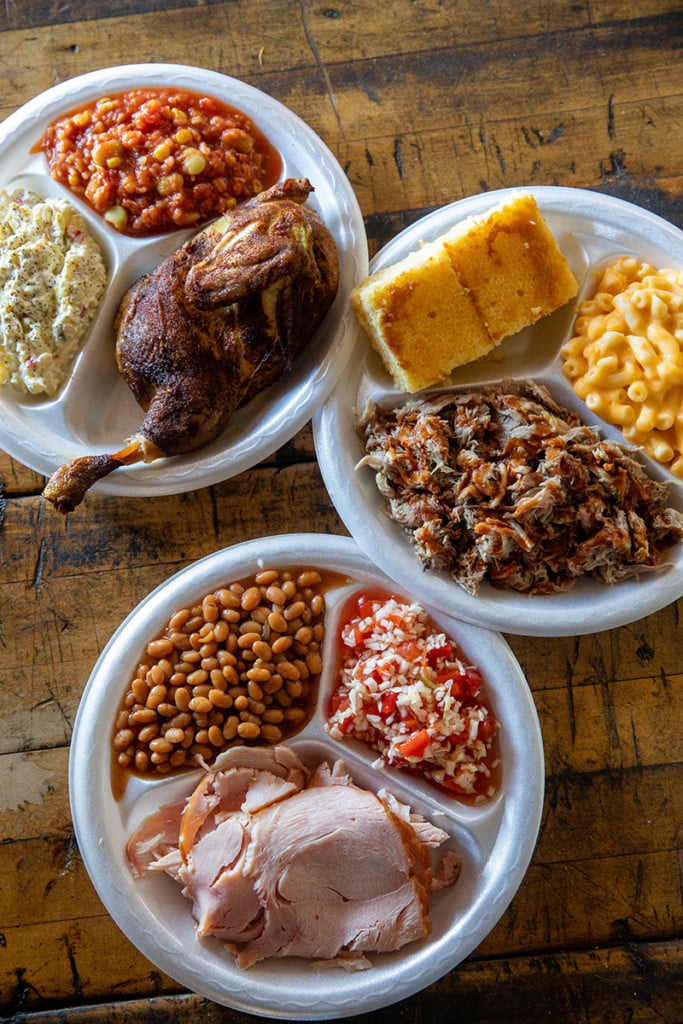 THE WOOD BUILDING looks like an old Western saloon. Above the rust-red awning there's a "Stegall Smoked Turkey" sign, its letters in all caps in mustard yellow. On the porch, a starred and striped "God Bless Our Veterans" sign leans next to the front door. On the opposite side, there's a decades-old Cheerwine bench. A friendly bell chimes as I pull the door open.
Don Stegall and Ceilia Talbert are sitting in a booth across from a customer in the wood-paneled dining room in Marshville, a town about 35 miles east of uptown. The brother and sister have worked for the business for more than 40 years and took over ownership when their father retired in 2003.
Don, who's at least six-foot-four, is dressed in blue jeans and a polo shirt. He gets up to greet me and asks what I want for lunch. "Anything you'd like," he says. I decide on a smoked turkey plate, with baked beans, mac and cheese, and a side of banana pudding. The thinly sliced turkey has a glazed, crusted edge, and each bite offers a delicate balance of smokiness and tenderness.
Black-and-white photographs hang on the walls. One by the front door captures a young Robert Stegall (Don and Ceilia's father) in black wayfarer-style eyeglasses and a baseball cap, standing by a rack of hanging turkeys.
Robert started smoking turkeys in the late 1940s after returning from Germany, where he served in World War II. Ceilia tells me he was a paratrooper in the 82nd Airborne and parachuted in the Battle of the Bulge. "After the war ended and Berlin was occupied, they left soldiers there, I guess to keep the peace," she says. "My dad stayed with a German family who had a huge oven fireplace in their home. They hunted pheasants, and would place them on hooks above the fireplace, slow smoking them with a dry marinade made from a variety of spices."
When he got back to Marshville, Robert started working with his father at a processing plant where Armour & Company—a big name in the meatpacking industry—was leasing freezer space to store turkeys. Robert, who kept telling his dad about how good the pheasants were in Germany, started experimenting.
"Daddy just kind of piddled around with it at first," Ceilia says. "He built a little smokehouse on some acreage that my grandfather had out in the country. I don't think he really meant to start a big business at first."
Instead of a fireplace, he smoked turkeys in an old-fashioned smokehouse with natural hickory wood. The marinade, I'm told, is a secret family recipe, still used today. "Sugar and spices," Don tells me, smiling. That's all the information I can pry out of him. "It's a dry rub," he says. "Our turkeys marinate for several days and then they're wood-smoked at a low temperature for 13 to 14 hours at a time. A lot of people now don't use wood smoke. It's messier, and it's harder to clean up. But it's better quality. Liquid smoke is just not the same."
Don says his dad spent almost four years perfecting the process before he ever sold a turkey. He opened a storefront in 1960 and the business continued to evolve later, adding glazed hams to the menu. Don and Ceilia concentrate on the turkey and ham side of the business, which is busiest in November and December. Around the holidays, they often work 12-hour days to get turkeys and hams shipped out to customers across the country.
Don's daughter-in-law, Caroline, manages the restaurant side, which opened in 2009. "My dad always told me not to get into the restaurant business," Don says. "We had people coming in all the time saying, 'How come you don't you do smoked turkey sandwiches?' and he'd always look at me and say, 'Don't you ever go into the restaurant business. You don't want to go down that road.' Well, he passed in 2008, and in 2009 we opened up the restaurant side."
Today, the family's Rock Store Bar-B-Q is a small chain, with locations in Waxhaw, Mint Hill, Locust, and Stallings. At the Stegall's Rock Store in Marshville, everything is prepared on-site daily, from the smoked turkey, pulled pork, and beef brisket to the fixings, like baked beans, corn bread, Brunswick stew, and coleslaw.
Sitting in the casual dine-in restaurant, I notice a wood-carved sign above the refrigerator, where sealed turkeys are stored. The sign is etched with a saying from Marceil, Robert's wife, who passed away a few years after he did: "A cheap smoked turkey is not good. A good smoked turkey is not cheap. We sell a good smoked turkey at reasonable prices." Though some things have changed since the 1940s, and since that sign was made, many things at Stegall Smoked Turkey remain the same—including that old-fashioned smoked turkey recipe.
---
IF YOU GO
Stegall Smoked Turkey
6608 E. Marshville Blvd., Marshville
704-624-6628