Step into spring with fun favors
Looking for an out-of-the-box favor to present guests on your big day? Look no further.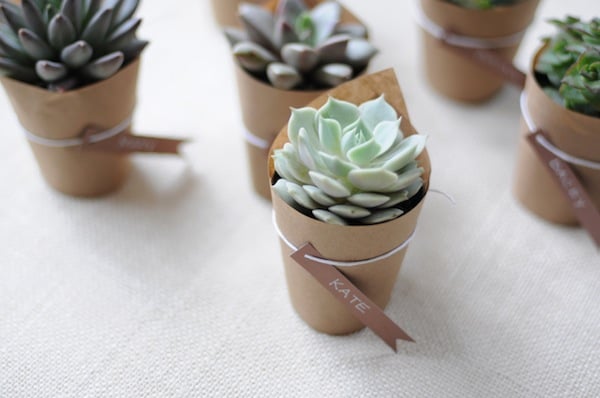 I get asked this question all the time – "Do we have to give out wedding favors?" Simply, the answer is no. It's an easy way to cut excess costs if you're on a tight budget. On the other hand (and I'm a little biased), favors are a great way to incorporate your theme and personality into the big day. They're also a small way to thank your guests for their involvement in your life and making an effort to celebrate you and your hubby.
If you want to give out favors but don't know where to start, here's my No. 1 tip:
Don't waste money on things people don't want.
When it comes to finding wedding favors, stick to these two simple rules:
Make it useful
or
Make it edible
In the last few years there has been a huge trend in edible wedding favors and it's still a fabulous way to treat your guests. A few weeks ago I attended a wedding where a couple, who shared a mutual love for glazed Krispy Kreme donuts, sent guests home with a donut at the end of the night. (I may have taken two…)
With warmer days heading our way and as I'm pulling my Kate Spade peep-toe heels out from hibernation, we've gathered a few spring-worthy favors sure to have your guests leaving on a sweet note.
Marshmallows – Check out www.wondermade.com for springy flavors like lemonade, carrot cake and strawberry.
Mini potted succulents – These tiny plants are perfect for spring and easy for guests to transport. Limit them to one per couple to keep it from getting pricey.
Homemade jam – Springtime means fresh strawberries, blueberries, blackberries and more. Send guests home with some fresh jelly or jam.
Mini champagne – Even after a night of celebrating, who doesn't love a bottle of bubbly?
Macaroons – These delectable French treats come in pastel colors and are perfect if you're looking for a favor with class (and taste)!