Steven Watkins: The Knifemaker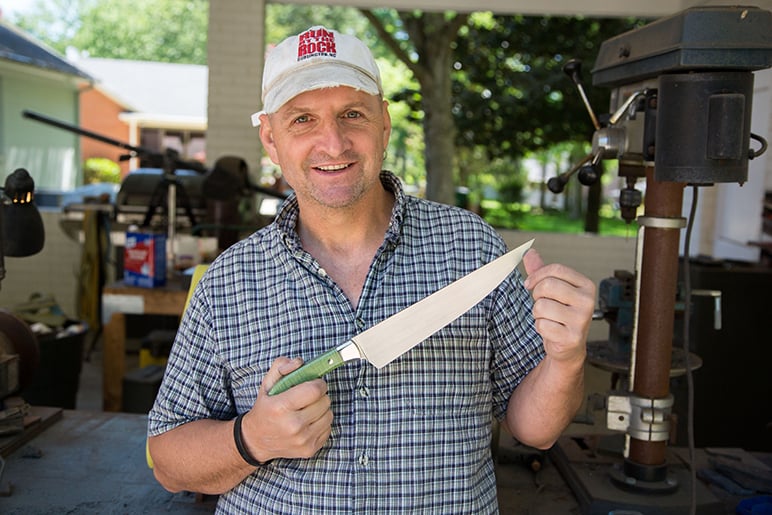 STEVE WATKINS doesn't have a typical day job. He has an open-air workshop, hidden by his house, where he makes knives. Starting with sheets of steel, Watkins shapes, sands, and sharpens custom culinary knives for home cooks and Charlotte's best chefs alike. Here, he explains his past, his process, and his product.
You started your career working with horses. How did that become knife-making?
When I first started training horses, I could not make enough money training horses alone. I was young; nobody wants to hire the young guy. So I had to learn everything. I had to shoe horses; I had to do everything there was to do with horses. By shoeing horses and learning how to make shoes, I learned how to use a hammer and an anvil and forge. … So that was my introduction to steel. I made a few very simple knives when I was in my early 20s and, after I got out here [in 1996], I just trained horses, so I got away from my tools. About five or six years ago, I started picking it back up again as a hobby. … My wife and I are foodies, so we're constantly going to restaurants, traveling places to eat, watching The Food Channel, watching the chefs—she's watching how they cook, and I'm looking at the knives, trying to figure out what knives are they using. … That's what got me interested in culinary knives.
You went to knife-making school. Did you learn everything you needed to know there?
They don't teach you how to make chefs' knives, but what they teach you is everything you need to know about making a knife. And a knife is a knife. What determines the function is the geometry in that knife, so chefs' knives have a specific geometry built into them so that they function in a particular way. And that's what I had to learn when I got home [from school]. I learned all the metallurgy, the heat-treat, the process of creating a knife, then I had to come back and work with the chefs and learn what makes your knife function in the way that you like it [to]. Size, depth, and where it needs to be straight and where it needs to curve and things like that. I spent a lot of time working in professional kitchens with chefs, trying to figure out how to design. After doing that and understanding that, now I can look at a knife and tell you, "That's going to work" or "That's not going to work."
How many knives do you make for regular people compared to professional chefs?
Probably about 60 or 70 percent [are] for home chefs; my smaller part is professional chefs. But that's where I learned the craft.
What is the difference between the knives that you're making and something you'd buy in a box store?
The biggest thing is the materials that I use. All of my knives are carbon steel. I do not make stainless steel knives. That's the biggest difference. Stainless steel was developed for industrial uses, not knife-making. And it's still not really made for knife-making. But knife-makers figured out that if you can harden it, you can make a knife out of it, and retailers figured out that if you make knives out of stainless steel, they're basically bomb-proof. They don't make great knives. They make very, very OK knives. They make great letter openers. The problem with stainless steel is [that] the alloy makeup in the steel makes it resistant to sharpening. It's not as easy to sharpen [as carbon steel] and it won't stay sharp, as well, I don't think, and it doesn't get ultimately as sharp.
Are there any drawbacks to a carbon steel knife?
You have to take care of it. You can't leave it wet overnight. You can get it as wet as you want to, but if you leave it wet overnight, it will rust, because it's not stainless. It will react with food, which puts color on the knife. It doesn't hurt it, it doesn't affect the use; it just puts color on the knife, but people aren't used to seeing color on stainless steel knives, and you have to get used to that. There's a learning curve on that. That's the metal's way of protecting itself, that's an oxidation. It's a color only; it's not dirty, it's not dingy, it's just a color. Once you build up that oxidation on the knife, it protects it; it makes it more rust resistant. [A new knife] will rust much faster than [used] knives. You want to build that patina up on there and then it protects itself. If you never wipe that off, it will eventually turn slate gray or blue, the whole blade. Which is pretty cool.
When people say, "I want to buy a gift for someone," what do you recommend as a starting point?
If we're starting from zero, then I recommend one of my medium knives, because you can do a lot with that medium knife. My medium knife in most blocks would be a large knife. My large knife would be a huge knife. So my medium knife's about an 8-inch to 9-inch blade, depending on the design that you choose. You can do everything with that. You can cut vegetables with that, you can breast a turkey, you can break down ribs, you can do 90 percent of what you're gonna do in your kitchen with that knife. The second knife I'll recommend is a paring knife. If you have a paring knife, and that medium knife, there's not a lot you can't do.
Who are some of the chefs who have your knives?
I made a knife for the chef of Rooster's uptown, Joe [Kindred, now at Kindred restaurant], and he wanted a specific handle and a specific blade length, so I custom-designed a knife for him. I custom-designed a knife for John Cutitta, at Delectables. He wanted a very specific length, depth, he wanted the handle shaped a certain way. I customized a knife for the chef at Fig Tree, Greg Zanitsch. Clark Barlowe has a couple of my knives at Heirloom. I just redid a cleaver, his grandfather's cleaver, which is a really cool thing. … He had this cleaver, I don't know how old it was—it was old. [Editor's note: Barlowe says it has been in the family for at least four generations.] It had been beat up, it'd been around. … I had to take the handle off, re-heat-treat it, re-drill it, put new handles on it, and [I] redid the blade for him.
Do you have a memory of a favorite knife?
My favorite knife is always the next different knife that I make. So here's what happens. I'll make a knife and it will be something I haven't made before. And I get super-excited—I'm like, "This is so cool!"—and I'll make six or seven of those knives, and it's not nearly as cool anymore. Then I'll make something up, and I'll make that one and the whole process I'm like, giddy. I am an artisan first; I am a craftsman second. The way an artist's mind works is, it's the creative process that's the exciting part, and then once I'm done with it, I'm ready for you to take it and make the next one.
Ironman Knives, 704-207-9559, ironmanknives.com