Stress Less in 2015
Getting married this year? We're pointing out some stressors that need to get kicked to the curb.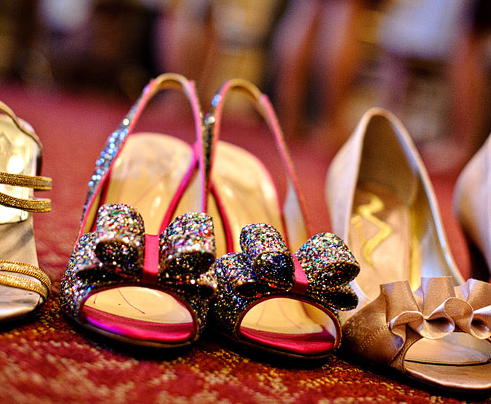 Engagement season is upon us and we couldn't be happier. If your man popped the question over the holidays, 2015 will consist of dress shopping, song selecting, flower choosing, reception viewing and whole lot more of decision making that's sure to leave you gasping for air at points.
Our goal here at Charlotte Wedding is to make the planning process as effortless as possible for our brides. If you're already in the trenches of planning your 2015 wedding, we're picking apart a few to-do's that can get kicked to the curb and free up your time to focus on more important priorities.
Wedding programs – Sure, right now it seems you can't live without the William Arthur monogramed embossed three-page program that runs for $6.75 a pop. Don't get us wrong, we love stationary but spend your money on invitations as opposed to programs. You'll likely end up with boxes of extras and most guests leave the program at the ceremony site instead of keeping up with it during the reception. Simple is beautiful.
Bridal party hair – After your bridesmaids spend $200 bucks on a dress, you almost cringe at the thought of asking them to pay $80 for their hair and make-up on the big day. Save your money here! Keep things simple (and beautiful) by having your 'maids skip the elaborate up-do and wear their hair down with elegant, bouncy curls. Have a few extra friends on hand to help curl hair. They'll save money and have a blast getting ready together.
Coordinating mothers and grandmothers colors – You've been warned… your mother and mother-in-law will ask you at least 10 times what color they need to wear, if it will match, how it will look next to the bridesmaids, etc. etc. etc. Here's the truth: your guests don't care and neither should you. Let your moms choose their own dresses and handle communicating with each other if they want to coordinate. Their attire won't affect your day.
Wedding favors – I obsessed over the miniature fall-scented Yankee candles I wanted to hand out as favors at my reception. Sure, the concept of wedding favors is fabulous and if your budget allows and you have a great idea in mind, go for it! If not though, toss the thought. Guests will remember the food, music and drinks… and that's about it.