STYLE: Monika Nessbach, Owner of designbar
She creates vibrant, edgy commercial spaces with international flair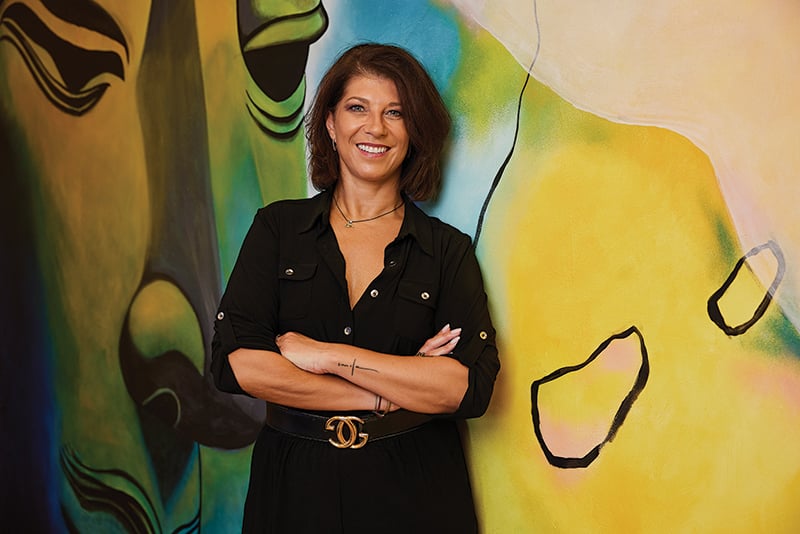 "My style is funky," says Monika Nessbach, owner of designbar, the commercial interior design firm behind Dilworth Tasting Room, The Vintage Whiskey & Cigar Bar, and several Cantina 1511 locations. "It's fun, young, and modern—we don't do a lot of traditional design."
In a city that teems with interior designers who specialize in classic Southern homes, Nessbach is a rarity. A native of the Cologne area in Germany, she says her European roots and extensive travel—she's been to more than 50 countries—have a big influence on her style. "When I first started, urban design wasn't quite on the Charlotte scene yet," she says. "There weren't a lot of commercial designers out there; it was usually handled by architects, so I think there was a need for a commercial designer."
While residential design emphasizes comfort and personalization of a client's living space, commercial design focuses on telling the story of the brand to diners, customers, and guests. The choices are bolder, bigger, riskier. Nessbach has incorporated a 70-foot mural of a dragon into her design of a sushi bar and a client's own tire tread patterns into the flooring of their corporate headquarters. She's done and seen a lot, and her history of crossing borders finds its way into the spaces where she works.
Design wasn't her first career, though. Nessbach worked for one year as a flight attendant for Lufthansa before she came to the U.S. in 1999 to pursue her MBA at Pfeiffer University. What was supposed to be "just a bit of foreign experience" led to an internship with Continental Tire, a German auto supply company with North American headquarters in Charlotte. Continental offered Nessbach a full-time job before she graduated, and she worked in various marketing and managerial positions for the next 14 years. She loved living in Charlotte, but she never found a passion for the corporate world.
Nessbach, who speaks four languages, always had an interest in design and began taking classes at night, but "it took me a few years to figure out if this is what I wanted to do," she says. She participated in a designer showhouse through the Symphony Guild of Charlotte to gain some experience, and the CEO of Continental Tire happened to be there and saw her space. He hired Nessbach to design his boardroom, and she left the company in 2013 to pursue interior design full time.
"When I was working with Continental Tire, I found my passion for large-scale projects," she says. "I was very familiar with spreadsheets and budgets, so it was natural to go into commercial design versus residential." She took on a handful of corporate projects and worked out of her house for two years until she could hire an assistant and move into an office in Plaza Midwood. She expanded her portfolio with hospitality and multifamily jobs and grew her team to four people. Today designbar operates out of AvidXchange Music Factory, where she and her team specialize in commercial spaces with a "modern edge."
Nessbach first gained a local reputation in 2014, when Eight Sushi & Asian Kitchen hired her to create an urban, street art-inspired venue with an industrial vibe. She built a 60-foot bar with repurposed skateboards and installed a bar front covered in graffiti by local muralists Matt Moore and Matt Hooker. The tables, custom made with reclaimed North Carolina barn wood, each had the Japanese number eight branded into the corner. Clusters of globe lights hang from red cables above the high top tables, and an oversized street art mural stretches behind the sushi bar.
Other notable projects include Crave Dessert Bar, Izar Med Spa, Brazz Carvery and Brazilian Steakhouse, and a historical lobby at Charlotte Motor Speedway. Last year Nessbach designed The Vintage Whiskey & Cigar Bar, which was a welcome project during COVID. "It's more like a bachelor pad," she says. "It's dark and moody with big thick curtains and leather couches. It's reminiscent of Cuban style, so I incorporated wallpaper with newspaper dipped in coffee."
Outside of work, Nessbach rarely sits still. She's a former cycle instructor and loves to cook and prep meals. During last year's shutdown, she quietly launched a meal prep service called K Prepped Meals, which she runs through her Instagram handle @kpreppedmeals.
Her most recent hospitality project is the new Dilworth Tasting Room in SouthPark, and she's currently working on several multifamily projects in and around Charlotte. She says one of her dream jobs is a boutique hotel where she'd design each room differently. But for now, she's thrilled to settle back into her Music Factory office where she maintains a fun, avant-garde company culture. "We've adopted this dress code: come dressed in whatever you feel most creative in without offending co-workers or clients," she says. "Once a week we have pajama day—we can come in pajamas or workout clothes. Owning a business is a lot of work, so you've got to have fun."
THREE THINGS I CAN'T LIVE WITHOUT
My Peloton bike: "It's the only thing that's kept me sane during COVID."
My dogs: "My boxer puppies, Martini and Cosmo, are my furry children."
Audiobooks and music: "I'll listen to anything to keep my mind engaged."