STYLE Q&A: Mackenzie Bryant & Co.
Demand for mud cloth propelled this Dilworth duo from small Etsy shop to full-time business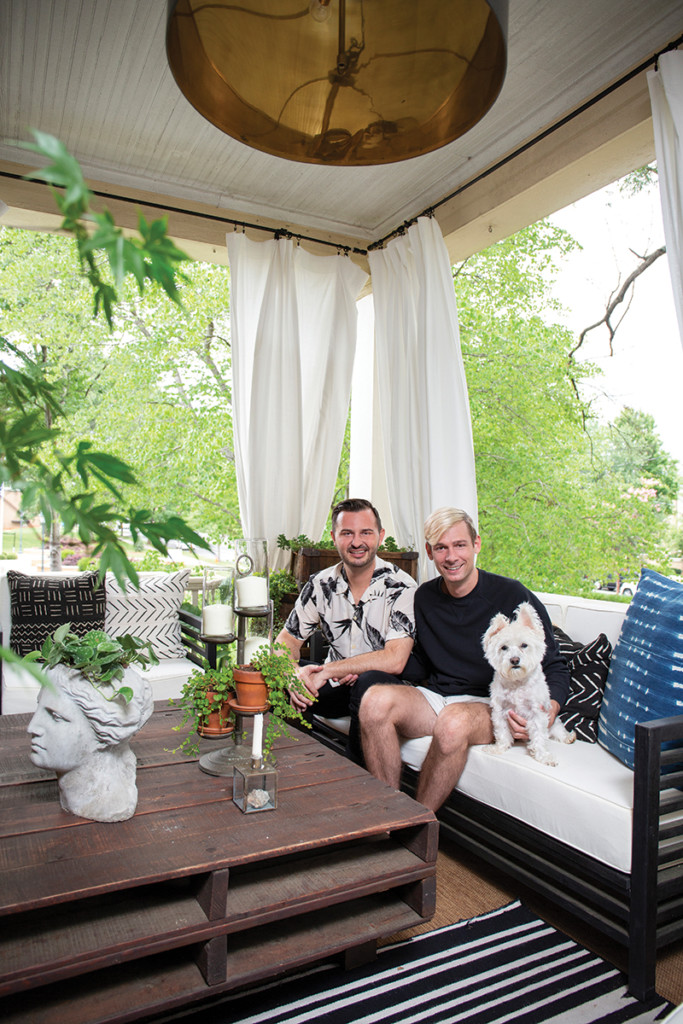 A LITTLE MORE THAN two years ago, Mackenzie Gibson began listing new items in his Etsy store—pillows, baskets, and other items made from bògòlanfini, a cotton fabric that originated in Mali and, because it's commonly decorated with dye from fermented mud, is known as "African mud cloth." He'd found a source for the fabric in Morocco, and business exploded. "We went from getting a $20 order a day to hitting hundreds and hundreds of dollars," says Zachariah Bryant, Gibson's partner in business and life.
The couple had moved to Charlotte in 2015, when Bryant landed a job as a designer at Cato Corporation, the Charlotte-based women's clothing company. Gibson worked for Baker & Taylor, a Charlotte-based book distributor, and he treated his Etsy shop as a creative diversion. With his direct source, he could sell sheets of mud cloth for far less than other retailers, and soon demand was soaring because of the fabric's ability to fit almost any décor.
Gibson and Bryant faced a choice: Stick with their jobs or start an online business?
"I realized nine-to-five wasn't really my thing," Gibson says.
"So," Bryant quips, "we decided to go nine-to-nine."
The venture would shift Bryant out of the fashion world, where his successes included an eponymous line carried by Nordstrom prior to the recession. But his eye for style would translate into the new venture well. They launched Mackenzie Bryant & Co. in 2017, which offers pillows and interior design accessories like baskets, poufs, and ottomans. The business has taken over their apartment on East Boulevard. The glass-topped dining table is Bryant's painting station, where he stencils custom patterns onto mud cloth.
Cabinets display neat rows of pillows that a local seamstress assembles with embroidered cactus silks and handmade tassels. The spare bedroom is long gone, too. It's now a crowded stockroom, with racks of pillow covers and shelves stacked with folds of cloth that emit a pleasant, earthy smell that lingers from villages an ocean away. —Laurie Prince
Charlotte magazine: Your pillows and poufs are made of natural fibers and dyes, like indigo. Why does this look have such widespread appeal?
Mackenzie Gibson: It really works with any type of interior design. You don't have to love a tribal look.
CM: You sell your accessories on Etsy and your website, but not in a brick-and-mortar store. Why?
Zachariah Bryant: The best part about Etsy is that you can take a picture of one item, show it, and if you get a bunch of orders on it, then you run
with it. If you get none, you take it down, and you walk away from it. Etsy is such a huge marketplace. We test something there first and then bring it to our website.
CM: How much of your business is in Charlotte?
ZB: We're doing bigger sales in California, in Austin, in New York and Brooklyn, than we are here. Even in Germany.
MG: Not everyone gets it. We've been doing blog collaborations to show people it can go in different types of homes.
CM: Your prices are so low, they're more like wholesale prices. A hand-stenciled mud cloth pillow can run less than $35. How is that possible?
ZB: Ken (Mackenzie's nickname) works directly with a vendor in Morocco, and he'll go through and pick out every single one. We're getting them direct.
MG: And we do different options, too, to hit any price point. So they can be backed with canvas or they can be double-sided with print on both sides, to try to help equate the cost for any type of budget.
ZB: Right now Ken's working with a small village in Africa to design another binga basket group. (Binga baskets are a woven patterned basket named for the remote Binga district in Zimbabwe.) We see people selling them for $200, and we're going to be able to do those for $60. They are huge.
CM: Regarding your personal style, what do you enjoy wearing?
ZB: We've definitely become a lot more casual since we started this. We have morphed into this business—we've kind of turned into our pillows over time.
CM: How do you edit yourself? You must see a lot of products.
ZB: The first year, we did too much. We had T-shirts and jewelry; we had too many accessories.
MG: A lot of trial and error, especially online.
ZB: The first year is for mistakes, and the second year, we're going to learn from them.