STYLE: The Vogue Room Foundation's Ebony Staten
Systems analyst supports minority female first-generation college students with stylish dorm rooms through her nonprofit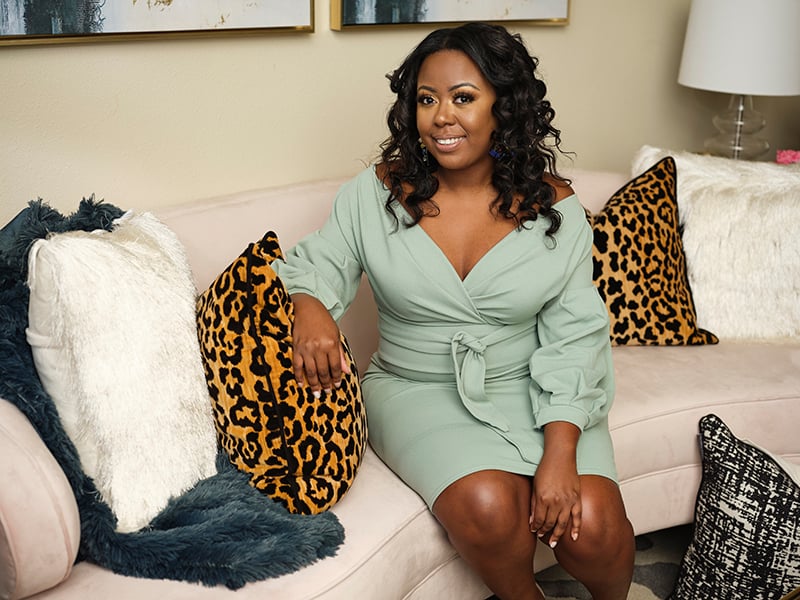 TWO YEARS AGO, Ebony Staten was scrolling through her Instagram feed and stopped at a post by Michelle Obama. It was a photo of her at Princeton University in the early '80s with a message to her fellow first-generation college students: Be brave and stay with it, because education profoundly changed her life.
"Just like Oprah, I had my great 'aha' moment," Staten recalls. The 33-year-old systems analyst and Charlotte native had been the first in her family to attend college, too. She wanted a way to give back and support other first-generation college students, so she launched The Vogue Room Foundation to provide dorm room makeovers.
The Vogue Room Foundation is an offshoot of Staten's interior design boutique, The Vogue Room, which merges her love of high fashion and interiors. The program selects first-generation female college students to receive a full interior design and installation of her dorm room. The scholarship is available to high school students in North Carolina who are on track to attend an in-state college or university. Applicants must provide transcripts, extracurricular activities, and a 250-word essay that describes what it means to them to be a first-generation college student.
To date, Staten has had three recipients—one in 2018, two in 2019. The first, a graduate of West Charlotte High School, was a rising freshman at Staten's alma mater, North Carolina Central University. The others went to UNC Chapel Hill and North Carolina A&T University. "I work with them as if they are one of my clients," Staten says. She'll note favorite colors and study their Pinterest boards, then create a mood board of the space. Once they're set on a design, they have a shopping day together.
At a time when rising college freshmen spend $1,500 or more to decorate a dorm room, Staten wants to alleviate that expense for a deserving student. "Just go on YouTube, and there are tutorials where kids are decking out these dorm room spaces. But not everyone has the means to do it," she says. "I want to create a space that will inspire them to achieve their goals. Looking at those cinderblock walls can get depressing."
Staten says she spends about $1,000 for a makeover, which can include bedding, headboards, lighting, and desk accessories. "I find stuff at HomeGoods, T.J. Maxx, Marshalls—those are my main go-tos," she says. "I love really rich textures and bold statement pieces. Some other companies I reach out to provide pillows, removable wallpaper, and wall decor." The Vogue Room Foundation also accepts charitable donations through its website to help fund the dorm room makeovers.
Staten, who describes herself as a "chic geek," earned a computer information systems degree from N.C. Central. She worked an IT job in Durham for four years before taking a remote job that allowed her the flexibility to launch her interior design business. "I've always been a creative," she says. "It was always deep down in me—I just didn't know what I would do with it."
After she was laid off last May, Staten accepted a job as an IT systems analyst with Bank of America in Charlotte. "It's a lifestyle change, because I have to physically go to the office every day," she says with a laugh. "From nine to five, it's strictly work, then I come home and I grind."
She credits local designers Cheryl Luckett and Quintel Gwinn for mentoring her as she pursues her side hustle. "When I got laid off, I thought, 'What am I gonna do?' That's when I zeroed in on the foundation, and Quintel opened up her studio to me."
Today, her nonprofit board is made up of four people ("all personal friends with a community connection"), and she hopes to grow The Vogue Room brand in Charlotte. "Being from this city, there's a sense of pride," she says. "This is my community. And design is my outlet."