Stylish exit: Charlotte's best getaway vehicles
From horse-drawn carriages to segways to canoes, we've seen it all when it comes to ways to leave your reception. Check out some of our favorites below.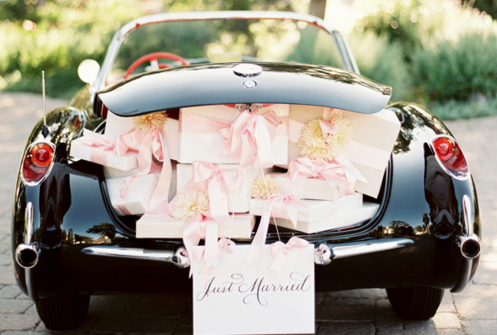 Looking for a fun way to leave your reception and drive into life as a newlywed? Leaving the best party of your life shouldn't be boring, which is why we've gathered a few of our top picks for reception exit vehicles, catered to every type of couple.
Classic Luxury
Is your wedding all about elegance and tradition? Have you followed Emily Post by the books? If so, you'll want your grand exit to be all about class. Rent a vintage 1960 Rolls Royce.
Royal Rides
704-968-8768
www.theroyalrides.com

JAGstudios
Fairytale Exit
Are you all about the romance factor? Is your wedding day going to be the most magical moment of your life? If so, ride off into the sunset with your Prince Charming on a horse-drawn carriage.
Southern Breezes Carriage Tours
704-301-5111
www.southernbreezes.com

Just a Dream Photography
Vintage Charm
Is your gown lace? Are you displaying pictures of your grandparents wedding album throughout your reception? If your wedding echoes stories of a simpler time, float away on a restored trolley.
Sunway Trolley
704-348-1200
www.sunwaycharters.com

Parisi Images
Eco Friendly
Do you love the natural world? Are you and your bridesmaids carrying bouquets full of fresh wildflowers? Pedal away in an eco-friendly pedicab.
R&R Pedicab
704-287-0882
www.rrpedicabcompany.com

Carolyn Scott
Country Club Chic
Are you getting married at one of the Charlotte area's many country clubs? Do you and your husband-to-be love spending Saturday afternoons on the golf course? Scoot off in style on a golf cart.
Paradise Golf Cars
704-392-0022
www.paradisegolfcars.com

Justin Haskins