Summer wedding style: Ever the Gentleman
Bow tie or classic tie? Linen or cotton? Suit or sport coat? We've decoded our top summer wedding looks for men.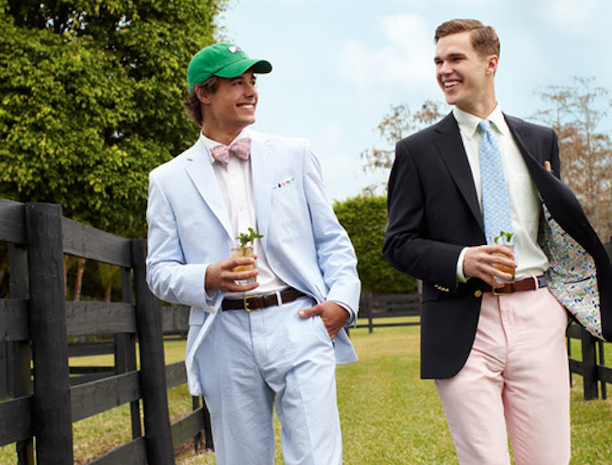 Black tie – When it comes to black tie affairs for men, keep it classic. A black tuxedo is standard but during the warm summer months, it's acceptable to pair a white dinner jacket with black tuxedo trousers for a more modern look. Some will argue that a black suit is acceptable, but we would caution against it.

Ralph Lauren | Black Label
Black tie optional – Usually gentlemen can dress the same as they would to a black tie event, but the word 'optional' clarifies that a tux isn't necessary. If you're trying to save money or hate the thought of being confined to a tuxedo during the heat of summer, wear a dark suit with a classic white shirt and conservative tie.

J.Crew
Beach formal – If the wedding is on the beach but in the evening, consider it a semi-formal event. Men should opt for a classic button-down shirt with khakis and we suggest throwing on a sport coat for good measure. If you're looking to dress up a little more, you can't go wrong with a cotton khaki suit and bowtie. If the wedding is more casual, pair khakis with a linen button-down.

Brooks Brothers
Outdoor casual – Get creative here. Informal, outdoor weddings don't call for ties but it's always important to dress the part. Wear a button-down with character (like a chambray shirt with bowtie) or opt for the always Southern-and-fabulous seersucker jacket and khakis. At very casual events, nice shorts will pass if paired with a shirt or blazer but we cringe a little when suggesting shorts are OK.

H&M
A few notes:
Especially for summer weddings, pay attention to fabric. Linen and seersucker are lightweight options that will keep you cool and patterned shirts will help disguise sweat.
Accessorizing isn't just for the ladies. The right watch will complete your look. We love simple, leather-banded watches with an eggshell face, perfect for summer. Don't forget printed dress socks!
A perfectly tailored suit will change your entire look. Take your suit to a professional tailor to make sure you're properly fitted from head to toe.
Skip Great Clips. Make an appointment at a luxury barber spa to make sure your haircut is fresh and sleek. We're big fans of Emerson Joseph.
No cargo. Never ever ever.