Sweet Heat
Three recipes that bring fruit to the grill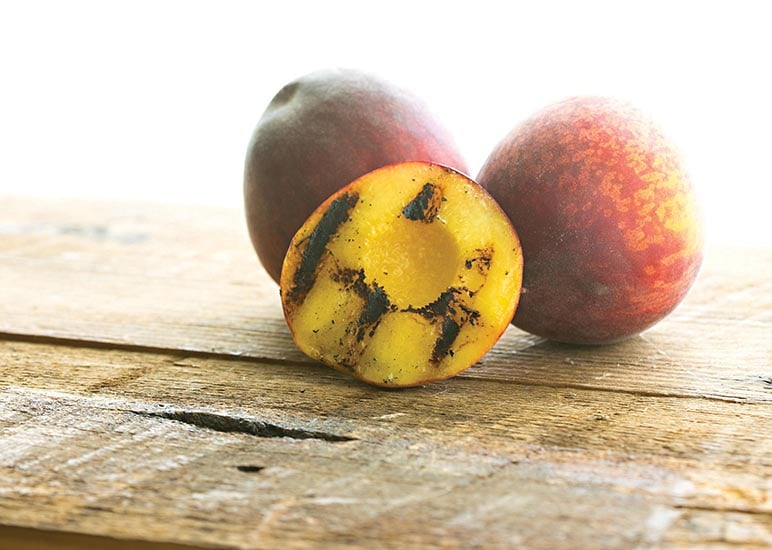 There are few foods that a turn on the grill won't make taste better. Fruit is no exception—the fire and coals make the flesh extra sweet and a bit smoky, a combination that pairs well with anything salty or spicy. Almost any fruit will work, just make sure the grates are pre-oiled and be prepared: the cooking goes quickly.
---
PETER TAYLOR
Grilled Melon and Crispy Pancetta Salad
Serves four
1/2 cantaloupe, peeled and cut into 8-10 wedges
1 lemon, juiced
1 tablespoon honey
2 (1/2 -inch thick) slices pancetta, diced
3 tablespoons olive oil, plus more for dressing
1/4 cup feta cheese crumbles
2 tablespoons shallots, diced
8 cups (about one package) mixed greens
Kosher salt and black pepper
Preheat grill to medium-high heat and oil grates. Toss together the melon, ½ of the lemon juice and honey. Sprinkle with salt. Grill melon about 3 minutes per side until just caramelized and soft. Heat the olive oil in a pan over medium heat. Add the pancetta and cook until golden brown and crispy. Remove to a paper towel and cool. Toss greens with remaining lemon juice, a drizzle of olive oil, cheese, shallots, crispy pancetta, salt and pepper. Divide greens evenly and add 2-3 slices of grilled melon. Serve.
---
PETER TAYLOR
Grilled Peach BBQ Chicken Wings
Serves four
For the sauce:
½ pound fresh peaches
½ onion, chopped
2 garlic cloves
1-½ cup ketchup
3 tablespoons brown sugar
3 tablespoons molasses
3 tablespoons vinegar (white or
apple cider)
¼ teaspoon chili powder
teaspoon dry mustard
½ teaspoon cumin
¼ teaspoon kosher salt
For the wings:
3 pounds chicken wings
Canola oil
Kosher salt and black pepper

To make the sauce: Preheat grill over medium high heat. Lightly oil the grill grates. Slice peaches in half, remove pit, and score the skin 1-2 times. Grill peaches about 4 minutes per side until soft and caramelized. Let peaches cool slightly, and then puree in food processor. Combine with remaining sauce ingredients and set aside. Sauce can be made up to three days in advance.
To make wings: Preheat oven to 450 degrees. Cover two large baking sheets with foil. In a bowl, toss wings with a few tablespoons of canola oil until well covered. Season with salt and pepper. Transfer wings to baking sheets and roast about 45 minutes until crisp. Remove from oven, toss with a few tablespoons of sauce, adding more as needed. Serve immediately.
---
Sweet and Spicy Grilled Banana Split
Serves four
For bananas:
4 ripe bananas, peeled
3 tablespoons sugar
1 tablespoon cinnamon
Vegetable oil or high-heat
oil spray for grilling
For chili-cinnamon roasted peanuts:
1 cup salted, dry-roasted
peanuts, roughly chopped
1 tablespoon butter
1 tablespoon brown sugar
1 teaspoon chili powder
¼ teaspoon ground
cinnamon
For sundae:
1 pint vanilla ice cream
Chocolate or butterscotch sauce, warm or room temperature
Whipped cream
To make peanuts, heat butter over medium-high heat until melted. Add peanuts, and toss to coat. Mix sugar, chili powder, and cinnamon, then add to pan. Toss to coat. Roast, stirring often, until brown, about 10 minutes. Remove nuts from pan and let cool.
To cook bananas, preheat grill to medium heat. Cut bananas in half, lengthwise, then horizontally, so you have 4 pieces of each banana. Toss bananas in cinnamon and sugar mixture, oil grates of grill, and grill until soft, flipping once, about 5-8 minutes total.
Serve warm bananas with warm chocolate or butterscotch sauce, vanilla ice cream, whipped cream, and spicy peanuts.