Table 274 Opens
Cotswold's newest restaurant offers intricate dishes with a regional influence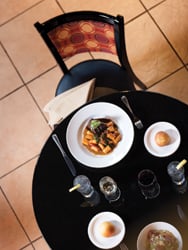 The new Table 274 in Cotswold serves Carolina-influenced dishes made by a native Tar Heel, often using Carolina-grown ingredients. However, this restaurant isn't obsessive about catering to locavores; it's focused on creatively crafted dishes. And while much of the menu highlights vegetables, meats, seafood, and even sauces grown or made a quick drive away, what sets it apart is the extra work going on in Chef Patrick Best's kitchen.
Best, formerly executive sous chef at Mimosa Grill, opened the restaurant in the former Charley's location with friends Cameron Crummet, the general manager, and Eugene Fritzler, the proprietor, who previously worked at Harvest Moon Grille. Their restaurant, which serves lunch and dinner daily, as well Sunday brunch, concentrates on constructing dishes from scratch on site. Complex pastas like a beet ravioli with carrot ricotta are made in-house. Charcuterie plates featuring regional sausage are cured there, and soups and stocks are created in the kitchen as well.
The menu features soups and salads, small plates, burgers, flatbreads, pastas, and large plates. Dinner here could be as simple as a bacon cheeseburger with fries ($8) or as upscale as pan-roasted sea scallops served over fried green tomatoes and with a fava bean and fennel salad ($19). Some of the menu's tastiest options, though, are its pastas. A beef short rib and sweet potato gnocchi ($19) features a creamy bowl of pillowy gnocchi mixed with sweet pepper and red kale in a brown butter emulsion sauce, and a rosemary pappardelle ($14) is tossed with roasted wild mushrooms in an aromatic white truffle sauce.
The restaurant's lunch menu offers additional salad, sandwich, wrap, and burger options, as well as lunch-size versions of many of the entrées. Lighter options like a shrimp chopped salad with a cilantro vinaigrette ($9) and a roasted vegetable wrap ($7) are perfect for enjoying on warm days on the restaurant's patio, tucked in Cotswold's shopping center. But if you're interested in catching a glimpse of Best at work, opt for a seat inside the restaurant's large, modern interior, where you'll find views into the busy kitchen.
Table 274
274 S. Sharon Amity Rd.
704-817-9721
BR, L, D, FSB, P