Tapas 51 Expected To Open In Early June
Chrome Toaster's Aaron Rivera shares restaurant details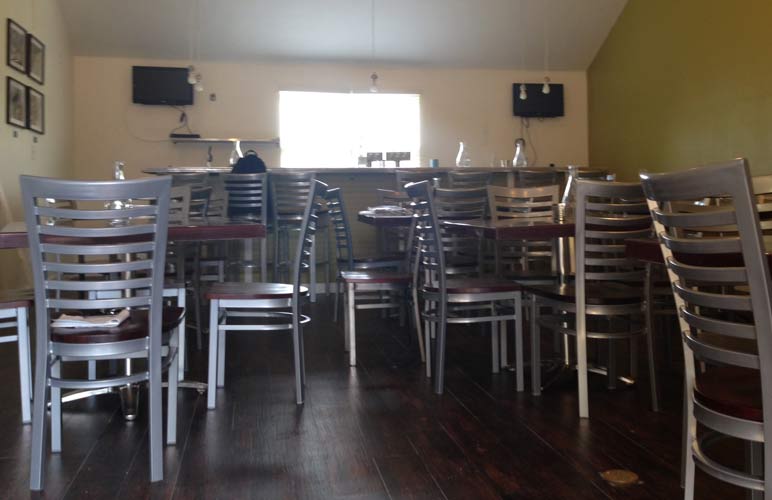 Chef and owner of Tapas 51 Aaron Rivera expects to open the restaurant the first week of June, and we hope we can hold him to that. Rivera has been hard at work in the former Passion8 space in Fort Mill, brightening up the dining room with pops of green and adding a more modern touch with chrome fixtures and open lighting.
Tapas 51 draws inspiration from two of Rivera's favorite cities. "I like to say (Tapas 51 is) east L.A. meets Bellagio," he says. "I want the comfort and feel of the different cultures, the different Hispanic cultures, in east L.A.—from the El Salvadorian to Honduran to the Colombians, Brazilians—but the refinement of a high-end restaurant in Las Vegas.
This will be his first restaurant, and he'll begin operating his food truck, Chrome Toaster, out of it.
"The Chrome Toaster will stay alive forever," Rivera says, though he'll be on board the bus less frequently. Right now, his focus will be on his brick-and-mortar location. "I want to make this my baby for a little bit."
Rivera has done most of the remodeling himself, saying his experience building the Chrome Toaster, along with Google searches, have helped him learn how to hang light fixtures, tile bars, and stain floors. His dog, Truffle, has also been on hand to "help" with the remodel, and was far too cute to not be part of this blog post (see photo at left).
The menu will be limited to ensure the tapas portions can be cooked to order and delivered to your table fresh, and will unite flavors from across Latin America. Expect items like ceviche and empanadas. Behind the bar, you'll find TVs (Rivera wants the bar to have a soccer bar feel); local brews, but no soda fountains: all sodas sold, such as Cokes and Fanta, will come in a glass bottle and be made with real sugar.
The restaurant will seat around 80, with a large patio space for just over 30 people behind the restaurant, where Rivera expects to have live music and games (which may include corn hole). There's also a private dining room which can fit 12 for birthday parties, family dinners, meetings, and special events.
When opening time nears, Rivera plans to make an announcement on social media. So if you want to be one of the first in the door at Tapas 51, try befriending Rivera (or Truffle), or follow Tapas 51 on Facebook.