Teenage DACA Recipient Gets Full Ride Via Jordan Brand-Carolina Youth Coalition Program
Independence senior one of three recognized as All-Star Weekend begins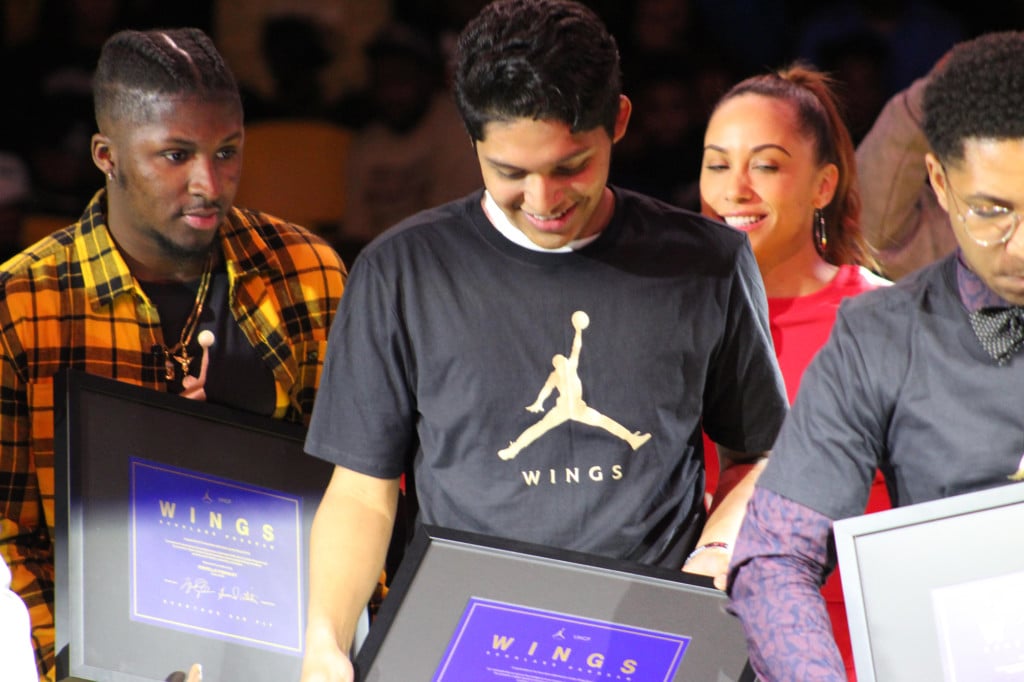 SURROUNDED BY the beat of the nation's finest drumline Thursday night, people pulled out cell phones that all week have contained news alerts of government shutdowns and national emergencies and local immigration raids, and they took pictures of a young man holding a better future.
In the grand production that is the four-day NBA All-Star weekend, a scholarship presentation at halftime of the high school hoops showcase on the first night barely registers as a tremor. The young man at center court at Johnson C. Smith's Brayboy Gymnasium wasn't even the most celebrated high schooler in the place, given that the teams playing that night, Oak Hill and West Charlotte, have four of the top 60 recruits in America.
Carlos Santos is a senior at Independence High School with a 4.04 grade point average and a special talent for creating things on blank pages. He dreams to be an architect, so last summer, in between his junior and senior years, he interned with one of the largest firms in the city. His bosses liked one of his designs enough to show it to a contractor. But until Thursday night, he wasn't sure he'd be able to attend a four-year college.
Carlos moved to Charlotte when he was 3, coming from El Salvador with his father and two brothers. He's a Deferred Action for Childhood Arrivals recipient. Federal law prevents DACA recipients from applying for financial aid. State guidelines block him from in-state tuition discounts at schools in North Carolina. His father is a painter, his mother a housekeeper. If he wants college, he must figure out how to pay for it.
After completing the internship last summer, Carlos learned about the Carolina Youth Coalition, an organization that helps connect "high-achieving, under-resourced" high school students find access to college. The nonprofit was formed in 2017 by Aaron Randolph, a Cornell- and Harvard-educated newcomer who moved to Charlotte after working as a teacher in Baton Rouge, Louisiana, and Kathryn Kissam, a donor and advisor to the Baton Rouge Youth Coalition, which served as the model for the Charlotte-based group. Carolina Youth Coalition now serves 40 students in this city, including Carlos.
He's one of three CYC students in the gymnasium hoping for a four-year, full-ride scholarship. The others have become good friends of his, and they have equally impressive resumes.
Olivia Rice is a bursting-with-energy Vance High School senior with a 3.75 GPA who hopes to attend Appalachian State; she's raised by a single mother "because my father is incarcerated," she says.
And Gloria Nzuzi is a second-generation immigrant from the Democratic Republic of the Congo with a 4.375 GPA and an acceptance letter from UNC Chapel Hill. She'll be the first in her family to attend college, a fact she doesn't carry lightly: "I have a lot of people depending on me here and in the DRC. They're struggling a lot back home, so they need someone. It's always, Gloria's gonna do good. Gloria's gonna do good. That's where my motivation comes from."
The Jordan Brand Foundation chose the three as finalists for the scholarship. The foundation had five other scholarships to present, the total number a nod to Michael Jordan's six championship rings. Four of the other five are for current college students. The other is for one of three students connected to the RISE program at South Mecklenburg High School.
The high school students also participated in a competition to design an official "local" logo for an All-Star weekend T-shirt. Olivia was part of the winning team; the design, a red outline of the state of North Carolina with a Jumpman logo over it, is for sale this weekend on racks at the Mint Museum Uptown, Social Status, and other stores that sell official merchandise.
To be considered for the full scholarship, students were required to submit an original work of art. Gloria did an improvisational piano performance. Olivia created a painting of her face with symbolic references to important events in her life in the background. Carlos submitted an architecture portfolio that included a floor plan, an electrical plan, a site plan, and four hand-drawn renderings.
The three students sat together on the second row in the gym. A few NBA players, including Chris Paul, sat in the courtside seats in front of them.
One row behind the students was Carlos's family—his mother and father, who moved here on work visas nearly 15 years ago, and his younger brother and little sister.
Carlos tells me that recent ICE raids in Charlotte haven't resulted in the deportation of anybody he knows, but he's not blind to the increase in tension. Earlier in the day Thursday, the President of the United States, unable to strong-arm Congress into fully funding a steel wall along the country's southern border, announced that he would declare a national emergency to get the money to build it.
Carlos, who's ineligible for federal aid, has things he wants to build, too. He's been playing around with designs for temporary housing structures to help people displaced by disasters like hurricanes and floods. One day, he wants to use his architecture degree to create affordable housing projects. Last year, he helped design and build a Habitat for Humanity home.
At halftime, the North Carolina A&T marching band, which has performed at the Macy's Thanksgiving Day parade, took the floor. They played softly as the emcee announced the first five scholarships.
Carlos and Olivia and Gloria sat shoulder to shoulder to shoulder, one from El Salvador, one the daughter of a single mother, and one carrying the weight of her family back home in the Democratic Republic of the Congo. One of them would receive the full scholarship, but the Jordan Brand reps had another surprise: the other two would receive a $5,000 scholarship each.
Their hearts beat faster and they sat taller as the time came to see who won the big prize.
"And last but not least, a high school senior, getting a full ride through college, all four years," the emcee announced as the drumbeats grew louder, "I want you to give it up for Carlos Santos!"
Carlos wheeled around and hugged and kissed his mother, who did not want to be named.
"It's the American Dream," Carlos said afterward.