Thanksgiving musings
Spending your first holiday season as husband and wife? Here's what you need to know.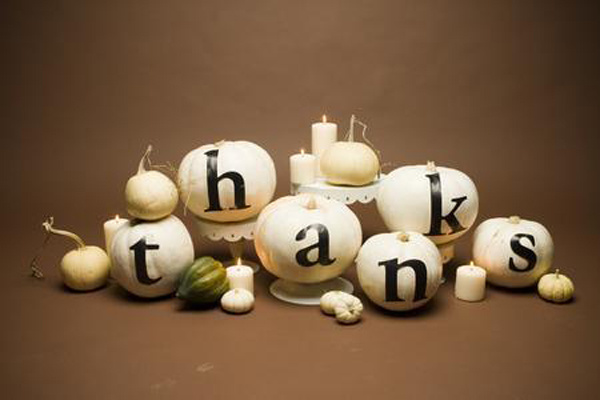 For 24 years, I've spent Thanksgiving Day exactly the same. My sisters and I wake up to watch Macy's Thanksgiving Day Parade while our mom prepares breakfast (usually pancakes). After the parade finishes, we head to my grandma's house for Thanksgiving Day lunch with my aunts and uncles. My sisters and I are the only grandkids on that side of the family, so as you can imagine, the holidays have forever been a fabulous time for us as we hoard presents, go back for seconds (and thirds) on dessert and seek attention from our closest relatives.
After lunch, we allow ourselves an hour or so to be entirely lethargic before catching our second wind and hopping in the old Ford pick-up that used to belong to my grandfather and heading up to Sparta to pick out the perfect Christmas tree.
As the sun sets, we're heading back into Surry County in plenty of time to put our tree up and enjoy dinner, which is usually a hodgepodge of leftovers and what we can find in the fridge. And I love it.
But in the last year, I've gotten engaged and married and now the holidays are about to look a lot different. For the first time, I'll be spending Thanksgiving in the Queen City with my husband and his family. Everything I've ever known about Thanksgiving is about to change.
After several discussions on juggling what the holidays are to look like, here's what we're learning. If you're engaged or recently married and getting ready to embark on this latest adventure, pull up a chair.
Compromise is key
Don't have unrealistic expectations that, after marriage, holidays will look exactly the same. Talk to your fiancé or husband and determine what's most important to each other. Are you set on spending Christmas Eve with your parents? Let your husband choose what he would like to do for Thanksgiving.
Start your own traditions
Sure, managing two families for the first time will be stressful at times. But there's so much excitement in being a newlywed during the most magical time of the year. Plan a fun, holiday-related activity – whether it's picking out a tree together or going to McAdenville the day after Thanksgiving – and make it your very first tradition as Mr. and Mrs.
Embrace the change
We can't stress this enough. Change is more difficult for some than others and if you're having a hard time letting go of what you know, that's OK! But we're here to tell you that, especially during the holidays, newness can be a wonderful thing. Step into your in-laws home with a positive attitude and you may surprise yourself.
Talk to your parents
Get advice from both sides on how they managed the holiday season after first saying "I do." The advantage is two-fold. First, you're likely to gain insight from experience and secondly, you'll prepare them for the reality that change is inevitable.