The 4 Best Japanese Restaurants in Charlotte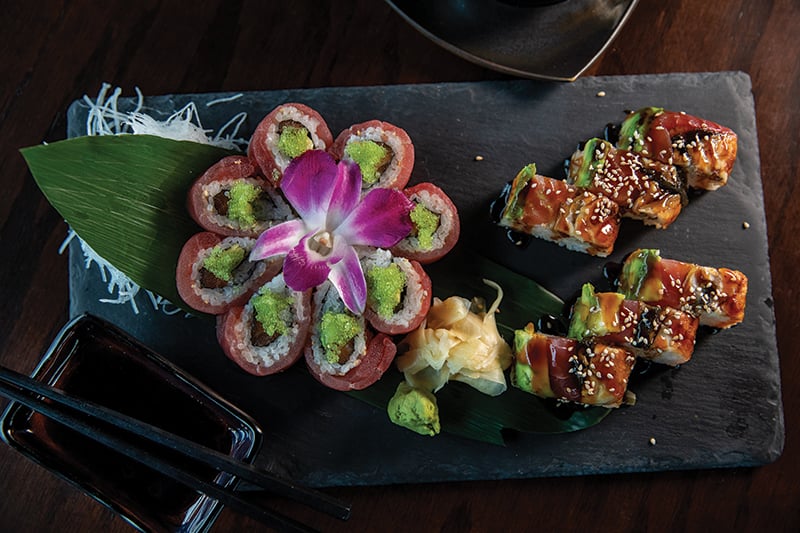 These picks are based on our 2019 25 Best New Restaurants and 2018 50 Best Restaurants list.
---
Sushi is all about the sourcing, and you can taste it's done well at South End's O-Ku. Michael Chanthavong is the executive chef at this Charleston import, and his enthusiasm radiates from the people behind the sushi bar to the front-of-house staff, who will help you navigate the sushi and sake selections. Don't think that this spot is simply raw seafood, however—for the ocean-averse, dishes made with duck, pork belly, and wagyu beef are equally thoughtful. 2000 South Blvd., Ste. 510, 704-594-1922.
---
Chef and owner Michael Shortino's ramen restaurant caused a buzz when it first opened in 2015, with a constant wait for no-reservations tables. His noodle soups are both traditional and interpreted, while dishes such as the Crispy Rice are memorable and craveable. The ramen rush hasn't slowed down since Futo Buta's customers slurped up their first bowls, and neither has Shortino—he recently opened Lincoln's Haberdashery, a grab-and-go market in South End. 222 E. Bland St., 704-376-8400.
---
Chef Michael Shortino, now owner of Futo Buta, helped guide Baku to become one of the best Japanese restaurants in town when it opened back in 2013. Birdie Yang, of Yama and Yama Izakaya, purchased the restaurant in 2017. Yang gave the restaurant the refresh it needed to stay relevant in the city's rapidly growing culinary scene by amping up the sake program and switching up the source of its seafood to the vendors from his existing locations. 4515 Sharon Rd., 704-817-7173.
---
YUME
The flower-shaped Sakura sushi roll is the most beautiful dish on YUME's menu, but the Sora box sushi—a square-shaped roll with tuna, eel, and avocado—packs the most flavor. And if ramen noodles are more to your liking, the vegan ramen's spicy miso can be adjusted to suit your taste. The drink menu doesn't offer standard domestic beers, so instead ask your server to recommend a Japanese lager or cocktail. 1508 Mint St., Ste. A, 980-858-5678