The Art of the Thank You Note
Mind your manners! Today we're tackling the importance of a well-written thank you note.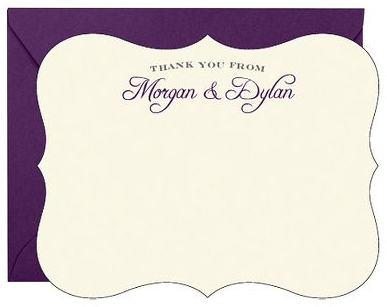 When I was younger, my mother made sure that my sisters and I wrote thank you notes for every gift and good deed we ever received. I hated it.
As I got older, though, I soon realized the importance and art of a well-written, heartfelt thank you note. I quickly developed a love for stationery and, as a writer, became eager to send out thank you notes for any occasion deemed worthy.
When it comes to your wedding, hand-written, personalized thank you notes are absolutely essential and non-negotiable. If you're not the most fluid with words or you hate your own handwriting, don't think of writing notes as a burden. Instead, consider it a thoughtful way to express your thanks to those who generously donated their time and money to make your wedding day perfect.
Don't know where to start? Overwhelmed with a growing list of people who deserve thank you notes? Read our tips before you get to writing!
Who gets one?
Your bridesmaids – They've likely shelled out a pretty penny for a dress, shoes, jewelry, hair, makeup, etc. not to mention time off from work if they're traveling for the big day. Your attendants should be a top priority when writing thank you notes.
Your parents – Especially if they're footing the bill, but even if they aren't, take a few minutes to thank your parents for their love and support since the day you were born.
Shower hostess – If you've been honored at a shower, make sure you write a note to the hostess thanking her for her time, effort and support. If she bought you a gift as well, we recommend writing a separate note thanking her for the gift.
Anyone who gives a gift – This is pretty obvious. If someone gives you a gift, write him or her a thank you note. Express how much you loved it, even if you're not exactly thrilled over the matching heart-shaped salt and pepper shakers. Fake it.
Tips and more
Make the note personal. Try to avoid writing a generic note to every recipient. Did your second cousin give you a pillow sham? Where are you going to put it? What do you love about it? If all else fails, we love including, "Thank you for your continued love and support over the years. Your kindness hasn't gone unnoticed."
Write when you receive. There's a myth floating around that brides have up to one year to write a thank you. We couldn't disagree more. The best thing you can do to keep from becoming overwhelmed is write your thank you as soon as the gift is received. Trust us, your guests will appreciate your promptness.
Be genuine. It would be a little strange if you told your Aunt Kate that the pepper grinder she gave you was the most beautiful gift and your favorite from the shower. Instead, thank her for helping you and your husband complete your kitchen.
Don't write them all at once. If you sit down to write 30 thank you notes, there's a pretty good chance the first few will be wonderful while notes 28, 29 and 30 will look smudged and may not even make sense. We recommend writing three or four at a time and then taking a break.