The Asbury Elevates Locally Based Meals
In a classic space where a restaurant by another name made farm-to-fork popular in Charlotte, one restaurant takes it to a new level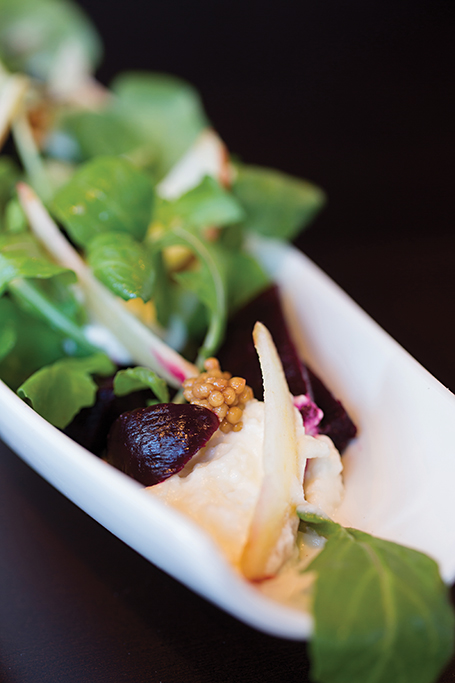 INSIDE THE OLD Harvest Moon Grille location, something new is happening. Chef Chris Coleman and his team at The Asbury restaurant are blending favorite, classic dishes inspired by the North Carolina countryside with contemporary styles ideal for the Charlotte crowd, mixing it all together inside the Dunhill Hotel uptown.
Coleman, who headed up the McNinch House Restaurant from 2002 to 2013, made his mark on the city when he opened Charlotte's first pop-up restaurant, The Market Kitchen. Now, he spins a menu out of local, organic, and sustainable ingredients—not unlike The Asbury's predecessor, Harvest Moon. "Everything, everything we serve, comes from within 200 miles," Coleman says. "The cheese on our cheese board is from Orrman's. The pork is from Heritage. The bread is from Local Loaf." Additionally, the wine selection has been hand-picked by The Assorted Wine Shop.
Dark blue paint and walnut tables make for a cozy vibe. Once seated for dinner, patrons are given a dainty basket of fresh-made, local bread with arugula butter. House-made pickles, deviled eggs (topped with a baby fried cornichon), and barbecued popcorn can be ordered separately. These are a vibrant preview of the meal to come.
Coleman's chicken & dumplings ($20) offers a familiar favorite, taken to a new level. The chicken is confit-style and has a bacon flavor. Served on top of an extra-reduced chicken stock, baby carrots and beets offer a hint of sweetness, while the dumplings—here, herbed and fluffy potato gnocchi—round out the dish.
For more adventurous diners, Coleman's self-professed favorite dish—and a very clever riff on shrimp and grits—is the 62-degree egg & cured trout ($18). Medium-sized slices of cured trout are artfully placed on a bed of creamy rice grits. Leek confit and grilled fennel have the pungent yet smooth quality of kimchi; a study in sweet and savory. Then, the 62-degree, soft-boiled egg is set on top. The creamy yolk mingles with the other components of the dish, creating a Korean-style flavor.
The lemon custard tart ($7), a delicate, refreshing end to the meal, is reminiscent of a Southern lemon bar. Rosemary shortbread is topped with a lemon curd and crumbled almond meringue, and served next to a whipped and slightly sweetened goat cheese. A rich, French press coffee is the perfect mate to this dessert.
Trendy bars and restaurants come and go, but Coleman, a quiet yet passionate chef who's eager to please, seems dedicated to creating a truly Charlotte meal. The dishes, atmosphere, and ingredients are likely to make The Asbury a favorite for those looking for an out-of-the-ordinary meal that still feels close to home.