The Asbury Launches A Chef's Tasting Menu
And, oh my, it looks delicious.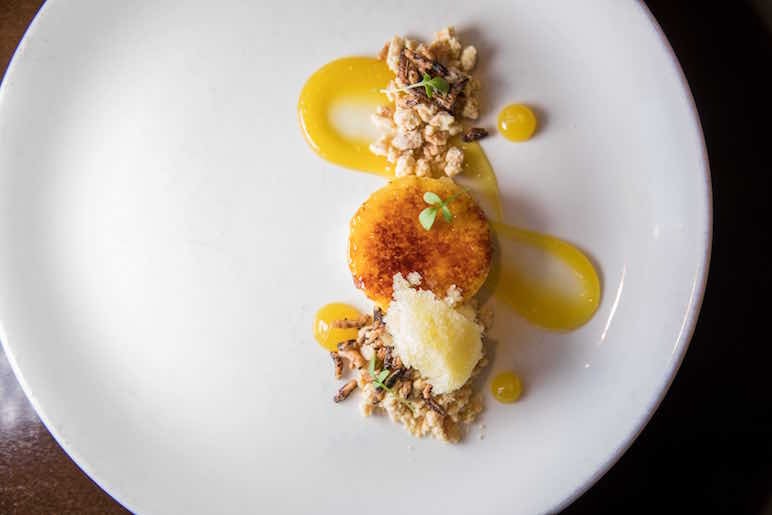 Hoping to create a menu that is more inclusive of diners of varying tastes and budgets, The Asbury has relaunched its menu. Guests at the restaurant in The Dunhill hotel, which earned a spot in the top five on our Best Restaurants list, will now notice the same menu for both lunch and dinner, with entrées such as steaks available earlier in the day and items such as the Krenz Ranch burger up for ordering at dinner.
"I just saw a growing trend in people demanding a little bit different, more upscale options (at lunch)," Matthew Krenz, the restaurant's executive chef, says. "People wanted fish, people wanted something a little more unique to Charlotte… I mean, there are 10 sandwich places a stone's throw from here, so might as well stick true to our identity and where we've found a growing demand in the food scene here."
Similarly, having lower-priced options on the dinner menu helps bring in those who might have found The Asbury out of their price range.
The biggest news for food lovers, however, is that the restaurant is also launching a seven-course tasting menu. And it looks delicious—the courses I sampled during this photo shoot sure were. (Here for the photos? Scroll down.)
The menu is partly a place to express some more creativity and partly a learning tool. To ensure his staff continues to learn, Krenz is hoping to pass on some modern cooking technique. The menu is also a chance to work on cooking fundamentals.
"This is a pretty technical kitchen," he says. "We're not just putting stuff in a bag and sous viding. I want them to know how to cook a steak properly, and I want them to know how to cook a chicken, roast it whole. Truss it. Do all the right things, not just—nothing comes out of a bag here. I want people to know that."
Sous vide is a preparation where something (generally meat) is sealed in a bag and placed in a water bath, where it will slowly cook to an even temperature.
The tasting menu costs $75, and the whole table is required to order it. It will also be limited, at least to start, so if you want to try it (and you should), Krenz recommends calling ahead. The menu will change seasonally, and be partially driven by what will help the restaurant's farmers. Wine pairings are available at an additional cost.
Some dishes will look at single ingredients in multiple forms; others come with Krenz's signature of combining the familiar and the unusual. Many of them seem simple, such as the butternut squash, but have a surprising amount of prep time (though when you taste it, you can sense the layers of flavor).The squash is cooked with beef fat, white wine, and blue cheese. We won't ruin the surprise of the whole menu, but luckily, Charlotte's best food photographer, Peter Taylor, captured the beauty of some of the dishes. You can see them below.