The Asbury's Deviled Egg Recipe
Upgrade your deviled eggs to these ones, by Chef Chris Coleman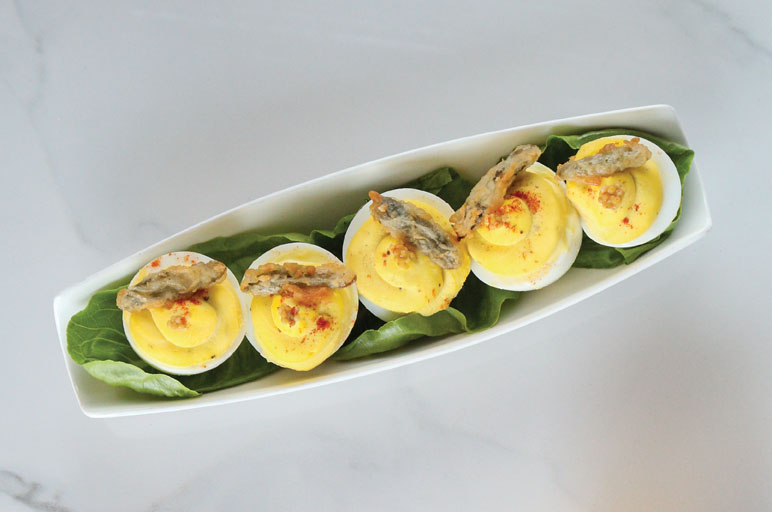 MOST HOSTS have a go-to deviled egg recipe that has been taste-tested over and over. Here, Chris Coleman, executive chef at The Asbury in the Dunhill Hotel in uptown, gives some professional pointers on how to take an old-school appetizer and give the Southern staple a new kick.
Tips:
We use Duke's mayo at The Asbury, because, well, I'm from the South. Different prepared mayos will change the flavor of the eggs, but it's all preference. Use what you like!
The garnishes aren't necessary for good eggs, but they are what set ours apart. Feel free to create your own, or to add different seasonings to your mix. Our yolk mix is basically a blank slate for flavor.
It starts with good eggs. Buy local; it's that simple. We buy our eggs from Harmony Ridge in Tobaccoville, North Carolina, and they have the freshest flavor and brightest orange-yellow yolks. There are plenty of great farmers at our local markets with amazing eggs, and they typically don't cost any more than "natural" eggs at the grocery store.
Our recipe calls for Lusty Monk mustard, which you can buy at Healthy Home Market, Earth Fare, or Common Market. A spicy, whole-seed mustard can also be substituted.
Cut the egg in half crosswise and cut a sliver off the round end so it will stand on its bottom and form a cup.
---
Deviled Delights from The Asbury
Makes 24 pcs.
12 hard-boiled eggs, peeled
¼ cup mayonnaise
2 tablespoons Lusty Monk mustard
3 tablespoons braised mustard seeds (recipe follows)
1 tablespoon paprika
1 tablespoon roasted garlic oil (recipe
follows)
24 fried cornichon halves (recipe follows)
Lay each egg on its side, and cut off a small piece of each rounded end. Cut egg in half crosswise while still on its side. Egg whites should be small cups that stand on end.
Repeat with remaining eggs. Remove yolks and set aside. Reserve whites in water (can be held three days in the fridge).
Combine reserved egg yolks, mayo, and mustard in a food processor, and grind until smooth. Season with salt and white pepper to taste. Reserve mix in a covered container (can be held three days in the fridge).
To assemble: Remove egg white halves from water and allow to dry on a clean kitchen towel. Fill each cup with deviled egg mix. Divide braised mustard seeds evenly, drizzle with garlic oil, then top each piece with a fried cornichon.
---
Braised Mustard Seeds
¼ cup mustard seeds
¼ cup apple cider vinegar
1 tablespoon white sugar
Water
1 tablespoon prepared Dijon mustard
Combine mustard seeds, vinegar, white sugar, and water to cover by 1 inch in a small pot. Bring to a boil, then reduce to a simmer. Allow to simmer until seeds are soft. Check every 15-20 minutes, and add water if pan is boiling dry. When seeds are soft and most of liquid is evaporated, stir in Dijon. Allow to cool, then refrigerate, covered.
---
Roasted Garlic Oil
1 head of garlic, cloves separated and peeled
Neutral oil (canola, vegetable, sunflower)
Put garlic cloves in a small pot, and cover with oil by ½ inch. Place over medium heat and allow to cook until garlic is simmering and tiny bubbles appear. Remove from heat, and allow to cool completely. Cover and refrigerate.
---
Fried Cornichon Halves
12 cornichons (You can use sour pickle slices, but we prefer cornichons for their sour flavor and size.)
1/8 cup milk
Flour, for dredging
Oil, for frying
Carefully slice each pickle in half lengthwise and combine with milk in a small container. Milk will thicken from the vinegar brine clinging to the pickle. Remove pickles from milk, and dredge in flour, shaking off excess. Heat 2 inches of oil in a medium pot over medium heat until a candy thermometer reads 350 degrees. Fry pickle halves (in batches if necessary) until golden brown and crisp. Drain briefly on paper towels, and garnish deviled eggs. Try to do this as closely as possible to serving. The pickles should still be warm when served.
Oil and mustard seeds will hold for several weeks. Use leftovers in salad dressings, with charcuterie, or on sandwiches.