The Asbury's Heart-Warming Mother's Day Menu
Chef Matthew Krenz will cook his childhood dishes with his mom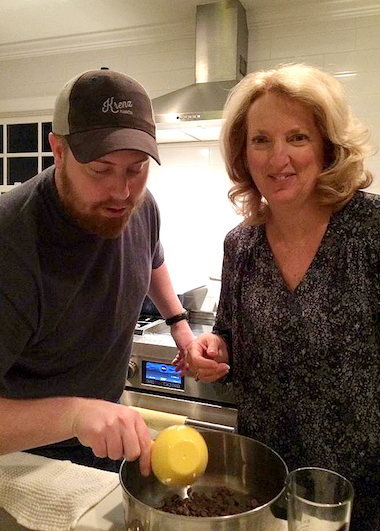 ON HOLIDAYS, when the rest of us are home celebrating, chefs are generally working hardest. So Matthew Krenz, executive chef of The Asbury, came up with a touching way to honor his mom this upcoming mother's day: invite her into his restaurant's kitchen.
Bridget Krenz will help Matthew cook some of the dishes he recalls from his childhood on Mother's Day, Sunday May 14, at The Asbury. The Sunday supper will be served with sides family-style, and they include Krenz classics, such as marinated five-bean salad, baked cabbage with Lawry's seasoning, and mac-and-cheese made with Rotel. Guests will each choose a first course soup or salad, as well as an entrée, along with three sides for the table.
If you can't make it on Mother's Day, you can still find Momma Krenz inspiration: the sausage soufflé recipe is a classic holiday breakfast.
"That's something we've always had a family had," Bridget says.
"Momma Krenz," as Matthew calls her, wasn't sure whether she'd be cooking brunch or dinner, but recalls getting a text from her son listing the items he was thinking about for the dinner.
"I'm looking at it and I'm going, oh my goodness, that is like all the things throughout his existence that we had pretty regularly," she says.
Dessert options include hummingbird cake and chocolate crepes—the crepes are in honor of Rachel Russell (soon to be Mrs. Krenz) and a dish her grandmother used to cook for her. Of course, Bridget doesn't seem to be bothered by sharing her menu with her future daughter-in-law's family. In true loving mom fashion, this quote about their upcoming wedding was too cute to leave out.
"I could not have gone out and hand-picked a better person," she says of Rachel. "She is just wonderful and we all love her and just can't wait for that special day."
Aw! Momma Krenz says her son was always an extremely active kid, and was always outdoors. Despite often cooking as a family, she didn't noticed a desire to work in kitchens until he was a teenager. Since then, she's been impressed to see how creative his menus are and how his mind works—he has a "great menu mind," Bridget says. It's tough to see a child work such long hours, she says, but they've learned to work around his schedule for holidays. And she's happy to see he's found a career path that he enjoys.
"I do hate seeing the hours and I worry that he'll burn out or he won't enjoy it or he won't love his job years down the road," she says. "But honestly, I haven't seen any of that at this point. He's never minded working hard or working long hours—he always says, 'I'm doing what I love.' That gives me comfort to know, at least—even if the day is long, he's enjoying what he's doing."
She's not quite sure what role she'll be given in the kitchen, but she certainly is familiar enough with the dishes to at least earn the title of sous chef for the night. The "Momma Krenz" menu will be $45 a person, and does not include alcohol.
Last year, Matthew's parents came and ate dinner at The Asbury in order to see him for mother's day. This year, she'll even more close to him, working in the kitchen next to him, sharing his childhood with the guests in the dining room.
"Everything on the mother's day menu really is food items that I've cooked that we've all enjoyed throughout his years of growing up," Bridget says. "It really did bring tears to my eyes to see that menu."
See the full menu for the dinner here.