The Best Part of Thanksgiving: The Vegetables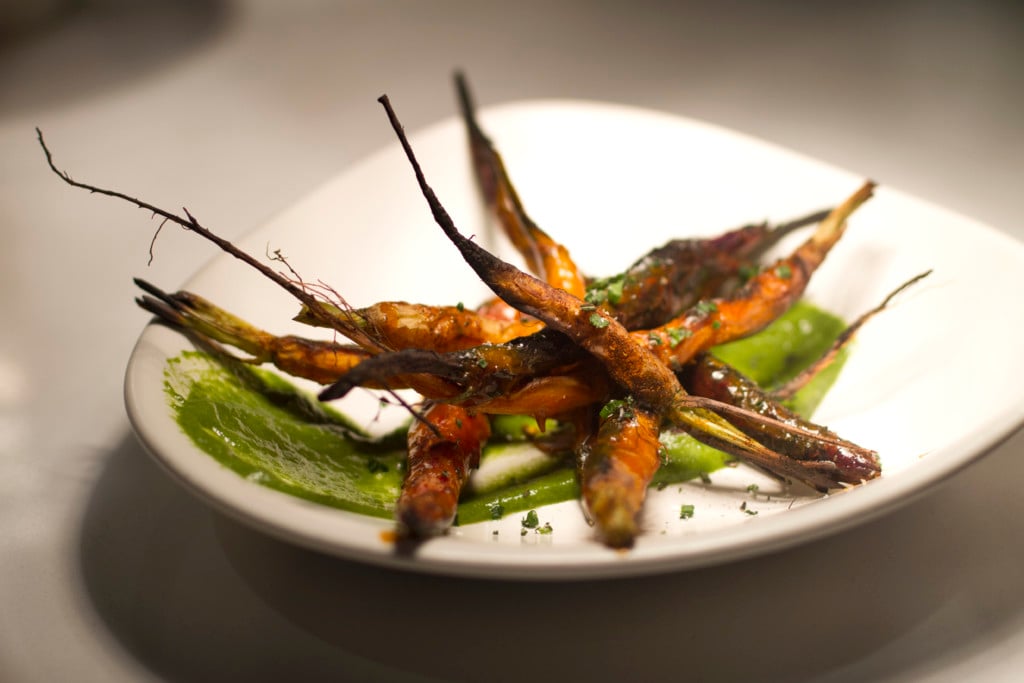 Everyone talks turkey at Thanksgiving but, to me, the side dishes are the main event and what I'd rather rap about. Growing up, my mom gave me a separate, smaller plate for my mashed potatoes. (I was a teenager and very hungry.) This strategy also gave me extra room for all my other favorites: creamed corn, stuffing, green bean casserole, puréed sweet potatoes stuffed in small oranges. The turkey was there but crowded out, pushed to the side and a bit of an afterthought (until later when it was time for cold turkey sandwiches).
Thanksgiving sides are where you get to have the most fun experimenting, and where one family's table could end up looking quite different from another's. Recipes for specific dishes can vary widely. Just think of the endless ways you've probably been served dressing—oyster, apple, sausage, chestnut, cornbread. The list of side dishes itself can also vary, and regional differences are sometimes at play.
As I get older, I like seeing more vegetables on the menu, some doused with holiday-appropriate levels of cream and butter, some light and fresh. Though it might take a certain bravery to set roasted cauliflower with fresh herbs next to the mac and cheese, I think people appreciate a counterpoint to all that decadence. Two years ago, I made roasted delicata squash with apples and worried people would skip past the less familiar vegetable. It was the first side dish to run out.
My friend recently visited Stoke restaurant in Uptown and fell in love with the barbecue carrots. She's been trying to make them at home with the hopes of serving them to her family for Thanksgiving. Chef Chris Coleman was kind enough to share his recipe, adapted slightly for the home kitchen. The restaurant lacquers heirloom carrots with a light sauce after rubbing them in a flavorful spice mix. This flavor-packed vegetable dish isn't complicated, but it is quite delicious and visually dramatic—especially if you get your hands on heirloom varieties that are purple, yellow, and white. If you're looking for a last-minute addition to your menu or want to try something new, give these a turn.
Barbecue Carrots
Small carrots, with tops, preferably heirloom varieties
Carrot BBQ rub (recipe follows)
Carrot BBQ Sauce (recipe follows)
Carrot Top Pesto (recipe follows)
Remove tops from carrots and set aside for pesto. Scrub carrots gently with a sponge or a soft scouring scrubbie, taking care to clean them thoroughly. Do not peel the carrots. Blanch carrots by placing them in a pot and covering with water. Place carrots over high heat and bring water to a vigorous boil. Turn the carrots off after they come to a boil, and allow them to cool in the water (this will take a while). Carrots should be cooked but still firm. Remove them from the water and use immediately, or reserve in a covered container. The carrots can be brought to this point 4 days in advance.
To pick up: Char carrots in a cast iron pan with just a drizzle of oil over high heat, rolling and shaking continuously, until browned and slightly blistered. Sprinkle a good amount of dry rub over carrots, and roll to coat. Drizzle a few tablespoons at a time of bbq sauce over and around carrots, rolling gently to glaze but not completely coat. Remove to a plate and serve with the carrot top pesto.
Carrot Barbecue Rub
4 parts paprika
2 parts coriander, ground
2 parts cumin, ground
1 part cardamom
1 part cayenne
.5 part mustard powder
Mix all ingredients together. Rub will keep indefinitely.
Carrot Barbecue Sauce
15 ounces carrot juice
2 ounces cider vinegar
Dash Worcestershire sauce
Dash hot sauce
Combine all ingredients and cook in a saucepan over medium heat; reduce by 75%. Will keep 4 days.
Carrot Top Pesto
4 ounces carrot tops, stems removed, washed (substitute parsley if you don't have enough tops)
Juice of 1 large lemon
2 ounces pine nuts, toasted
2 ounces good olive oil
2 pinches grated Parmesan cheese
Salt, to taste
Water as needed
Blanch carrot tops by boiling for 10 seconds and immediately submerging in ice water to shock. Dry thoroghly, and combine with lemon juice, pine nuts, and parmesan in a blender. Pulse until mixture becomes pasty. Run blender continuously and drizzle in oil to emulsify. Add water if thinner sauce is desired, and salt to taste.