The Big Flip
Why champion chef Jon Fortes left a shiny restaurant in the city for one in a strip mall in Fort Mill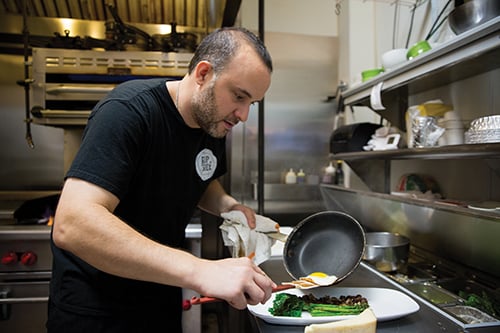 ON HIS LAST NIGHT as Mimosa Grill's executive chef, he was named the top chef in Charlotte—again. On September 29, Jon Fortes won the Fire in the City title for the second year in a row. His Pepsi-braised pork belly with a pomegranate glaze and sweet potato bread pudding with salted caramel wowed the professional and amateur judges in the dining room, completing his weeks-long run through a bracket of 16 of the city's best chefs to win the Iron Chef-style competition. And then he left.
He didn't go far. About 13 miles and a state line separate the uptown dining destination that is Mimosa Grill and the 42-seat strip mall cafe where Fortes now spends his days.
The Flipside Cafe opened in Fort Mill on December 12, 2013. It combines the local-foods movement with a small-town, regulars-at-the-counter atmosphere. So why did Fortes—who served as the corporate chef for the Harper's Restaurant Group's six locations, who helped increase revenue at Mimosa Grill five straight years, and who beat out the who's who of Charlotte's culinary elite in back-to-back competitions—decide to come here?
It has something to do with a woman.
One month before The Flipside Cafe opened, on the date 11/12/13, Fortes married Amy Kumpf. The midweek vow exchange was brief and private.
"We wanted to have the same last name and everything going into opening a business," Amy Kumpf Fortes says.
For almost 10 months, Amy ran The Flipside while Jon worked at Mimosa. They didn't see each other much. Both tried to arrange one day off a week, and they spent that day with Jon's two boys, who are 7 and 8.
Many restaurants receive attention when they open. Reservations fill up weeks in advance; people wait in line to try the new hot spot. Flipside wasn't like that. It took time for people to embrace the concept. It's a cafe with craft beer and brown-butter roasted scallops on the menu. It's located a mile or two from the crowd-pleasing combo of KFC, Wendy's, and Cracker Barrel—just outside the entrance to Carowinds amusement park—and Flipside's chalkboard lists 14 local food providers. Some of its most popular dishes are meatloaf, burgers, and omelets, which are prepared by Jon and Amy—two chefs with degrees from Johnson & Wales University and experience in some of Charlotte's most respected kitchens.
"People didn't understand our timing," Amy says. "They were so used to fast food. But after a couple of weeks, they really understood that we were making things to order and that we didn't just have everything prepared and ready to dish up. They started to get it."
The Flipside's business increased gradually throughout its first year. Amy upped the staff to 11. Then she and Jon decided in September that he would make 12.
They now begin their joint routine at 6:30 each morning. They drive three minutes from their home in Regent Park to the restaurant. Doors open at 7. They serve breakfast, lunch, and dinner Monday through Friday, with brunch, lunch, and dinner on Saturday. Sunday is brunch only, so they have the evening off. Jon, 38, is business-minded with more experience than Amy in purchasing and sourcing. Amy, 29, is teaching him the names of restaurant patrons, where they live, and how they like their burgers.
Sharing kitchen space isn't new to the Forteses. Amy completed an externship, a short-term job-shadowing experience, with Jon during her sophomore year at Johnson & Wales. After graduating, she took a job with Harper's Restaurant Group, where she worked five years until opening Flipside.
(Top) Uno alla volta burrata with roasted beets, arugula, citrus, marcona almonds, and sea salt.
(Bottom)Warm asparagus and fried egg salad with marinated mushrooms, greens, and parmesan.
"If you can work well together 70 hours a week in the kitchen, it can work outside of the kitchen," Amy says.
They joke about the time Jon transferred her from Mimosa to another location in the Harper's Group—which operates Mimosa Grill, Upstream, and four Harper's Restaurants—because he didn't think they were ready to work in such close proximity at that point in their relationship. Now they work side by side in their 1,100-square-foot restaurant. The small size has been the biggest adjustment for Jon. He's preparing the same quality of food, sourced from many of the same purveyors. But now he's doing it in a restaurant that doesn't have a reputation that spans almost two decades, a ready supply of businesspeople looking to wine and dine clients, or a prominent location on uptown's Tryon Street.
"You're just not walking into a 214-seat restaurant that is Mimosa Grill and has been for 19 years," Jon says. "That's the toughest part."
But the reception from Fort Mill residents has given Jon and Amy a different kind of satisfaction, one that's personal and professional. Amy talks about a customer who came in the morning for coffee, returned for lunch, and then ate dinner at Flipside. People often visit two or three times a week. Busy parents place takeout orders to bring home. One online reviewer praised the staff for remembering her son's name after just one visit.
Jon and Amy don't plan to grow Flipside into a large restaurant. Instead, they want to open more small-scale, local-food-focused places. And they want to do it in South Carolina.
"There's a lot going on in Charlotte," Jon says. "We're going to leave that to the other chefs."
As the winner of the Fire in the City competition, Fortes was asked to represent Mimosa Grill once more last fall, at the Final Fire competition, which pitted him against the winning chefs from the Triad and the Triangle, the mountains and the coast. On November 22, Fortes won that competition, too, staking his claim as the best chef in North Carolina in 2014.
Just before that, at a small cafe just across the South Carolina line, he and Amy hosted Flipside's first beer dinner—five courses paired with five beers from The Olde Mecklenburg Brewery for $45. It sold out 12 hours after Jon posted it on Facebook. They served cider-braised pork belly with cider syrup and sweet potato gnocchi with duck confit and truffle cream.
The Fortes name might have left uptown, but Fortes' food hasn't gone far.
The Flipside Cafe
3150 U.S. Hwy. 21 N., Fort Mill, S.C.,
803-802-1711, theflipsidecafesc.com
Leah Hughes is a freelance journalist in Charlotte. Email her at leahchughes@gmail.com, or follow her on Twitter: @HughesLeahC.