The Bird and the Machine
How four European artists traversed time and space to alter the identity of Charlotte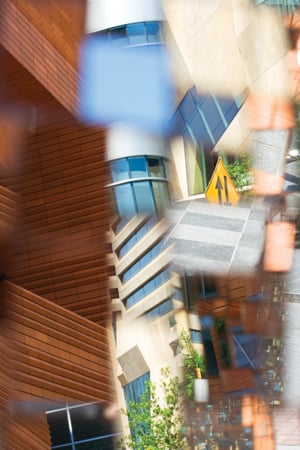 This story starts, like so many in Charlotte from the past twenty years, with a real estate play. It ends with a city that is rediscovering itself. In between, well, that's where it gets complicated, where a wonderfully weird assemblage of motors and scrap metal and an animal's skull joins forces with a giant, shiny bird, while we collectively smile and snap photographs.
So, the beginning: in the late 1980s, a dashing Swiss businessman, scion of a prominent family in his homeland, was looking to diversify his family's air filtration company. His family had established a United States office in Charlotte. 
Andreas Bechtler had been here for a decade and a half already, working out of space on Wilkinson Boulevard, which at that point was not yet the road that time forgot.
He and his family decided to develop an office tower in Charlotte's downtown (that's what it was called in those days). Bechtler acquired the abandoned Hotel Charlotte, on Trade Street just a block and a half from the center of town.
"Downtown was dead, scary," he remembers. Homeless people were living in the building. His company imploded Hotel Charlotte (insert your own metaphor here) and built the twenty-four-story Carillon. You can pick it out on the skyline by the peak of its roof, which, in a nod to neighbor First Presbyterian, looks like a Gothic church.
The most striking aspect of the Carillon is not what's on top, but what's on the ground floor. The lobby holds two of the most significant works of public art in the United States. One in particular is a destination for public art aficionados. Called Cascade, it was the last major work completed by Bechtler's friend and fellow Swiss Jean Tinguely before he died.
Tinguely is a big deal. There's a museum in Switzerland dedicated to his kinetic sculptures, which are whirring, fanciful concoctions of spare parts, found objects, and carefully calibrated motors. The museum was designed by a Swiss architect named Mario Botta. Tinguely was married to the beautiful French American artist Niki de Saint Phalle.
You may have heard of Niki, as she was called. She created a sculpture called Firebird. A twelve-foot-tall likeness of a bird covered in mirrored glass, it stands outside the Bechtler Museum of Modern Art and has quickly become a civic icon. Five more Niki sculptures are across the street, part of an exhibit of her work at the Bechtler.
Bechtler. Tinguely. Botta. Niki. Together, through luck and talent and love and loyalty and singularity of vision, the unlikely foursome has made a sort of cosmic playground out of this city, altering it in ways deep and small.
To understand how such magnificent pieces as Cascade and Firebird ended up in Charlotte, you have to go back in time and cross an ocean.
In the 1960s, Andreas Bechtler was growing up in Switzerland with his parents. His family, including his Uncle Walter, was deeply interested and involved with art. They weren't just collectors; it was a way of life. Artists were regular visitors to the Bechtler home. Andreas describes it, shrugging, as "life spent with friends."
Andreas was sixteen when he first got to know Jean Tinguely and his wife, Niki. Tinguely was already well known; Niki was beginning to come into her own. To Andreas, they were just an interesting young couple. "She kept him hopping," he says. "She was a fireball."
They were also a gorgeous couple. Niki looked like a prettier Uma Thurman, and she modeled for fashion magazines throughout her youth. Tinguely, with brown hair and intense eyes, was one of those normal-size fellows who appears much larger in person, simply by force of personality.
What Bechtler did not realize at the time was how important his parents and uncle had been to Tinguely as he was starting his career, offering support and encouragement. Like several European artists of the time, Tinguely would forever be grateful to the Bechtler family. And over time, Tinguely would become a mentor of sorts to Andreas, who in addition to being a businessman (he's retired now) and earning a doctorate in economics, is an artist.
By the early 1980s, Andreas was getting settled in Charlotte while Tinguely and Niki were completing a major joint project. The two collaborated on the Stravinsky Fountain, which is outside the Centre Pompidou, a modern-art center in Paris. Sixteen sculptures, some by Niki and some by Jean, adorn a large pool. Each work represents a piece by the composer Igor Stravinsky. In a city overflowing with art, the fountain has become one of its most popular destinations. This would be art for the YouTube generation: most of the works move; some spray water.
The fountain's signature piece is called l'Oiseau de Feu—or Firebird. Seemingly perched on top of the pool, Niki's sculpture sprays water out of its gold and red head while its multicolored wings open wide. Niki had long had the figure in her head; it shows up in some of her early paintings. But this was its public debut, and it was a smash hit.
After finishing the Stravinsky Fountain, Niki moved to Tuscany, where she worked on a massive project called the Tarot Garden, which she called her life's work. It's a series of twenty-two huge sculptures based on the scenes depicted on tarot cards. She lived in one called The Great Sphinx, a phantasmagoric sculpture-cum-house with a full bedroom and working kitchen. Tinguely designed a machine that would open and close the windows to keep Niki safe at night. Mario Botta designed the entrance gate. The garden—which does no advertising, is difficult to find, and is only open six months out of the year—draws 100,000 visitors annually.
For Niki, the Tarot Garden would represent the final stage of her career. In her early work, she battled inner demons—and these were serious demons, landing her in an institution at one point—on the canvas and with gaudy three-dimensional works. She first earned notoriety in the 1950s with what she called "shooting paintings." She would paint something—heads of state or a likeness of an old master—and attach bags filled with paint or yogurt or vegetables. Then she would fire on the bags with a rifle, letting the colors explode over the painting. By the mid-1960s, she conquered her demons and began working on a series of sculptures she called Nanas. These colorful, larger-than-life representations of the female figure became the symbol for the rise of feminism in Europe in the 1970s.
In the 1980s and 1990s she turned to public art. She was happy, and she wanted to make others happy. From the Stravinsky Fountain to the Tarot Garden to the works on The Green here in Charlotte, you can't spend time with a late Niki public art piece and not smile.
Throughout the 1980s, Niki worked closely with Tinguely. By the time the Bechtler family was building the Carillon, Tinguely was famous and coming off years of poor health. He had no reason to accept a large commission in a small Southern city in the United States. "Tinguely wouldn't have taken the commission if it hadn't been the Bechtler family asking," says John Boyer, president and CEO of the Bechtler Museum of Modern Art.
Bechtler had the architects design an expansive lobby to hold large works of art. On one wall is a painting by Sol LeWitt (a well-known artist in his own right—that's his giant geometric piece over the lobby of the Bechtler). But the work you simply cannot ignore is Tinguely's Cascade. Tinguely stitched together sixteen or so smaller works to tell one large story, to make what he liked to call "moving paintings." He used found objects, stuff from scrap yards, animal skeletons—anything was fair game. "Once we had a piano pulled up" to the ceiling, Bechtler remembers. "Once it was a sofa."
"It is one of his largest works in the U.S.," says Jean Greer, who heads up the public art program for the Arts & Science Council. "We are amazingly fortunate to have that work here. People from all over the world come into our building to look at that work. It's sort of a pilgrimage point in terms of public art."
Not long after Cascade was finished, in 1991, Tinguely died at the age of sixty-six.
After Tinguely's death, Niki collaborated with Botta on a couple projects, including a children's playground (The Cat, now on The Green, came from that commission) and the Tinguely Museum. She fell into poor health, largely as a result of years of breathing in polyester fibers from her sculpture work. She entered a hospital in November 2001 and died in 2002, at seventy-one, on Tinguely's birthday.
Bechtler had dinner with Niki not long before she died. She was still working, he says, and excitedly told him about a T-shirt project. She wanted to make it easy for art to be a part of everyone's life.
Bechtler had been having some of the same thoughts about his own collection, much of it inherited from his parents. He thought the public should be able to enjoy it. At first, he thought he might display it at an artists colony he was building near Mountain Island Lake, northwest of Charlotte. But city leaders convinced him it needed to be in the center city.
Once they figured out how to pay for it (you can thank Wells Fargo, private and corporate donors, and a rental car tax for that), Bechtler and his board just needed someone to design the thing. They thought of holding a competition or hiring a big-name firm. Then, Bechtler has said, it came to him in a dream. "Of course! It was Mario Botta!" The karma, the connections were too much to ignore. "It's so obvious," he says, "but it wasn't for a while."
There was just one puzzle left to solve: what to put on the plaza that would be in front of the building. It had to be big and it had to be bold, but it also had to be welcoming. It was an incredibly important decision. And it was essentially Bechtler's to make, because he was going to buy it. There was no public input process to navigate, no politicians to please. Just one man and his vision.
He nailed it.
This is how a city's identity is altered:
By the time Andreas went to Atlanta to see an exhibit of Niki's works, he had already decided it had to be a Niki piece. He had preferred a fountain, and he talked to Niki's foundation, which was set up after her death and owns hundreds of her works. He was told there was a fountain available in Paris. He asked if he could see it. The foundation said no, because it was in storage. "Well, I cannot buy a fountain that I haven't seen," he said, ever the pragmatic Swiss businessman.
So he went to Atlanta, scouting, and he saw Firebird.
"I could observe how it affected the young and old, having the arch to go in and out, and how engaging the piece was," he says in his gentle German accent.
He inquired after it. "Oh, somebody owns it? Well, who is that?"
Firebird, our Firebird, which Niki made in 1991, was owned by a European couple. It had been on tour for years and even spent time in front of a Botta-designed museum. The couple eventually planned to install it in their backyard. They did not want to sell.
"That couple also knew my parents," Bechtler says. "They were impressed and delighted to see that … it was a brand-new museum by Botta, [who had] worked in so many ways together with Niki de Saint Phalle. … They decided it was the right thing to do."
Bechtler is humble. Boyer says this: "There are cities all over Europe that would have done anything to have a major piece by Jean Tinguely or by Niki. And the reason that Charlotte has two considerable, important, high-profile pieces is because of these relationships with the [Bechtler] family."
Firebird landed on October 24, 2009, a beautiful late fall day two months before the museum opened. Boyer and Bechtler grin at the memory.
"It was so fabulous," Boyer says. "It was like a reverse magic act because it came out of the box in two pieces. You know like when the magician cuts the beautiful attendant in half? Well this was sort of the opposite. It was really a remarkable moment."
On November 3, Firebird was officially unveiled. "The crowd reaction was such that you could tell instantly that there was going to be a very important relationship between that work of art and this community," Boyer says. "Clearly that's proven itself to be true."
If you want your picture made with Firebird, you often have to wait your turn. Jaded uptown workers can't help but steal a glance when they walk by it. Visitors often stumble upon it and gaze in wonder and joy. People cross the street just to walk under the arch. It has a nickname and a Twitter account. Its image has decorated nearly every magazine feature written about Charlotte in the past year and a half, supplanting former icons like the Bank of America Corporate Center and, well, exactly.
Before Firebird, there was no go-to image for Charlotte. The default was a skyline shot, but all large cities have a skyline. Now, we have this giant bird covered with mirrors. We have a luscious terra-cotta museum behind it. Behind it, yes, the skyline. It's an image of wonder and ambition and it's dominated by, of all things, a piece of art. We're not used to seeing the city this way.
It wasn't an intentional plan for a collection of public art and a modern art museum to become such a part of the fabric of a business-oriented city. But it wasn't an accident either. Andreas Bechtler understands this, even if he finds it difficult to explain. "It doesn't always happen in life that you can see beautiful things are happening, and you see new layers come, and then new layers on top of that," he says, after some thought. "And eventually with a lot of luck also, you can, like pulling a net, capture years of evolution and puzzles that really fit together that make it whole. … With Botta, with Tinguely, with Niki de Saint Phalle, this has grown like this. We did not have to invent something. All we had to do was pick it up and put it here."