The Brewhood Revolution's First Test
The craft brewery explosion has reshaped urban neighborhoods. Can it survive this?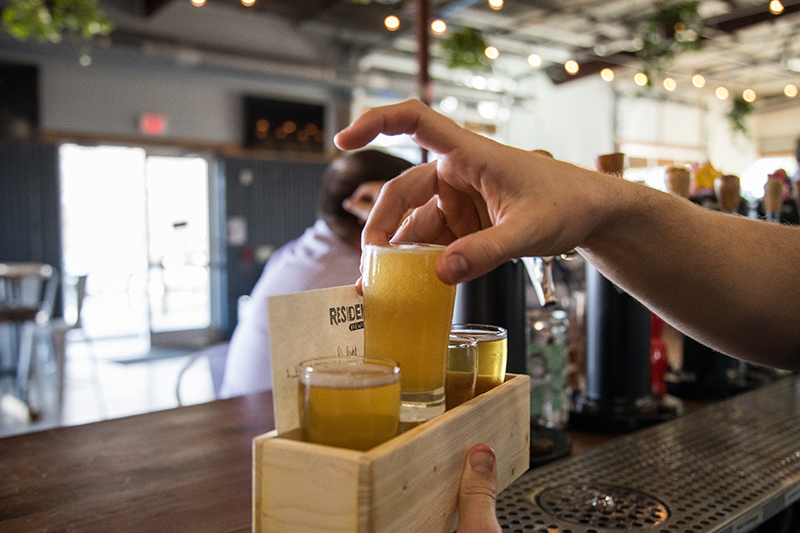 Toward the end of our conversation, as she nurses the last of her sour IPA at Divine Barrel Brewing in NoDa, one of the nation's foremost researchers of craft breweries and their effects on urban economies gestures toward the beer menu scrawled, as in most taprooms, on a chalkboard that hangs behind the bar. "Most of these guys have not seen a downturn yet. The big boom has come during this recovery period," says Isabelle Nilsson, a 34-year-old academic who retains the accent of her native Sweden. "But now, if we go into another recession—I mean, these beers are not cheap. Are people going to go back to Bud Light?"
It's the evening of Wednesday, March 11. Neither of us anticipates what's coming the next day. On Thursday, March 12, the Mecklenburg County Health Department confirms its first two cases of COVID-19. Charlotte cancels its St. Patrick's Day parade. Governor Roy Cooper recommends the cancellation or postponement of gatherings of more than 100 people. Cooper later amends the recommendation to an order. Within days, people everywhere are working from home, keeping their distance from each other—and absent from stools and picnic tables at the Charlotte area's nearly 50 breweries, which close their taprooms and sell beer for home consumption only.
No one knows how long the sudden coronavirus downturn will last. But even if the breweries and their neighborhoods suffer, craft breweries will have helped transform urban areas and economies as few things have in recent years—and Nilsson, an assistant professor in UNC Charlotte's Department of Geography and Earth Sciences, has spent much of the last decade trying to figure out what that might mean for cities.
Nilsson specializes in economic geography, a niche discipline within the study of urban economics. Researchers try to answer questions like: How far apart should businesses in the same industry be from each other? From their workforce? How does their physical proximity affect cost of living, crime, traffic? In 2011, she was working on her master's degree in economics at the University of Toledo, where she'd landed as part of an exchange program with the Swedish university where she'd earned her bachelor's, and fielded a request from a UT professor named Neil Reid, a.k.a. "The Beer Professor."
Reid, a native of Scotland, is a professor of geography and planning who has written and lectured extensively about the beer industry. Reid wanted her to join him in researching the benefits of "clustering" among craft breweries in the United States—the phenomenon of brewery neighborhoods. "Brewhoods" tend to establish themselves in seemingly forgotten industrial areas like birds that land on a wire: One brewery leads to two, then three, until the collective forms the backbone of a distinct, walkable urban community. The neighborhood where Nilsson and I meet—the northern edge of NoDa; NoNoDa, if you will—provides a representative example: Bold Missy Brewery, across North Davidson from Divine Barrel, closed in February. But you could conceivably walk from here south to Protagonist to Heist Brewery to Birdsong Brewing Co.
"Here, we have South End and NoDa, right? You map the brewing industry, it's like a strip," Nilsson tells me as a freight train passes, wailing. "So then you start asking yourself, as an economic geographer, why is that? Why would they do that? So we started looking at some of these benefits in terms of knowledge-sharing and things along those lines."
She moved from Toledo to Charlotte and her UNCC professorship in 2015. Her research here and in other cities, like Denver, Austin, Chicago, and Cincinnati, reveals that the young craft brewery sub-industry takes on the characteristics of profit-driven commercial and manufacturing ventures—but nurtures a love of craftsmanship and spirit of cooperation common to artisanal and artistic communities. Those in turn reinforce their respective neighborhoods' individuality. (The beer she's drinking validates her research: "Transitional Sunglasses," a 5.6-percent-ABV collaboration with Heist.) That's another trait she found in brewhoods, a strong sense of community and neighborhood pride. "In a lot of cases," she says, "those who open up breweries are local and want to give back to their communities." Brewery owners, for instance, are the kinds of people likely to join and lead neighborhood associations.
Since 2017, she and Reid have written or co-written four papers published in academic journals and a pair of chapters planned for an upcoming book, including one chapter devoted to NoDa. They're still trying to work out whether craft breweries catalyze or follow neighborhood investment; so far, it appears to be a mix of the two, one boosting the other. Ultimately, she'd like her work to help form a solid statistical foundation to guide urban planners and policymakers in decisions on land use and economic development. She concedes that may take a while, and it's at this point when she raises the question of whether craft breweries can survive hard times. Most of the growth, after all, has come in and after 2013, when the country began to emerge from the post-2008 recession.
It took only a couple of weeks for the possibility of hard times, and of Nilsson's research to end up illustrating a short-lived movement, to grow far more likely. We'll see how it goes. But on that warm Wednesday evening, with spring and dusk approaching and couples sipping from tulip-shaped glasses at picnic tables, that prospect seems a long way off. We move to the bar, where Nilsson's husband, Jeff, has worked on a laptop as she and I talked. Two men walk by with their dogs, one of them missing a hind leg. Nilsson briefly drops her academic's formality and—though she, surprisingly, confesses she's not much of a beer drinker—revels in the space this movement has filled.
"And this, right?," she exclaims. "You can bring children, you can bring dogs—you can more or less bring your whole family. It can be your second living room. That's great!"
Greg Lacour is the senior editor for this magazine.
---
Brewhoods Worth a Road Trip
Other cities within a few hours' drive of Charlotte have their own neighborhood counterparts to South End and NoDa: formerly decaying industrial areas that young entrepreneurs have rejuvenated through the raw power of IPAs, stouts, and scotch ales. Here's a flight of them—assuming they'll still be intact, in whole or in part, after the crisis passes. 
South Slope, Asheville. South Slope is Asheville's NoDa. A decade or so ago, the compact area just south of downtown was primarily a catchment basin for closed factories along with local auto dealerships and repair shops. A few of those remain alongside a garden of coffee shops, art galleries, local bistros, and, of course, breweries and shops that sell the beer they produce. South Slope hosts nine of Asheville's more than 40 craft breweries, including brands recognized far beyond western North Carolina—like Green Man Brewery and Asheville Brewing Company, which have been brewing since the late 1990s.
The Neck, Charleston, S.C. The name's origins are geographic; it's the mile-wide northern end of the uvula-shaped peninsula between the Ashley and Cooper rivers that continues south and culminates in the Charleston Historic District. Once a dismal repository of fertilizer factories, lumber yards, and their toxic runoff, the area began to develop anew after Palmetto Brewing Company opened just south of it in 1994. Now, The Neck is the center of Charleston's small but celebrated brewery movement, with roughly half of the area's 15 breweries—which, says Explore Charleston spokesman Doug Warner, "is clearly one of the reasons why people come here."
Scott's Addition, Richmond, Va. It's been eight years since the Virginia legislature allowed on-site sale and consumption in breweries, and few parts of the Old Dominion have benefitted more than this historic district northwest of downtown. It's the locus of 13 breweries and one of the city's hottest real estate markets, drawing more than $400 million worth of investment in high-end apartments—sound familiar?—even as the brewing community stays tight. "It's really not hard to get to know each other. It's really a small scene, and that's what people miss sometimes about Richmond," says Tom Sullivan, a former punk rocker who founded Ardent Craft Ales in the dead center of Scott's Addition. "It's not like we're copying each other. We're feeding off each other's successes."