The CMPD Program That Opens a Window To Dogs' Forever Homes
Staycations are Animal Care & Control's most successful dog adoption program, a powerful tool in its mission to become a no-kill shelter. But staycations come with a dare: How long can you borrow a shelter dog before you fall in love?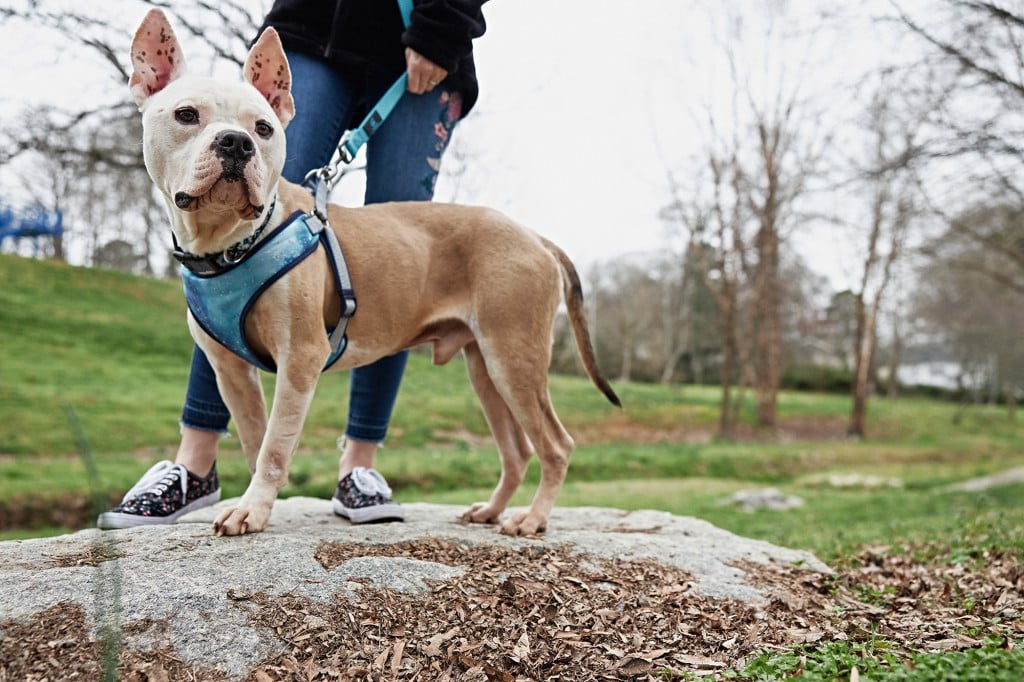 THE DOG LAY near the Interstate 85 entrance ramp just off Freedom Drive, curled on the grass where people dump trash. Three people had called the Charlotte-Mecklenburg Police Department about the brown-and-white pit bull, so Officer David Woody went to retrieve the dog, which someone had likely dumped with the garbage. In his 16 years on the job, he hadn't seen many dogs in such bad shape. A gaunt body revealed outlines of ribs, spine, and hip bones. Woody gave a friendly whistle, but the dog backed away. He acted with caution to keep the frightened dog from running into highway traffic. With patience and three cans of dog food, Woody earned the dog's trust and lured him closer. He leashed the dog, now calm, who jumped right into the Animal Care & Control van.
After three days in the stray ward in February, dog #A1164940 remained unclaimed.
A vet exam revealed heartworms and hookworms, both lethal if untreated. The dog had abrasions on his front legs and scratches across his face, and the tip of one ear was missing. But a temperament test revealed his good manners and social nature. A dog the world hadn't loved somehow loved it back.
It would be understandable for a crowded municipal shelter to euthanize a dog in this condition. Adult pit mixes aren't exactly the goldendoodles of the dog market, much less one with heartworms, hookworms, and protruding ribs. But the shelter had hope for dog #A1164940. AC&C microchipped, vaccinated, and dewormed him, began flea treatments, and moved him to the adoptable kennels. His run displayed his new name, Atlas, and another label: Staycation Approved.
THE PREMISE OF AN AC&C STAYCATION IS SIMPLE. Borrow a shelter dog for up to five days. Give it a break from stressful shelter life. Give it cuddles and treats. Give it walks and love.
Then, the hard part: Give it back.
Last year, the program's first, 671 dogs took staycations through AC&C. These dogs were the long shots, overlooked by most adopters—senior dogs, big dogs, and pit mixes, mostly. Yet 384 of them never returned. More often than not, staycation hosts did what's nearly inevitable—they fell in love—and asked to keep their guests forever.
"When we started this program, we hung our hat on the idea that we wanted dogs to get a break from the shelter, get some marketing, and come back with more information so we can find the best homes for them," says AC&C spokesperson Melissa Knicely. "That so many staycations turned into adoptions was almost a miracle."
Staycations began in January 2019, which kicked off the shelter's record-breaking dog adoption year. Inspired by a similar program in Washington, D.C., the program allows people to borrow often-overlooked dogs for mini-getaways. Staycations came at a crucial time for AC&C. Renovations that began last year and continued into the spring required the temporary closing of kennel sections and limited AC&C's capacity for stray and surrendered dogs. Staycations opened spaces in private homes. Some people host a staycation dog to test how it does with their kids or with other dogs—a rent-to-own tactic. Others merely want a fun weekend playmate and find something more.
Knicely's worked at AC&C for 13 years. When she arrived, 34 percent of dogs here had live releases—they were adopted, transferred to a rescue group, or reunited with owners. In other words, not euthanized. In 2019, the live release rate for dogs was 79 percent.
AC&C hopes to qualify as a no-kill shelter, which requires a 90 percent live release rate for all animals, according to the No Kill Advocacy Center. It's close. In January and February 2020, the shelter maintained 89 percent. For a municipal shelter with limited space that's required to accept all stray and surrendered animals—even aggressive and ill ones, even pet snakes and chickens—that's a feat.
"I SHOULD TRY A STAYCATION—FOR JOURNALISM," I told my husband, Jimmy, as I reported this story. He gave me the look I deserved. He's heard this before. Four years ago, I wrote about AC&C for this magazine and fostered a dog—for journalism—and that dog snores beside me as I write this. As much as we love our two dogs, we don't want a third. As much as we don't want a third, we know what suckers we are for a dog with a sad story.
We found a compromise: a daycation. Not even an overnighter, not even time enough to fall in love. The dog would be back in its kennel by evening. I went to AC&C to find my daycation buddy.
A brown-and-white dog with a giant noggin and upright, polka-dot rabbit ears looked like my kind of dog. Other dogs barked and jumped for my attention, but he looked up at me quietly. Aha—a fellow introvert. Then I saw his skinny body. His head looked big only because his body was horribly thin. He had scratches that came within an inch of his big, soulful eyes. When he got up, he walked gingerly while his skinny tail swayed downward, as if it tried to sweep up behind him. I had found my daycation buddy, Atlas.
The woman at the front desk explained I could take Atlas for a staycation for up to five days. No, no, no, I told her. I'll have this dog back today. Really.
Atlas and I took a walk, his snoot in the wind, inhaling the world. He started to cough, so we went home. I gave him treats and noggin scratches, then left him to nap in a quiet room while I finished work down the hall. When it was time to return him, Atlas wasn't alone. His front legs draped over Jimmy's lap as the two gazed at each other. My husband, who shares my commitment to canine emotional distance, gave me a look that conveyed both "I love him" and "Oh, no." I called the shelter to ask if I could transition Atlas from daycation to staycation. Just one night, I said. I'll have this dog back tomorrow. Really.
"SNEAKY? US? SNEAKY? We have no trickery here!" Shannon Harkey, the shelter's community outreach manager, laughs. She's busted and knows it.
The bet of a staycation, of course, is that people fall in love. The trickery can be forgiven for such an earnest wager. We need more bets like this. Cynicism is high. Trust is low. Open-hearted people might be the bravest souls out there. But there's something about a dog. Even in this wary world, it's so easy to love a dog. For a certain kind of person, a wet nose and wagging tail can break through any barrier we build.
That kind of person won't play it cool during a staycation.
Crystal Chappell didn't. Last Thanksgiving, she decided her dog, Faye, needed a buddy. She adopted Faye from AC&C in 2018, after her husband's cancer diagnosis. "I can't do anything about the cancer," she thought, "but I can save a dog's life."
For their next dog, she would do a series of staycations until she found the perfect one. Her first staycation hosted a pit bull named Diamond. On the second day of her visit, Diamond approached her husband ("She knew he was sick," Chappell says), gently lifted his hand with her head, then lay down and nestled her head in his lap. Diamond was home.
A dog who returns to the shelter from staycation is not a failure, however, Harkey insists. Staycationing pups return with postcards of their getaways, full of information that offers shelter employees details they'd never learn in the kennels. Are they housebroken and leash trained? Wild and in need of obedience training? Are they good running partners or fellow Netflix bingers? "The animals here are stressed. Even the most chill dogs we have. They're not at 100 percent," Harkey says. "Staycations get them out of the kennel and give people a chance to see their true colors."
Shelter dogs like Atlas don't come with backstories or pedigrees. Adopting one requires faith and a little risk. But staycation hosts become shelter dog biographers, capturing stories and removing the mystery. "People always ask us, 'Are (the dogs) going to be sad when they get back to the shelter?'" Harkey says. "No, their stress is down. They return calmer. We know more about them. They get adopted faster."
The program creates a volunteer marketing team, too. Staycation hosts tell friends, family, and coworkers about their temporary guests, which builds a network of potential adopters. They often post fun pictures of staycation dogs on social media (#ACCstaycation), which AC&C shares, giving shelter dogs their own social media campaigns. Sometimes, when Harkey approves a long-timer for the staycation program, she smiles and thinks, "Let's get someone taking cute pictures of you wearing sunglasses at a brewery."
ATLAS' COUGH WORSENED. He could only walk a few steps before hacking. AC&C's vet told me it was a bad case of kennel cough, and Atlas would begin 10 days of antibiotics after I returned him.
Return him?
Jimmy and I decided that Atlas should recuperate with us, so we extended his overnight staycation into a 10-day foster. (After staycations began last year, the shelter's foster rate jumped 35 percent. I get it.) We turned my home office into Spa Atlas. For his kennel cough, we gave him medicine, provided by AC&C, and a humidifier. For his weight, he ate canine casserole—chicken, rice, and sweet potato—along with his kibble, three times a day. For his wounds, Neosporin. To warm him against shivers, a fleece sweater. He slept in a new dog bed when he wasn't lounging across throw pillows on the couch.
Two and a half weeks earlier, this dog, malnourished and frightened, had slept amid trash near a highway on-ramp. Now, he slept in a bolstered dog bed, strutted in his sweater, and ate canine casserole with all the grace of Cookie Monster. The highlight of his days came when we'd sit together on a blanket in the yard; I'd write with one hand and rub his belly with the other, and he'd sunbathe on his back.
An email arrived with "Atlas" as the subject. A potential adopter hoped to meet him. I told her everything: about how calm and sweet he was, but also about his health challenges. She was all-in on Atlas, heartworms and all. A good sign. She wanted to host Atlas on a staycation, hoping he'd stay forever. We scheduled an introduction.
CONVERSATIONS WITH AC&C STAFF are lessons in compassionate fatigue. The job requires impossible math—thousands of animals to save each year with limited resources and high expectations. Away from work, they're experts for friends and neighbors who call about stray cats or injured birds to say, "Save this." They're never off-duty. Even so, they fight the reputation that they're dogcatchers, not dog rescuers.
"We have a hard time changing perceptions. You lose sleep over it," Knicely says. "I've learned not to read social media comments … I'll see lost-dog posts, and everyone chimes in, 'Don't take it to Animal Control, they'll just kill it.' That's not true at all. It does hurt a lot."
Staycations have boosted this team's morale. They show the public what the staff already knows: Gems await in those kennels, if only you meet them. Serial staycation hosts are on a first-name basis with staff, and they wait in increasingly long lines of people who wait for canine guests. The staff scurries to identify new staycation dogs to replace outgoing ones. The program has such demand that during my March staycation with Atlas, the shelter opened all adoptable dogs to the program.
"Before, the long-timer dogs would sit here and I'd see them, and it'd be very depressing. You get to know them. It's like I have 100 personal dogs," Harkey says. "Now, it's uncommon for a dog to sit here without any interest … The happiest part of my day is when these dogs get out of their kennels."
DOG GOODBYES ARE HARD. Jimmy and I knew that Atlas' happy ending meant a sad day for us. The day Atlas left us for his next staycation, his big noggin caught a lot of our kisses and a few of our tears. So attached after just 10 days. There's something about a dog.
We met his new hosts at AC&C to transfer Atlas from our home to theirs. As his new staycation family walked him out of the shelter and into his next adventure, someone in line called out to Atlas, "Have a good life, buddy!"
SPRING MEANS FULL KENNELS AT AC&C. It's puppy season, although the puppies will be fine. Their pink-padded paws will barely hit the kennel floor before they're scooped up by adopters and rescue groups. But between runs of puppies will be the long-timers: the seniors, big dogs, and pit mixes. Dogs, like Atlas, who wait to tell their stories, even for just five days at a time.
As the runs at the shelter fill in March, Otto, a lucky staycationer, settles into his new forever home. Martha Severson and her daughter Lily have chosen a staycation dog with a quiet reputation. Six weeks earlier, their beloved dog, Henry, died. Henry wasn't just any dog. He was unusually calm, an expert lounger. Even when he was 15, they called him their "pillow puppy." They felt lonely for a dog, but it'd be nearly impossible to find another Henry.
Within four days, they decided to keep Otto, who proves a pillow puppy himself. He makes nests of blankets, insists on a spot in Lily's bed, and snuggles with their cat, Walter. The Seversons have big plans for Otto this summer: walks, dog parks, drives through the country. But first, Otto needs heartworm treatments. He could use a few extra pounds. Lily, a veterinary science student at Gaston College, feeds him coconut oil to moisturize his skin and coat.
As Lily tells me about her new dog, I can't help but call him by his old name, Atlas. His staycation never ended. Dog #A1164940, once abandoned amid trash, is now Otto the pillow puppy. Have a good life, buddy.
Jen Tota McGivney is a writer in Charlotte. Contact her at jennifer.mcgivney@gmail.com or on Twitter, @jen_mcgivney.
---
If you're interested in a staycation, Animal Care and Control seeks 100 emergency fosters and staycation hosts due to the coronavirus pandemic. Fewer people adopt during a crisis, and now, adoption events have been cancelled. Still, stray and surrendered animals continue to arrive. You can visit adoptable dogs at the adoption center at 8315 Byrum Drive, Charlotte, 28217.