The Decider
North Carolina's dramatic evolution into a swing state makes voters here unusually relevant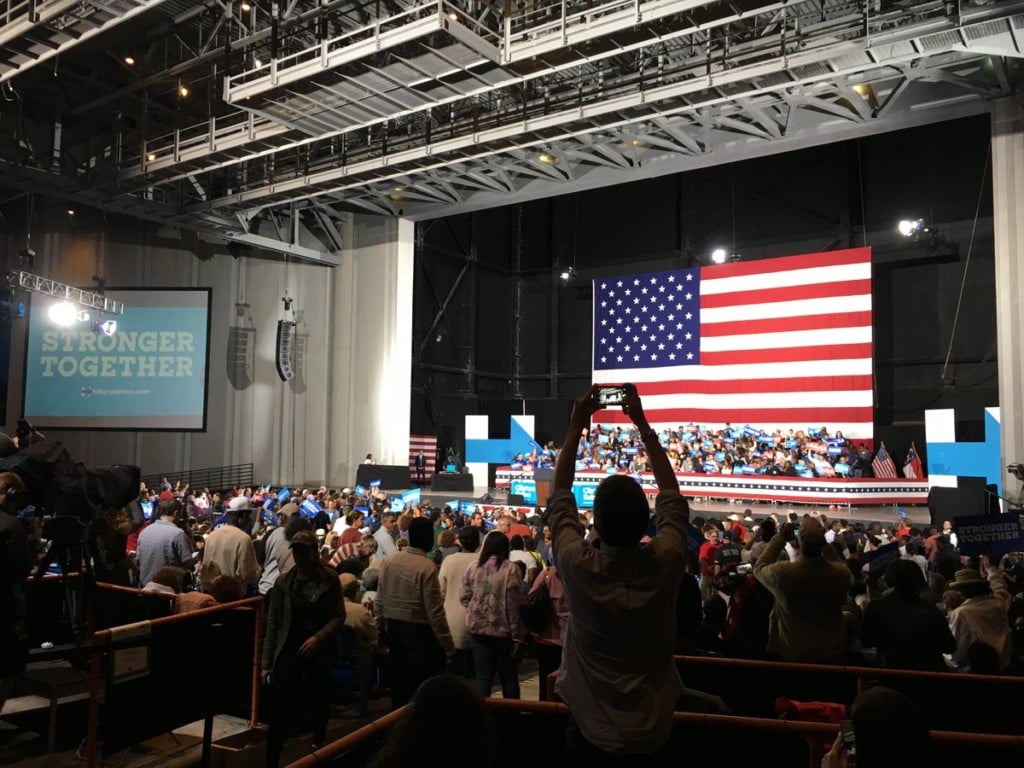 IN THE SPRING OF 2004, I covered my first presidential campaign event. President George W. Bush came to Central Piedmont Community College's main campus to promote his post-9/11 jobs plan, which focused heavily on workforce training and continuing education.
I was a high school senior at South Mecklenburg, writing a story for The Sabre's Blade, the school paper. The president, running for re-election, spoke to roughly 200 people from a stage where enormous banners bore stars, stripes, and the words, "Better Training, Better Jobs."
He finished his rally, hit up a $2,000-a-plate fundraising lunch at the convention center, and took off in Air Force One. North Carolina was never in jeopardy for Republicans that year, and in November, Bush won the state by 13 percentage points.
Twelve later, it's hard to imagine a North Carolina so decisively committed to a presidential candidate.
Donald Trump and Hillary Clinton are locked in the political equivalent of a pick 'em in North Carolina and both campaigns are scrambling to turn out voters. The candidates, their running mates, and top surrogates made stops in North Carolina in the last week. Trump and Clinton will rally supporters in Raleigh today as part of their closing bids.
We find ourselves in the unusual position of relevancy—in an unprecedented way. Gone are the days when news organizations could project a winner in North Carolina minutes after the polls closed. Indeed, the path to the White House requires a turn down Tobacco Road.
For years, the most excitement we saw was a fiery U.S. Senate race in 1990 between Republican firebrand Jesse Helms and former Charlotte Mayor Harvey Gantt. Our state has long been divided, politically and otherwise, but those rifts didn't fully expose themselves in a presidential contest until 2008, when Barack Obama won North Carolina by roughly 14,000 votes out of about 4.3 million cast. Mitt Romney won the state by two percentage points four years later.
"After 1976 to 2004, this state was like Alabama," says Michael Bitzer, the state's leading political analyst and a popular fellow with the national media these days. "We are in a new North Carolina now."
Bitzer says that starting in 2008, elections have been and will be fundamentally different for North Carolina "due to changing demographics, the expansion of polarization, and the urban-rural divide," all of which continue to pull voters here further apart.
North Carolina continues to urbanize, with people who live here moving away from small towns and people from other states deciding to settle in our cities. From 1990 to the start of this decade, the percentage of North Carolinians living in a community of more than 75,000 people jumped from 17 percent to 28 percent, according to data from UNC Chapel Hill. During those two decades, the state's population swelled from 6.7 million people to just shy of 10 million.
Another factor that's at play: unaffiliated voters, whose early voting numbers were up 38 percent this year over the 2012 presidential race. In fact, there are nearly as many registered unaffiliated voters as there are registered Republicans in North Carolina.
As a group, unaffiliated voters in North Carolina are diverse, UNC says, and many live in cities. People who live in Wake and Mecklenburg counties will comprise 20 percent of the state's voters this year, giving urban counties tremendous sway over the state's 15 electoral votes.
"As (cities) become more and more Democratic," Bitzer told me, "it's only going to exacerbate the tensions."
We've seen a shift like this in a Southern state before, Bitzer says. It happened just over the border in Virginia less than a decade ago.
***
ON ELECTION NIGHT 2008, I was in rural Virginia eating takeout Chinese in the back of a TV satellite truck.
The race I was covering, between incumbent Republican U.S. Representative Virgil Goode and Democrat Tom Perriello, turned out to be the closest congressional election in America that year. Periello won by less than a quarter of a percentage point.
As my photographer and I sat in our truck in front of Goode's campaign office in the foothills, we could hear people yelling at the televisions inside as Obama clinched the presidency.
I continued to cover state and national politics in Virginia until 2011 and saw the state shift from a reliably red state to a swing state.
Like North Carolina, Virginia is a place of contradictions. Voters in the mountains in the western part of the state have little in common, politically, with liberals in the DC suburbs—just as McDowell County, North Carolina, residents struggle to square their beliefs with those of Democratic-leaning Charlotte.
Bitzer likens the Tar Heel state's electoral shift, our evolution to relevancy, to the "purple-ing" of Virginia an election cycle or two ahead of us—starting with that razor-thin congressional race in 2008.
***
THE OTHER NIGHT, Obama took the stage to thunderous cheers from a crowd of more than 8,500 people in northeast Charlotte. It was his third stop in the state just last week and second of the day—he was in Fayetteville earlier Friday afternoon. Now in the waning months of his presidency, he spoke for just under an hour in Charlotte, primarily encouraging North Carolinians to vote. "It's going to be especially close here in North Carolina," he said.
He'd made a more passionate plea during a stop in Chapel Hill earlier in the week, telling students, "The fate of the world is teetering and you, North Carolina, are going to have to make sure that we push it in the right direction."
Every speaker Friday night, up to and including the president, made a point to remind the assembled masses that North Carolina is relevant—no, more than that—vital to what happens tomorrow night. The nation will watch us more closely than they ever have. Our divisions will show themselves even more prominently than they did in 2008. The purple-ing of North Carolina will peak—at least until the next election.
ADAM RHEW is the associate editor of this magazine. Reach him via email at adam.rhew@charlottemagazine.com or on Twitter: @AdamRhew.