The Lure of the (Other) Lake
New developments and rising home sales in Lake Wylie signal big changes for the quiet, close-knit community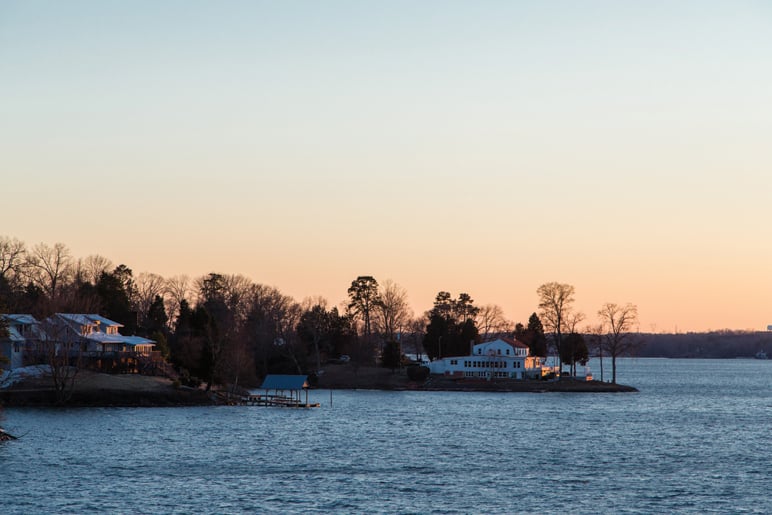 AT 2:30 IN THE AFTERNOON, Finn McGarity runs through the front door of his house wearing a paper birthday crown. He goes straight to his mother for a hug, then to the breakfast room table, where his Legos await. His parents usually meet him at the bus stop, but they didn't hear the bus today because they were talking with me about Lake Wylie. Instead, a neighbor walked him to the door to make sure he got home safely on his fifth birthday.
"That's why we love it here," says Finn's mom, Elizabeth McGarity. "We love that families see our kids out and about around town. They know who our kids are, and they know where we live."
Elizabeth and her husband, Matt, moved to Lake Wylie in 2000. Both native Charlotteans (Elizabeth grew up in Myers Park, and Matt grew up in what is now called Madison Park), they spent summers on Lake Wylie—both of their families owned cottages here. When they moved back to Charlotte in 1999 after Matt graduated from North Carolina State University in Raleigh, they found a larger city that wasn't as close-knit as it was when they were younger. Gone was the A&P supermarket on the corner of Queens and Providence roads and the everyone-knows-your-name mentality that went along with it.
They wanted to start their family in more of a community setting, so they began looking. Matt was working uptown at Crowder Construction Company, and they needed to live close enough to commute. Lake Wylie caught their attention, and the more they looked, the more they liked. Here they found all of the ingredients for the family life they craved.
"I could be to my office on Tenth Street in 35 minutes, with or without traffic," Matt recalls. For the McGaritys, it was important that they have access to the restaurants, entertainment, museums, and shopping in Charlotte, but it was just as important to be able to take a boat ride with their kids at a moment's notice.
The McGaritys are not alone, as this attractive mixture of big-city opportunity and small-town living, spiked with a large splash of recreational activity, has Lake Wylie's real estate scene booming. In an October 2014 report from Carolina Multiple Listing Services, home sales at Lake Wylie were up more than 64 percent from a year earlier, while its larger (and younger) cousin to the north, Lake Norman, enjoyed more than a 50 percent increase over the same period. Both are impressive numbers, but Lake Wylie's sudden surge, especially in the off-season, hints that this lakeside haven is on the brink of a major transformation.
***
CREATED IN 1904 with the construction of a dam near Fort Mill, South Carolina, Lake Wylie is the oldest lake on the Catawba River, offering 325 miles of shoreline that touches three counties: Gaston and Mecklenburg in North Carolina and York in South Carolina. The South Fork and Catawba rivers feed into Lake Wylie, giving it a narrow width that lends itself to smooth boating conditions. It doesn't have the potential for waves that wider bodies of water such as Lake Norman have, and you won't find many—if any—40-foot boats leaving four-foot wakes. The result is a more serene atmosphere, perfect for cocktail cruising and sunset watching.
The McGaritys built their three-story home in a neighborhood on the South Carolina side, just off of Highway 49. There are about 40 homes in the development, and the number of kids and cul-de-sacs makes it a great place to raise a family. The McGaritys' property isn't waterfront, but Elizabeth's parents now live on the lake full-time, and Matt's parents still own their cottage. This allows for many weekends on Wylie riding Jet Skis and pulling the kids tubing.
On Sunday mornings, the McGaritys worship at Relevant Church, a church Matt and Elizabeth started after he graduated from Gordon-Conwell Theological Seminary in Charlotte—a career shift he wanted to make for years.
"We wanted to reach people where they are," says Matt, who is the lead pastor at the church. From April through October, the 8:30 a.m. service meets on Lake Wylie's shores beside T-Bones on the Lake, one of two lakeside restaurants.
There are about 35 boat slips available at the site, allowing folks to boat to church. "We've had people ski to church," Elizabeth says. "We've had people fishing during church. It's just a great, casual, low-key environment." The main campus of the church is about 100 yards away from the lakeshore at the Bowl N' Bounce. "We tell people we're trying to teach them how to keep life out of the gutter," jokes Matt. "I just felt that we were called to reach out to people in different ways."
***
THE LAID-BACK FEELING of Lake Wylie is consistent throughout all of its parts. On the Belmont side, you get the traditional, small downtown, complete with a general store that opened in 1889. A new, 12-acre park outfitted for canoeing and kayaking is planned just south of the Wilkinson Boulevard Bridge, and adjacent to Daniel Stowe Botanical Garden will be McLean, a 670-acre master-planned community on the lake that will encompass 800 new homes, including everything from traditional, single-family dwellings on the waterfront to low-maintenance patio homes.
Brad Harvey of Lake Wylie Realty says the average price of a waterfront home on the lake is around $600,000, with some price tags rising as high as $2.78 million. He knows of one in the back of a cove that needs a lot of work that's on the market for $180,000. By comparison, last year at Lake Norman the most expensive home sale reached nearly $5 million. You can still find homes for less than $1 million up there, but finding a waterfront property below $500,000 on the Mecklenburg portion of Lake Norman is rare.
Prices on Lake Wylie depend on which state you're in, the acreage, the view, how much shoreline there is, and the actual structure. Plenty of lake cottages have been knocked down to make way for dream homes. Although that's sad to some natives—folks who still call Lake Wylie "the river"—it's also an evolution they mostly accept, as they've watched Lake Norman and Charlotte grow.
As you drive down Highway 49 through Lake Wylie, large signs advertise tracts of land for sale, ripe for development. Beyond the boundaries of Lake Wylie in York County, more undeveloped acreage sits waiting for national production builders to create subdivisions that will be less expensive than waterfront neighborhoods.
The Mecklenburg side of the lake includes high-end developments such as the Palisades, complete with a golf course and country club, and The Sanctuary, which has lots ranging from two to 13 acres, as well as a 17-acre waterfront amenity center.
To the south, Tega Cay, one of the oldest developed parts of Lake Wylie, still thrives on its proximity (three miles) to I-77, while all of Lake Wylie benefits from being close to Charlotte Douglas International Airport (20 to 35 minutes). It's a nice perk to be able to paddleboard in the morning before hopping on a flight to Chicago for an afternoon meeting.
A Bi-Lo was recently torn down to make way for a new Publix in the Lake Wylie community. And 10 minutes north on Highway 49 in Charlotte, RiverGate shopping center has all of the hallmarks of suburban living—Books-A-Million, Home Depot, Super Target. So even though residents feel secluded from the high-rises and traffic snarls of city life, they can knock out a list of errands with a flavored latte in hand.
***
BUSTER BOYD BRIDGE is the lake's most recognizable landmark. Drive over it from the north and Pier 49 Marina appears on the right, with boat slips that conjure thoughts of lazy afternoons on the water. Across the lake, the old-school block lettering on Lake Wylie Marina's warehouse adds to the feeling that you've entered a retro resort. McMansions and lake cottages pepper the shoreline, as does the YMCA's Camp Thunderbird. And then you're in South Carolina.
In South Carolina, retirees enjoy the state's decision not to tax Social Security benefits, and property taxes are also lower there. Residents with young children move across the state line because of Clover School District's stellar reputation. Clover High School has been a finalist for the South Carolina Association of School Administrators Palmetto's Finest Award for the past two years, and the school system promotes digital citizenship through its Connected Classroom program, in which every student from third grade on is issued an Apple iPad or MacBook Air. Last year, the district ranked fourth in the state for student achievement.
Schools were a big draw for Matt and Elizabeth McGarity, who have five children between the ages of five and 15. Finn, their youngest son, attends the free, all-day pre-kindergarten program at Crowders Creek Elementary, saving the McGaritys the cost of preschool tuition. Their oldest son, Mac, attends Clover High School, and Beau, 13, and Maggie, 12, go to Oakridge Middle School. Seven-year-old Libby Claire suffered a traumatic brain injury when she was 19 months old and fell off a loft in a vacation home, landing head first on Mexican tile. Now she attends Bethel Elementary School, where the staff in the special education department helps her and other children with special needs.
"The teachers are truly invested in the students," says Elizabeth. "People are born and raised here. They go away to USC [University of South Carolina] or Clemson, and then they come back and teach here."
In March of last year, voters in the Clover School District approved a $67 million bond referendum to fund five construction projects, including athletic improvements throughout the school system, a new elementary school, a new middle school, and a $14 million aquatic and fitness center in partnership with the Upper Palmetto YMCA. School officials and residents have discussed building a new high school in Lake Wylie, but there are no plans to begin construction yet.
"We feel like Lake Wylie is what Charlotte was 35 years ago," Elizabeth says. "We have one high school here in Lake Wylie right now. Everyone goes to the football games on Friday nights. It's a big, big deal."
***
GUY AND CAROLYN CLINE, who currently live in Northeast Ohio, began looking at the Charlotte area as a place to retire after their only child, Lauren, got a job as a landscape architect here. Self-proclaimed "water people," the Clines bought a house in Lake Wylie's River Hills neighborhood this past December. Carolyn says it's a 30-minute drive to Lauren's home, door-to-door, in traffic. They plan to move down here permanently next year.
"We wanted to live on a lake near Charlotte. We narrowed it down to Lake Wylie and Lake Norman," Guy says. But the prices at Lake Norman were significantly higher. "At the end of the day, it was a pretty easy choice."
Though the Clines aren't avid golfers, they like that River Hills has a golf course and country club because it makes socializing easier. At 2,200 square feet, the lakeside home they purchased is only slightly smaller than their Ohio house. Carolyn is looking forward to walking out the door and getting on the water; the couple owns a small runabout ski boat. Guy plans to pull his knee-boarding daughter behind that boat quite a bit this summer.
The Clines spent their first weekend in their new home over the New Year's holiday, and within 24 hours they met most of their neighbors. "We found out that our doorbell works," Guy says, "because there were so many neighbors using it." Now they can't wait to move here full time.
The McGaritys understand the sentiment. When Libby Claire was recovering from her accident, a friend gave the family a mini-refrigerator to sit on their front porch so friends and neighbors could drop off food every day. It was constantly filled with meals. Matt remembers waking up some mornings to find friends mowing the yard. Elizabeth says that level of compassion has been demonstrated time and again to others dealing with tragedy in the community.
She's curious to see what happens as the close-knit community grows. "I think it will be wonderful one day to have a Starbucks at Lake Wylie and have the awesome things that come along with growth and development," she says. "But I have no doubt that Lake Wylie will keep the same intimate tenderness that it has always had."
Lori K. Tate is a writer in Cornelius. She enjoys spending time on Lake Norman and Lake Tillery. Reach her at loriktatenc@gmail.com.