The New Breed: Charlotte's Millennial Politicians
Last year, a crop of young, new leaders won council seats on a mandate for big, fast change. How's that working out?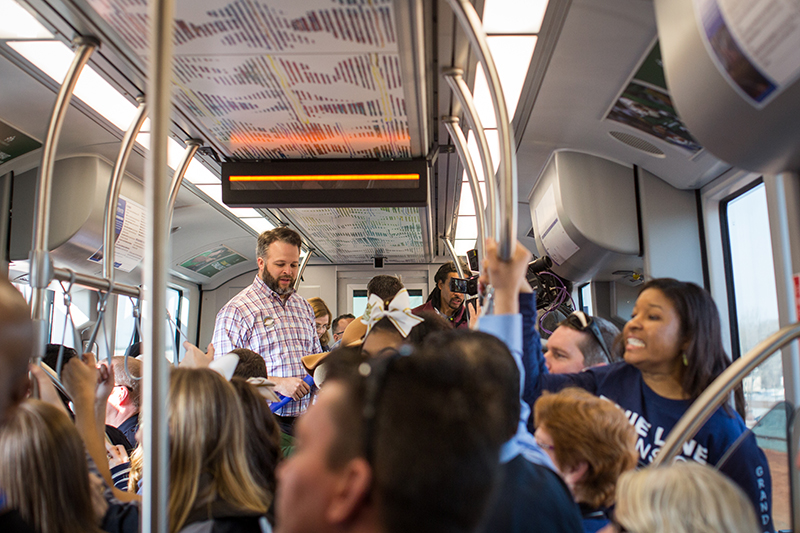 NEARLY TWO YEARS LATER, the demonstrations that erupted from the police shooting of Keith Lamont Scott in September 2016 continue to shape how the city of Charlotte conducts its business, and the business itself. On a weekday afternoon in mid-May, the members of the City Council's community safety committee sat around a U-shaped arrangement of tables in a conference room at the Government Center. The image of a balding, white-bearded man emanated from a stand-mounted flat screen television in one corner. Frank Straub of the Police Foundation, a Washington, D.C., research and police advocacy group, was Skyping in to discuss a report the city had commissioned to review the Charlotte-Mecklenburg Police Department's response to the demonstrations. Council members had reviewed a draft report last fall and advised Straub, who's overseeing the project, to come back with a more detailed version. That's what Straub was doing this May afternoon; the committee was expected to review the report and pass it on to the full council for approval.
But between the first draft and the second, voters had replaced five of the 11 council members—six if you count Dimple Ajmera, appointed to fill a vacancy in January 2017 and elected in November. One new member had been one of the most visible and vocal protesters in September 2016. A newspaper photo of him bare-chested and hoisting a fist skyward before a line of riot gear-clad police became one of the dominant images of the demonstrations. He was the plaintiff in a lawsuit against the city, since withdrawn, alleging that CMPD violated protesters' rights. Now Braxton Winston was on the City Council, on the committee overseeing police, and he made it plain that he had issues with the Police Foundation's account of events.
"How," Winston asked, "did you go about compiling the narrative that you have on these pages, starting on page 10?" He referred to the report's timeline of the Scott shooting and demonstrations, based primarily on the affidavit of a police major, Mike Campagna, in the lawsuit Winston himself had joined.
"So, there were a number of processes that we used," Straub replied after an awkward pause. "We relied on CMPD's court testimony, really, and the chronology that they presented to give us the timelines, and then tried to augment that with verifiable information from individuals involved in the demonstrations."
"Yeah, um, so, to my colleagues, I apologize," Winston said. "I did read this, and I have some notes and a lot of questions and concerns, specifically surrounding the incident report … I was out there.
"As I read through the incident report, there are, uh"—he chuckled—"I won't call them falsities, but there are a lot of questions, and a lot of things left out. There are a lot of things that are glossed over—very important parts. There are some inaccuracies in here. I think this really should be called CMPD's account of the response, because … I don't see a lot of the demonstrators' accounts."
Winston turned back to Straub on the flat screen. "Did you just give Major Campagna's account of the incident credence and ignore all the other accounts of the demonstrations from that lawsuit?"
"No, sir, as I said, we interviewed a myriad of people. We used Major Campagna's document as the official record of the event, because it was sworn testimony," Straub responded. "We fully recognize that it is not a full accounting of the event from all individuals' perspectives."
It was growing clear that the committee would not accept this version of the report. "I'm trying to get these facts right," Winston tells me two weeks later in his tiny office on the 15th floor of the Government Center. "We've always had questions about this report, but it's less about saying, 'This is wrong, somebody fix it,' and more saying, 'This is wrong, there's a better approach, let's get it done and not waste time.' We can't get this right if we're not playing with the same facts. The people won't allow us to do that."
During the committee meeting, Winston won support from a pair of city officials who, on the surface, wouldn't seem likely to ally themselves with him: CMPD Chief Kerr Putney and another first-term council member, Tariq Scott Bokhari. While not signing off on everything Winston said, they agreed with him on the importance of establishing the facts of the incident as clearly, and from as many reliable sources, as possible. Winston and Bokhari are in most ways opposites. Winston is a Democrat, Bokhari a Republican. Winston is a dreadlocked black man raised in New York City and a union stagehand who usually dresses in the jeans and pullovers he wears on the job; Bokhari, born in Pennsylvania but raised in Virginia, is a white financial technology CEO who favors three-piece suits, close-cropped hair, and emphatic public support for police.
But they have a couple of important things in common, both of which underscore how different this incarnation of the Charlotte City Council is compared to its predecessors: They're both millennials—Bokhari is 38, Winston, 35—and, at least on this issue, forcefully set aside incidental differences in pursuit of a fundamental goal. "This needs to be a tool that helps us move forward," Bokhari said as the discussion wrapped up. "At the end of the day, I don't think it matters if the public is for it or against it. It matters that it's the truth."
The committee told Straub to keep working on the report and moved on to other items. Before he left the conference room, Putney circled the tables and shook hands with each council member, including Winston, with whom he shared a half-embrace and a few words of encouragement. "What I really like is how he is being true to what he believes he wants to see and how he wants to see it," Putney tells me later. "The conversation after, between him and me, was, 'Let's not bog down in the sequence and stop the work.' Because I think we're making quite a bit of progress."
***
CHARLOTTE ISN'T KNOWN for regular upheaval in its city government. City Councils have mainly stayed constant over the years; biennial elections have generally led to two or three new council members, most of them veteran business and community leaders. Mainstays such as Republican Lynn Wheeler and Democrat Patsy Kinsey, for example, each served seven terms. But the last two and a half years—punctuated by the Scott demonstrations, a vicious fight with the legislature over LGBT rights, a continued flood of newcomers from all over the country, and a deepening housing crisis—have been more turbulent than any in Charlotte's modern history. The city's governing body reflects the churn.
The six first-term council members consist of one Indian-American woman (Ajmera), two black men (Winston and Justin Harlow), and three white men (Matt Newton, Larken Egleston, and Bokhari; the city lists Bokhari as white, although his father was a Pakistani immigrant). None was born in Charlotte. Five are Democrats. All are young, ranging in age from 29 to 38.
The age factor was an irresistible hook for local media during the campaign and national media after the election in November. "Youthful Set Takes City Hall," read a March headline in The Wall Street Journal, "But Don't Call Them Millennials." The story focused on the Charlotte bunch as the herald of a new wave of young elected officials in cities throughout the country. Charlotte's under-40 council revolution does appear to be the most sweeping recent takeover of an American city's governing body. The spokeswoman for Run for Something, a national organization that recruits young people to run for office, tells me she doesn't know of any other big-city council where millennials are the majority. Neither does Egleston, 35, who represents neighborhoods such as Plaza Midwood and NoDa in District 1. "In 2015, there was no one under 40 elected. In 2017, there's six out of 11 under 40," he says. "So that's a huge pendulum swing."
Eight months into the new term, it's apparent that more than just youth is driving the transformation. Older council members, city officials, and the new members themselves say the tone and pace of city government has changed, from a new system of "strategy sessions" with deadlines for concrete action to the live-streaming of public meetings that began, with resistance from older members, in January. Under an older but also first-term mayor, Vi Lyles, the council is far less patient, less devoted to process, more innovative, more willing to look afresh at the way the city government operates, and unafraid to challenge, even irritate, the old guard. "I like to call 'em the Fab Five," Putney says, not including Ajmera. "What I've noticed is that there's a new energy, a new pace at which they want to work, and they're learning to balance that against the process."
The new pace can cause friction, which the new members maintain isn't necessarily a bad thing. During a meeting in May, Bokhari and three-term Republican Councilman Ed Driggs objected to a $500,000 grant agreement with a nonprofit that wanted to use a city-owned warehouse for "circular economy" projects that make reusable products with minimal waste of materials and energy. Bokhari and Driggs didn't object to the idea as much as its placement on the meeting's consent agenda, typically made up of insignificant items the council approves in one vote. Bokhari thought the council should have taken it up under new business. Driggs, a former Goldman Sachs executive in his late 60s, was frustrated at the other council members' insouciance toward process. "I don't want us to get sloppy here," Driggs said. "I hope we can strike a balance between impatient and young, and deliberate and old."
They have a long way to go. At press time, the council had just passed a $2.6 billion budget that includes a record $50 million allocation for affordable housing that voters will have to approve in November. It's the one large-scale city issue the new council, to date, has successfully tackled. Programs for job creation in poor neighborhoods, police reform, and other issues outlined in the previous council's "community letter"—drafted by Lyles in the week after the Scott unrest—have yet to be addressed, and all 11 council members will soon have to raise money and campaign for the 2019 elections.
Still, there's a sense among some of the new members, and even some of the older ones, that they're taking part in an important civic experiment. Voter disgust with traditional, two-party establishment politics has crested, and the election of Donald Trump serves as both proof of the disgust and a spur to the backside of younger people shocked by the consequences of political apathy. The growing cultural and economic gap between cities and rural areas threatens to further divide an already atomizing nation and positions cities as the country's civic laboratories. Whether you call them the Fab Five or the Super Six, or anything else, the new crop of City Council members demonstrates some of their generation's defining characteristics: a comfort with and embrace of technology, an entrepreneurial rather than corporate approach to business, and at times a smirking contempt for the rituals of their older colleagues. They're Charlotte's present. They might represent a piece of the country's future.
"I think that in politics, we're seeing a shift right now, and we in Charlotte may be on the forefront of a shift that ends up redefining the traditional two-party system, which has just gotten so divisive," Bokhari tells me before a council meeting. "Does it duplicate at a state or federal level? I don't know. The topics are a lot more divisive, a lot more complicated. But at a local level, we're doing some pretty cool stuff together, and we're working together without a lot of political posturing. We say what we mean."
***
THE PODCAST has been a surprise hit—nothing on the level of Reply All or Planet Money, of course, but respectable for a podcast about the finer points of city government in Charlotte. "I forgot to mention," Bokhari remarks as we settle into his tiny office for the recording of episode 19. "We just surpassed the 10,000-download mark." He and Egleston got to know each other during campaign forums in 2017, and Bokhari owns recording gear he uses to host and produce a podcast for work. He thought a City Council-themed podcast, especially with a Democrat he got along with, would be fun and informative. The first episode of R&D in the QC went live December 19. Winston was the first guest.
There will be no guest tonight. It's a little before 10 p.m. on May 14. A council meeting that began at 4 p.m. has just concluded. During the meeting, Bokhari stepped out for a few minutes to celebrate his daughter's third birthday; he sang "Happy Birthday" and watched her blow out the candles via FaceTime. He and Egleston have chosen the time just after meetings for their weekly recording sessions, since they're both at the Government Center and fresh off city business. They're tired, though. Egleston yawns. Both let some profanity slip. "God, what a fuckin' long day," Bokhari remarks. "I feel, like, dazed right now."
Egleston joins him. Before they start, I ask them if City Council work is more or less what they expected. Sort of, Egleston says. "In my mind, I thought I'd be able to compartmentalize the work better, and it really is just kind of all-encompassing," he says. "It's the faucet you can never turn off."
"You're gonna catch us with, like, super-depressing answers right now," Bokhari chimes in, feigning self-pity. "'Ah, God, it's all so hard …'" OK, I get it, I say. Do your thing.
"So," Egleston asks Bokhari, "you just want to do a half-hour straight through?"
"Yeah. Here's what I have. Three topics: LimeBike—we have to talk about that shit, given how much we—"
"That all happened in the last seven days?"
"Yes."
"Feels like two weeks."
Bokhari yawns. "Exactly. Crisis tabletop"—a city staff training exercise—"and the budget. Anything else you want in there?" He drums his fingers on the desk. "That didn't get any airtime. We need to talk about that."
They agree on a set list. Bokhari jokes, "Why don't we have any alcohol in here, dude?"
"Because you didn't want me to stop today, and I keep forgettin'," Egleston replies. "All right. Let's do this and get the fuck out of here."
Recording commences, and here's the funny thing: Once the red light on Bokhari's microphone turns on, it's as if the two thirty-something councilmen have each polished off two cups of strong coffee after nine hours of sleep. Both are voluble, quick-witted guys—it's the main reason why the podcast works—but it's remarkable to witness the transformation. A minute ago, they were about to pass out. Now the curtain's up. Time to perform.
"Scooters! Scootergate!," Egleston exclaims. He's referring to Lime, formerly LimeBike, operating electric scooters in Charlotte without a city permit—a dustup that passed quickly. "I'm gonna call it Scootergate."
"LimeBike Watch!" Bokhari intones, mimicking a movie trailer voice-over. "We had quite a couple of days since our last episode …"
Bokhari explains the process by which unauthorized vendors of vehicles such as scooters or even (hypothetically) tanks need to obtain city permits before people can start driving them willy-nilly down South Boulevard or something. Egleston picks up on the tank reference, envisioning a ride-sharing app called, of course, TankShare. "TankShare," Egleston says, copying Bokhari's movie trailer voice. "Coming soon to a sidewalk near you!"
"That's freakin' genius, dude," Bokhari says.
They have fun with it. But the business discussed, and the intent of the show, are serious matters. Egleston says they've both been approached by citizens—"random people we've never even met before"—who have enjoyed and learned from it. The attention means "there's more people who care about local government than we thought, so long as you make it digestible," Egleston says as they prepare to go home for the night. "It's just so paint-dryingly boring—like that meeting tonight. If you talk about things people care about, and you make it kind of fun … There's very little opportunity where folks hear both sides of a political discussion without (the participants) screaming."
That may be the case, and that may be a wonderful thing for democracy, but it's almost 11 p.m. and the red light is off. "Look, I want to get out of here, and I gotta freakin' still edit this down," says Bokhari, having come down from the stage high. It's time to call it a night.
***
THE CITY'S YOUTHQUAKE, momentous as it was, did not extend to the Mecklenburg County Board of Commissioners, a nine-member body with an average age of 62. (The council's average age is 45.) None of the commissioners have served fewer than two terms; Bill James, a Republican who represents part of southern Mecklenburg, has served 11. Democrat Dumont Clarke has occupied his seat for nine, though he decided not to seek a 10th term.
The May primary, with five seats challenged and Clarke's open, appeared to offer a chance of some shakeup on the county board. But the only change was Mark Jerrell's victory in a three-way race to fill Clarke's old seat. All the other incumbents won, including board Chair Ella Scarborough and ex-chairs Trevor Fuller and Pat Cotham. The three occupy the board's at-large seats. It was a seven-way race. Ray Shawn McKinnon, a 37-year-old activist and pastor, came in fourth.
McKinnon tells me a week later that the timing and dynamics were different for the county race. The mayor and City Council had been neck-deep in the response to the Scott demonstrations, mainly because the police department is a city rather than county function. Political endorsement, or the lack of it, mattered as well.
"There was a real mandate from the Black Political Caucus (of Charlotte-Mecklenburg) for change in the City Council race, and there didn't seem to be the mandate there in the county commission race," says McKinnon, a black man who wasn't endorsed by the caucus. "Also, there just wasn't a massive groundswell of folks running on that platform … And for whatever reason, folks just don't pay much attention to the county commission, although it affects their lives probably more on the human services part, health needs, than the City Council."
Demographics played a role, too, though not in the way you might expect, says Michael Bitzer, a politics and history professor at Catawba College in Salisbury and a close observer of Charlotte-area political trends. Bitzer examined State Board of Elections data after both the city election in the fall and the countywide May primary, separating by generation registered voters and people who actually voted. The three largest categories: baby boomers, born from 1945 to 1964; generation X, born from 1965 to 1980; and millennials, born from 1981 to 1996.
In both Charlotte and throughout Mecklenburg County, millennials made up the largest subset of registered voters by age: 34 percent in the city, 32 percent countywide, compared to generation X (29 percent both in the city and countywide) and baby boomers (25 percent city and 26 percent countywide). But in actually casting ballots, baby boomers outpace the field. In the city election last fall, 42 percent of voters were boomers, compared to 31 percent for gen X and 15 percent for millennials. The division was even more pronounced in the countywide May primary: Boomers made up 46 percent of voters to gen X's 26 percent and millennials' 13.
In a city and county growing as quickly as Charlotte and Mecklenburg—and with as many as a half-million new residents projected to move here by 2030—it's understandable that young newcomers might not be informed about local politics or compelled to vote, Bitzer says. The division of services between the city (police, fire, solid waste, and water and sewer) and county (public schools, public health, tax assessment and collection, and libraries) can be confusing, as well, he says—until the difference directly affects voters.
"What it will take for a transition is millennials becoming invested in things like schools," he says. "The trend now that I've been reading about is millennials starting to move to the suburbs, so you have that kind of relocation—the family infrastructure, kids being born, that will then start to bring their attention to bear to say, 'Oh, my kid's going to school now, I need to be concerned about this.' You may see the school board become the next focus of millennials, and then transfer to the county commission."
The next Charlotte-Mecklenburg school board elections are in 2019, the next county commission elections a year after that. McKinnon, who says he's not "salty" about his non-endorsement from the Black Political Caucus, intends to run again. "My saying," he tells me, "is, 'Keep your yard signs.'"
***
AS THE DEMOGRAPHICS SHIFT, so might the direction of the City Council and the attitudes of the council members themselves. All the new members say they intend to run again, which raises the question of whether their zeal for disruption will wane as they transition from newcomers to establishment figures. For now, though, even established council members say they generally like the enthusiasm and aggressiveness, even though they might disagree with specifics. "They're just getting started, and they're saying, 'Well, I was elected to shake things up,' but it causes some confusion and concern sometimes," says Greg Phipps, a three-term council member in his mid-60s. "We're working through those kinds of things. It hasn't gotten to a level of acrimony or anything like that. Everybody's still cordial."
Still, while the new council is only eight months in, members are starting to stake out their signature issues—building their political brands, you might say. In May, during contentious budget discussions over CMPD salaries, local TV stations unearthed a two-month-old tweet by four-term Democratic council member LaWana Mayfield. The tweet accompanied a story about the police shooting death of Stephon Clark, an unarmed 22-year-old California man shot eight times by police, mainly in the back. Mayfield wrote that Trump's election "has created homegrown terrorist(s) wearing blue uniforms." Confronted about it in May, she refused to back down, saying she was highlighting police violence against racial minorities and not referring to good cops.
Bokhari responded by posting a video of himself to his Facebook page. "I'm still learning how to be a councilman," he began, then offered a pair of messages to his constituents: that the majority of the council didn't agree with the sentiment expressed in Mayfield's tweet, and that the city is working to hold CMPD officers accountable. "This tweet is counterproductive," he said to the camera. "In fact, it further divides us." In the weeks that followed, he posted other videos in support of CMPD—attending department briefings, a police awards ceremony, and a Friday night ride-along that led to a self-produced documentary he screened at Triple C Brewing Company in June.
Bokhari did not call for Mayfield to resign or push for the council to censure her, which it could. Both Bokhari and Mayfield say their relationship is professional and cordial. Mayfield, when I speak with her in early June, even gives Bokhari credit for being "more open" on social issues than some of his Republican predecessors. Bokhari says his police advocacy is in large part a response to—but isn't meant as antagonism toward—his council colleague.
"I always knew I wanted to be a champion for them, just because I have so much respect for what they do," he tells me. "The officers who do abuse their power—that infuriates me. I hate seeing it. But the funny thing is, the officers I talk to—it also infuriates them. Those who are doing the right thing are like, 'Man, this person just set me back again by what they did' … I get in these social media battles right now, where people are saying, 'Oh, so you're on the side of the cops, not the side of us.' There's no sides in this debate. There shouldn't be. You can be for both."
In subsequent social media posts and to me, Mayfield says essentially the same thing. "There's nothing I would not do for our police department," she says when we meet, "except overlook any kind of abuse." The white, first-term police advocate and black, four-term social justice activist may be more united in substance than they or their constituents imagine. Style is another thing.
"Charlotte is at a great point now, where we have the political will from elected officials to push the needle in places that maybe haven't been pushed before," says Justin Harlow, at 29 the youngest council member. "It's not necessarily that we have to sit around and accept that this is how things have been done. It's more about wanting to do things differently, and having enough will and support from other colleagues to say, 'Let's just do it.'"
For now, at least, the attitude is enrapturing even Charlotteans with the deepest roots. Egleston held his first town hall meeting on a Saturday afternoon in May at Midwood International & Cultural Center, housed in a former elementary school in Plaza Midwood. The new councilman arranged for catered barbecue from Queen City Q and a panel discussion of preservation efforts in the historic neighborhood. That meant an invite to 80-year-old Dan Morrill, who, as chair of the Charlotte-Mecklenburg Historic Landmarks Commission, has been the face of the city's preservation efforts for 45 years. Egleston is a former commission vice chair.
Despite Morrill's effort, passion, and scattered success over the years, Charlotte remains a city in which historic land and buildings often take second place to new office towers and mixed-use complexes. At one point during the panel discussion, Morrill pounds the wooden folding table before him and shouts, "You really want to make a difference? Put more money in our revolving fund!"
Afterward, amid mostly empty foil pans, Egleston hangs around for more than an hour to shake hands and field questions. "I've had more conversations with him than I've had with a council member in 10 years," says Fred Lawing, who lives in Egleston's district and co-owns a hotel on Independence Boulevard. Finally, everyone's wandered out into a muggy spring afternoon except the 35-year-old councilman and Morrill, his 80-year-old constituent. They shake hands.
"You're a treasure, Larken," Morrill tells him. "A treasure."
"Well, coming from Dan Morrill, I'll take it," Egleston replies. "I'm just trying to be like you."