The Pet Tech That Can Save Your Dog—And the Vet Who Brought It to Charlotte
Charlotte Animal Referral & Emergency brings cutting-edge procedure to the region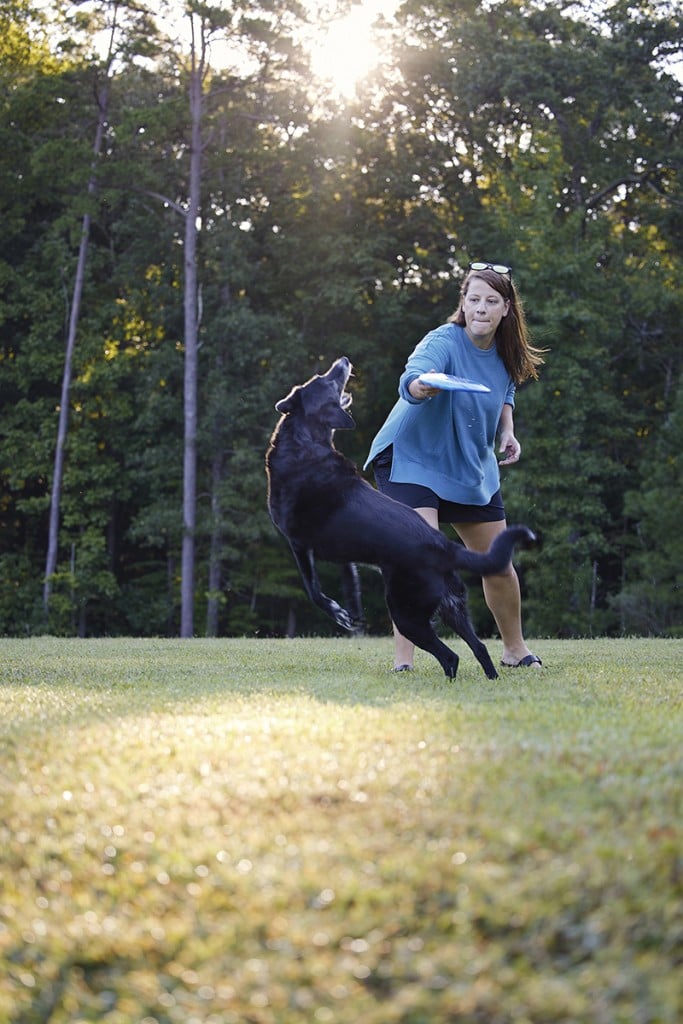 "IT'S BEEN PRETTY MUCH ME AND CASH against the world," says Crystal Cruise of Matthews. At her feet is a black dog with white paws, a perpetually wagging tail, and an expectant expression of, Ball?
Cruise had zero intention of adopting a puppy. In 2007, she walked into an animal shelter in Denver, Colorado, intending to walk out with a calm adult dog. Instead, she locked eyes with Cash, a 3-month-old pup, who'd been abandoned by the road and was scheduled to be euthanized two days later. They haven't been apart since.
A border collie-Labrador mix, Cash was the opposite of calm. His energy? Ceaseless. Go, go, go. Hike, swim, repeat. His loyalty? Steadfast. When Cruise ate at restaurants, Cash sat at her feet and dined from the doggie menu. When Cruise recovered from surgeries for heart block, which disrupts the heart's electrical signals, Cash stayed by her side. Through her divorce, he pulled her outside for jogs and fresh air. When she met her new husband, Cash fell in love with him, too.
Today, Cash is 14 with a distinguished gray muzzle. He shares his attention and toys (ball!) with a 4-year-old human brother. In recent years, he's worn out more quickly, which Cruise attributed to old age. But in April, Cash got an unexpected, if familiar, diagnosis: He, too, had heart block. It put him at risk of dying suddenly during exercise. Cruise thought of Cash and her son constantly playing together and felt sick with worry for both of them. What if it happened … then?
The vet gave Cruise two options. First: Restrict Cash's exercise. No more fetch, no more jumping in the lake. (Did we mention he's a border collie-Lab mix?) Second: a pacemaker.
"As active as a dog as he is, we wanted to keep Frisbees and balls and swimming in his life," Cruise says. "I'm all about quality of life."
Cash became one of the first dogs in Charlotte to get a pacemaker. For the second time, Cruise saved Cash's life.
***
DOGS, TOO, CAN GET PACEMAKERS. So can cats. While the procedure isn't new— the first dog pacemaker was installed in 1967—it's mostly offered in bigger cities and major academic veterinary institutions. Before this year, the only place in the state that offered pet pacemakers was North Carolina State University.
The procedure arrived here this year with veterinary cardiologist Camden Rouben and a new C-arm X-ray machine at Charlotte Animal Referral & Emergency (CARE) in east Charlotte. So far, Rouben, who was trained in the procedure during his residency, has used the device to place five pacemakers in pets here: four in dogs, one in a cat.
"Most people know a family member or friend that has a pacemaker," Rouben says, "and when they hear that I can put one into their pet, they're pretty shocked and amazed."
In addition to helping pets with heart block, pacemakers help treat bradyarrhythmia, an abnormally slow heart rate. Animals with this condition tire easily, sometimes faint, and, like Cash, carry a risk of sudden death. Any breed is susceptible, but heart conditions occur more frequently in schnauzers, West Highland white terriers, Boston terriers, cocker spaniels, and pugs. Pacemakers are much more common in dogs than cats, and Rouben guesses that more heart conditions go undiagnosed in cats, who tend to be a bit more elusive.
All five pacemaker procedures at CARE succeeded, but owner reactions were mixed: One told Rouben that his dog— who had grown lethargic due to his heart condition—returned to his old activity levels. "During one of our follow-ups, the owner joked to me, 'My dog's acting like a puppy again. I can't handle this! Can you take that thing out?'" Rouben says with a laugh.
***
CHARLOTTE'S PROVEN ITS MERIT as a pet-loving town. Stores greet four-legged visitors with door-side water bowls. In breweries, you'll find nearly as many leashes as pint glasses. According to Charlotte Center City Partners, a third of households in uptown—the area's most inconvenient place to own a dog— include a canine pal. It's a steel skyline filled with fur.
"I enjoy seeing dogs being allowed in public places and restaurants and seeing dog bars opening up all over the city," Rouben says. He's lived all over the country—including cities in Kentucky, Florida, Colorado, Alabama, and Massachusetts— and says only Colorado cities give Charlotte serious competition as petloving places.
Rouben says this makes Charlotte an ideal city to be a vet—to work with clients who see pets as family members and commit to maintaining their health. Our duty to them is understandable. They ease pain during heartbreaks, show us the joy in the mundane, and keep us company through this eternal pandemic.
Gone are the days of generic dog and cat chow for these loyal buddies; welcome to the era of pet massage and doggie daycare story time. Nationally, dog owners spend an average of $1,380 on pet-related expenses each year while cat owners spend about $908. But many not-so-average pet owners spend far beyond that. Over the past 20 years, the field of veterinary medicine has exploded with specialists: Dogs and cats can get chemotherapy or radiation for cancer, neurosurgery for seizure disorders, and eye surgery for vision impairment. In 2021, it's estimated that Americans will spend $32.3 billion on veterinary care. (Billion. With a B.)
The cost for pacemaker placement in dogs and cats usually runs between $3,500 and $5,000, and it can extend a pet's life by three to five years. For pets who weigh more than five pounds, it's a 45-minute, minimally invasive procedure followed by a night of observation at the animal hospital. (It's more invasive for the tiny ones.)
The vet attaches a battery—a thin disc about two inches in diameter—to wires inserted into a neck vein that leads to the heart muscle. The generator monitors the heartbeat and emits impulses to restore the rate when it lags. It's practically invisible, stitched beneath the skin and hidden under fur. As with all medical procedures, there's risk. But typically, the biggest postsurgery hurdles are a six-week rest period, follow-up appointments, and switching from collars to harnesses.
***
LAST APRIL, it was Cruise's turn to stay by Cash's side through recovery from heart surgery. The hardest part was keeping him calm for a month and a half while scar tissue slowly secured the wires. After that, it was time to do what Cash does best.
To celebrate his recovery, Cruise and her family took him to her in-laws' home at Smith Mountain Lake in Virginia. They threw a ball into the water and watched him run down the dock to leap in and retrieve it. He brought it back and demanded more throws. A thousand more throws. Same old Cash.
While Cash hasn't returned to his puppy-level energy, Cruise understands that pacemaker or no, he's still 14. And 14-year-old Cash energy is still a lot to handle.
"I'm very glad I did it," she says. "I don't think I would have had any peace knowing what I knew about what was wrong with him. And I understand how uncomfortable (a heart condition) can be for myself, so I can only imagine what it's like for a dog. … It was in our power to help him."
As Cruise talks, she smiles to see Cash trotting over to her son. The dog's ears perk when the boy lifts a toy, ready for a thousand more rounds of fetch.
JEN TOTA McGIVNEY is a Charlotte writer who has written for SUCCESS Magazine, Our State, and Southern Living. You can reach her at jennifer.mcgivney@gmail.com or on Twitter, @jen_mcgivney.