The Revival in Eddie Z's Vault
Veteran musician and producer celebrates 25 years of his musical laboratory, The Playroom, and the life he came close to losing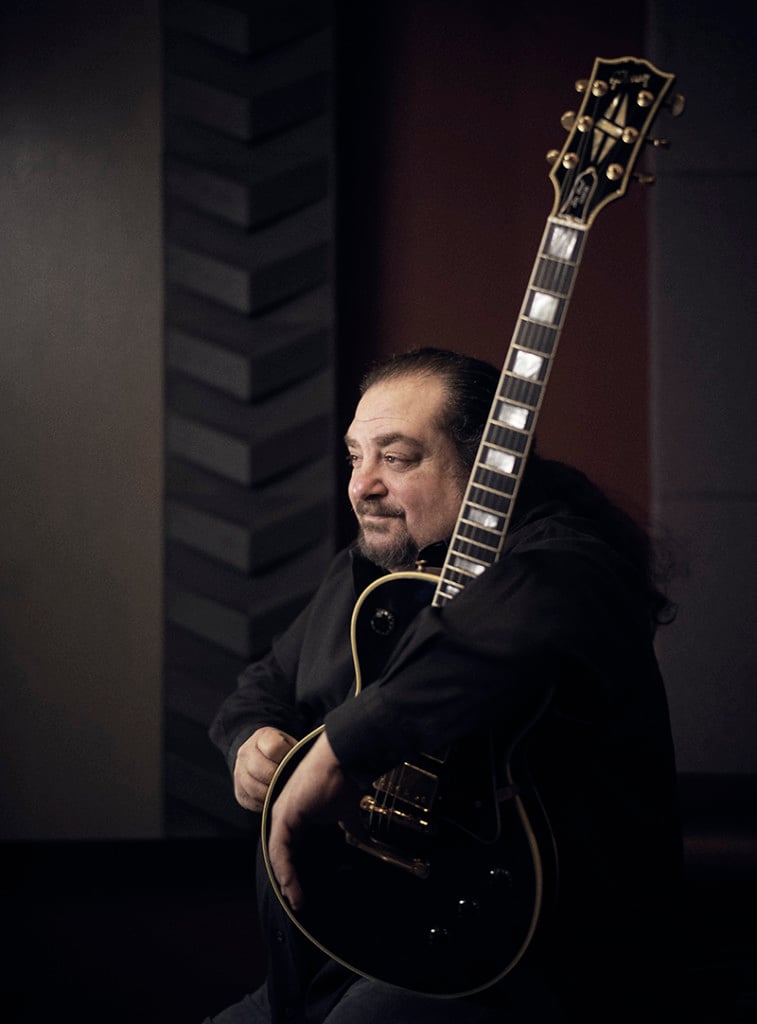 "AND NOW," SAYS EDDIE Z, "we go into what most people call the 'oh, shit' room." We approach the studio door. The lights are on—not the first impression Eddie wants a first-time visitor to The Vault to register. "Let me give you this view first. Hang on." He flips the switches; the room goes dark. The doorway opens into a compact cavern. Eddie, five-foot-four, squat, and scruffy with a ponytail halfway down his back, steps inside. Floor lights shoot two red beams skyward against stacked stone columns that frame a wall-mounted video monitor, a platoon of speakers, and—in the center, bathed in a soft, blue glow and stretching nearly the width of the room—The Console. "It's from, I'd say, the late '80s," remarks Eddie, a lifelong musician and producer proudly showing off his gear. "A custom-built Neotek Elite II, with 56 inputs." You do not need to have played on, engineered, or produced more than 500 records over 30-plus years, as this man has, to understand: That's a lot of inputs.
Eddie Z's full name is Eddie Zimmerman. He's a guy born on Long Island who went to see Van Halen in '78 at the Garden in New York and got his mind blown, and who went to Florida wanting to be a musician, then ended up a regional restaurant chain manager, which brought him to Charlotte for a while, who then went back to Florida and quit that shitty restaurant manager job and got a divorce, then trekked north back toward New York to start afresh but contracted strep throat during a pit stop in Charlotte and never left.
For 20 years, he's owned and operated The Playroom, a 20,000-square-foot former furniture warehouse that crouches, barely noticed, among truck trailers and other warehouses on a dismal stretch of Tuckaseegee Road just outside of uptown. (The Playroom has been in business since 1994 but at the Tuckaseegee location only since 1999.) It's primarily a place where musicians and bands practice, in 37 rehearsal rooms Eddie rents by the hour or month. Over the years, he's branched out. He tacked on a larger rehearsal space in 2007—at R&B superstar Usher's request, he says—for national touring acts. The rock band 3 Doors Down stores its tour gear, all of it, in the back of the warehouse. "Every tour since 2000 has started here," he says. His client list includes 23 acts that have either won or earned nominations for Grammys.
It's been a stunningly successful business in a city that's never been considered a music town. But Eddie still plays guitar, still loves to make records, and had always wanted his own studio—a room where he could make records that sounded as good as or better than the ones he grew up listening to. So a couple of years ago, he spent well north of $100,000 to build The Vault. What he and others record there contributes little to his business' bottom line. He turns down more artists than he accepts. At 52, Eddie does not care. By rights, he shouldn't even be here to enjoy it.
"The reality is, I'm only alive because I had a kidney transplant, and then I almost died after the transplant and had to really fight to be alive," he says as he reclines in a swivel chair in front of his Neotek Elite II. "Long story short, priorities changed. And as a businessperson, I had to come to grips with the fact that not everything's business. Not everything's money. Certain things are about your soul. And this room was built for that."
***
HE WAS OVERSEEING a session at the playroom in July 2012 when his doctor's office called. They'd reviewed his most recent blood work. Get in here, they said. Now. "Sorry," Eddie replied. "I'm busy." Then he thought about it. He called his partner, Vicki, a nurse. Get in there, she told him. Now.
His kidneys were failing. Muscle metabolism produces a chemical waste called creatinine, which is normally filtered through the kidneys and excreted through urine. Doctors test creatinine levels in the blood because they're reliable indicators of kidney function. The normal level is about one milligram per deciliter, or one-tenth of a liter. In July 2012, Eddie's creatinine level was nine. "They didn't understand how I was even still standing. I had no idea. I never felt anything," he says. "The way it was explained to me was, 'You felt shitty for so long, you've become accustomed to it.'" He played a show with his band, Charity Case, at Charlotte Motor Speedway that night. Then he went on dialysis.
It didn't help. It became increasingly clear as the months passed that he would need a kidney transplant. But doctors had trouble finding a matching donor. "Then I came home from work one day, and my wife said, 'Hey, we're a match!'" (He refers to Vicki as his wife, even though they're unmarried.)
"Of course we are," Eddie told her. "We've been together for 10 years."
"Hey, dummy, I can be your donor."
He grins as he relates the story. "I didn't even know she had applied, 'cause I wouldn't have let her," he says. "Less than six months later, we were under the knife. Me in one room, her in another." His voice trembles. "And she gave me her kidney."
That was in May 2014. Things got worse.
By the end of June, excruciating pain ran through Eddie's legs. The next month, he was in a wheelchair; the month after, back at Carolinas Medical Center. Doctors ran tests and discovered he was suffering from a rare toxic reaction to his post-transplant immunosuppressant medication. They didn't know how to treat it. The doctors sent him home with a morphine drip.
By October, Eddie was back at CMC. His bandmate in Charity Case, David Cannon—better known as "Ace"—cohosts the syndicated, Charlotte-based morning radio show "Ace & TJ." Eddie told the doctors they had seven days to fix him, or he'd go on the radio "and tell 350,000 people how bad you fucked me up."
The call came from Duke Medical Center a week later. When Eddie got there, the hospital's kidney transplant specialist, Dr. Matthew Ellis—"this guy who looked like Robert Kennedy," Eddie says, and he does—told him he'd eventually regain the use of his legs. But he needed more surgery because, he says, his wife's kidney "had been wedged in upside down and backwards."
He checked into Duke on December 16 and out on the 27th. It took months before he began to feel better. But he got there. Six months after surgery, he played a comeback show with Charity Case.
***
WE STROLL THROUGH THE MAIN CORRIDOR, The Playroom's central artery, lined with framed CDs and promotional photos with silver-Sharpied inscriptions from clients. "To Eddie Z: Thanks 4 Making Playroom Home!!! Love & Peace!!," reads one from Adrian Crutchfield, a jazz and hip-hop sax player—the last to perform and record with Prince. Crutchfield was in The Vault not long ago, blowing a two-take ass-kicker of a solo on a track that ended up on Eddie's recent solo album. The rehearsal rooms run both sides of the hallway, as in a motel, and it's quiet at 10 a.m., early for musicians.
The volume turns up after dark. I come back at 8 p.m. on a rainy Thursday night just after New Year's and encounter, behind the scarred wooden door of Room 21, a quartet of gentlemen wading through Tom Petty's "Learning To Fly." I knock, and they let me in. "Wanna go to 'Yer So Bad'?," suggests the Stratocaster-wearing lead singer. (During a break, I confirm that the band, named B#, kind of digs Tom Petty.)
The singer, 48-year-old Andrew Lindner, is an exemplar of a particular niche of the Charlotte music scene, that of the financial services executive who's ready to ROCK once he logs off and leaves the office. Lindner cofounded the uptown private equity firm Frontier Capital, which employs B#'s lead guitarist, 27-year-old Aubrey Threadgill, as an investment analyst. Threadgill, over in one corner, is still wearing his Frontier Capital duds under the strap of his Les Paul: gray slacks, black loafers, button-down Oxford shirt, the standard Charlotte junior banker's getup. Chris Monteleone, on bass, is a project engineer for the city; Kevin Thornton, pounding electronic practice drums next to a case of bottled water, works as an athletic trainer.
The band's been together for a year and has leased 15-by-16-foot Room 21 for four months, at $450 per month. (They had been using a spare room in Lindner's house, but they made too much noise to suit, among others, Lindner's 17-year-old son. Kids.) "We came in on a Thursday night," Lindner says, "and we walked down the hall, and there was gospel coming out of one room, speed metal from another …"
"So cool," Thornton remarks from the drum stool. "It smells like instruments in here."
"Smells like music," Monteleone says.
Back to Lindner: "I don't know of anything else like it in Charlotte. I think what he's trying to do here is build a community—like, bands who rehearse here will post on Facebook, and we'll go see 'em. For guys like us, who have day jobs, it's such a great option."
Eddie doesn't think in terms that fraternal—he emphasizes that The Playroom is and always has been, first and foremost, a business. But if clients of his become friends and check out each others' gigs and strengthen the scene's bonds of affection, awesome. "The music scene in Charlotte has never been stronger than it is right now," he says, pointing to the emerging trend of craft breweries and other private spaces hosting live music, á la Sofar Sounds. "More people are going out to see bands than ever before." He still plays live on occasion, too.
For now, though, he wants me to hear what's coming out of his expensive project-for-the-soul in The Playroom. He cowrote and recorded a full-length album, Together In The Vault, last year with a few friends and clients, including Erin Icenhour, a national sales manager for the Charlotte Regional Visitors Authority who happens to be a jaw-droppingly good singer. (Eddie discovered her in one of his rehearsal rooms when she sang in a cover band.)
He's working on other tracks with Icenhour, too, like an unfinished, country-flavored song that begins with rich, resonant piano and slide guitar, coming through clean and strong from the speakers in The Vault. Icenhour's supple alto glides over lyrics about trying to find your way, about trying to be true no matter what the cost, and Eddie leans back in his swivel chair. "I'm the luckiest guy on the planet," he wrote in the liner notes for his album, and now, listening to what he's created in the room he built and the life he nearly lost, he closes his eyes and smiles.