The Ritz-Carlton Charlotte unveils new cakes
View pastry chef Crystal Broadbent's latest creations in the hotel's design studio.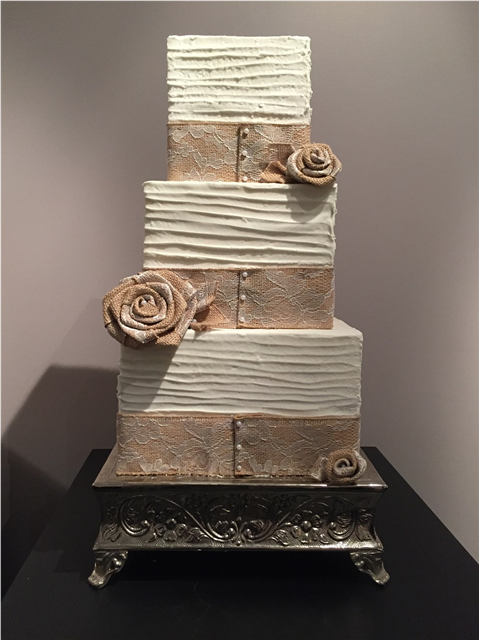 If you haven't had the chance to sample the delicious cakes at The Ritz-Carlton Charlotte, I suggest you stop what you're doing and head Uptown immediately… or at least after work for a drink and a slice.
Pastry artist Crystal Broadbent unveiled her latest creations of wedding cakes and desserts last week. The edible arrangements are on display at the hotel's design studio, which encompasses nearly an entire floor of the hotel.
The inspiration for Broadbent's latest creations come from what she calls "rustic luxury" and "fancy fondant." Fancy fondant refers to those cakes which are bigger and more elaborate, often featuring imaginative handiwork of pleats, ruffles and jewels. Rustic luxury is more simple, but just as elegant.
For Broadbent, wedding cake flavor is as important as design, so she provides an equal focus on presenting accessible flavors by combining contemporary tastes with some of her own family recipes. She even harvests honey from two active beehives on the green, vegetated roof of the hotel.
Broadbent has served as the Ritz's pastry chef since April of this year. The Johnson and Wales University graduate also creates sweet treats for Bar Cocoa dessert boutique.
Want to see more? Follow Broadbent on Instagram.
For information on luxury weddings and wedding cakes at The Ritz-Carlton, Charlotte, contact wedding specialist Kimberly Werner at 704-972-4452 or kimberly.werner@ritzcarlton.com. To order a Crystal Broadbent cake creation from Bar Cocoa dessert boutique, call 704-972-4397.