The Search for Shelby's Sweetheart
Sixteen years after Asha Degree disappeared, authorities in this Cleveland County town haven't given up hope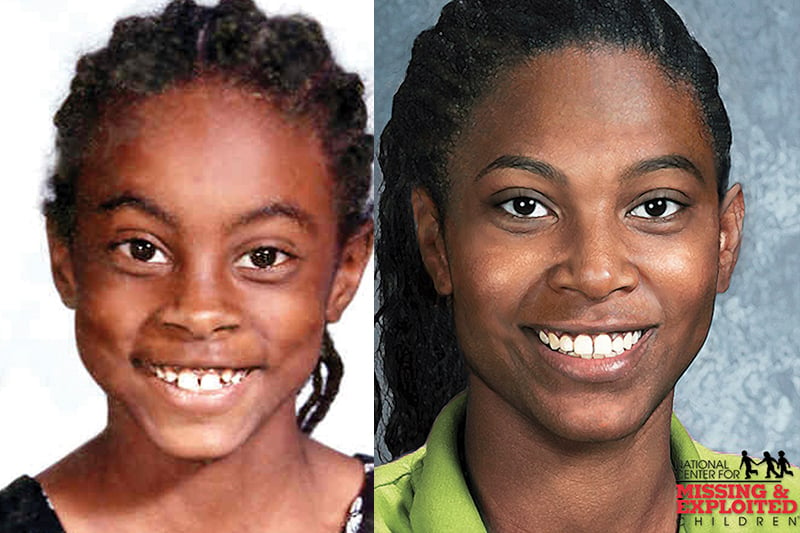 IN THE EARLY MORNING HOURS of Valentine's Day 2000, nine-year-old Asha Degree slipped away from her home north of Shelby.
Overnight, a thunderstorm had swept through that section of Cleveland County. Fog shrouded a stretch of N.C. Highway 18 where two truck drivers spotted a little girl walking between 3:30 and 4:15 a.m. They told authorities she hurried off the road and disappeared into the darkness. That was the last confirmed sighting of Asha—about a mile south of her home on Oakcrest Drive near Fallston.
Asha's father, Harold Degree, told authorities that his daughter was asleep in bed when he turned in around 2:30 a.m. that morning. Asha's mother, Iquilla, discovered her missing around 6:30 a.m.
Three days later, searchers found her pencil, marker, and hair bow on the ground by a tool shed on N.C. 18 near the spot where the truck drivers saw her.
Eighteen months after her disappearance, and 26 miles in the opposite direction on the same road, Asha's book bag, with her name and telephone number written on it, was found wrapped in plastic trash bags in Burke County.
Nobody knows for sure why the nine-year-old left home in the dead of night. Her mother knows she was disappointed that her Fallston Elementary School basketball team lost a game. And Asha's fourth grade class had recently read Sid Fleischman's Newberry Award-winning children's book The Whipping Boy, which spins a tale about two boys who run away from home, but later return.
But could the loss of a ballgame combined with an overactive imagination cause Asha to leave the security of home and steal away into the darkness of a foggy road?
Every February, Asha's family members hold a march from her home to the location where she was spotted by the truck drivers in 2000. Cleveland County authorities believe Asha was kidnapped, and her disappearance is still considered a missing persons case. Sixteen years later, the investigation remains active.
"It's continually worked," Sheriff Alan Norman says. "We're operating off leads within Cleveland County and outside the state. It's the desire of everybody for that case to be closed."
The Federal Bureau of Investigation has been involved in the case from the beginning. Captain Joel Shores with the Cleveland County Sheriff's Office said that in 2015 the FBI contributed $25,000 toward a reward leading to information about what happened to Asha, and local funds were raised for a total of $45,000.
In 2012, billboards went up around the Charlotte area with photos of Asha as a child and what she may look like as young woman in her 20s. Photos also went out on social media.
"We decided, 'OK, let's start at the beginning. Let's go back to day one,' " Shores says. "We may have missed something. Over the years we've had many eyes look at this case. And we've got more eyes looking now."
On May 25, 2016, National Missing Children's Day, the Charlotte Division of the FBI and the Cleveland County Sheriff's office announced that on the day Asha went missing, someone matching her description may have been seen getting into a distinctive vehicle along N.C. 18 where she was last seen. The vehicle was described as an early 1970s Lincoln Mark IV or possibly a Ford Thunderbird, dark green, with rust around the wheel wells. Shores says the information had been in the case file for years, but was "brought forward" when officers reopened the case and began looking at it from the beginning with fresh eyes. As officers continued looking into the possible sighting of Asha, the information "got to the level that the public needed to know." Shores says.
Retired Gastonia Police Chief Tim Adams, now a Cleveland County detective, works on the case; and Detective Jordan Bowen devotes most of his time to the investigation. Wendy Hughes of Charlotte started the blog "Finding Asha: Shelby's Sweetheart." Hughes uses the blog to take in tips, then relays them to the sheriff's office.
Iquilla Degree still believes she'll see her daughter again. She and Harold still live at the same address and have kept the same phone number, just in case someone finds Asha, or she somehow finds her way back to them.
"God's going to get us through this," Iquilla says. "I still don't believe she's dead. My daughter is the first thing on my mind when I wake up and the last thing when I lay down at night. And until I get closure, that's the way it'll be."
Joe DePriest is a writer living in Cramerton. He retired last year from The Charlotte Observer after more than 24 years as a reporter there. He can be reached at jdepriest@carolina.rr.com.