The Significance of Charlotte, U.S.A.
Charlotte as scale model of urban America, 2016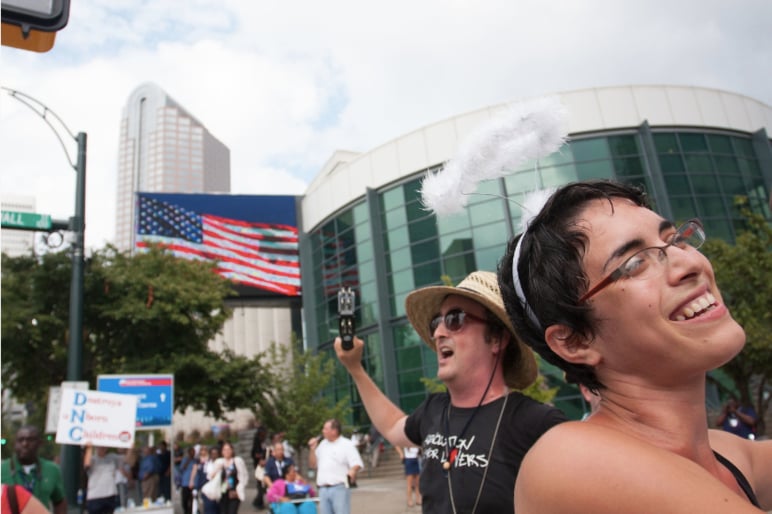 It was a little less than a decade ago when I began to sense how Charlotte's importance was beginning to stretch outside the confines of the state and region. It was 2007. A group of citizens was angry about spending overruns on the city's planned light rail project. The group gathered enough signatures during a petition drive to have placed on the November ballot a repeal of a half-cent sales tax, established nine years before, that funded transportation projects in Mecklenburg County. Repeal would have killed the light rail project and gutted the county's bus system.
It didn't—voters rejected repeal by a more than two-to-one margin, and light rail has proven popular with riders and transformed an entire side of town. The repeal effort remains one of the worst examples I've ever seen of attempted face-spiting nose amputation. In a county growing by the tens of thousands per year, I thought at the time, who would willingly want to eliminate bus lines and hurt residents with no other way to get around? And wouldn't forcing people to drive just make traffic worse?
But that wasn't the only stunning aspect of the anti-transit tax campaign. The battle spread far outside the boundaries of Mecklenburg County. Both pro- and anti-tax organizers hired out-of-state consultants and collectors of petition signatures. Arguments pro and con made their way onto message boards—Facebook and Twitter weren't widely used then—and drew the attention of transit experts, advocates, and foes around the country. I thought at the time that it was an inordinate amount of time, energy, money, and attention devoted to one county's sales tax referendum. Where the hell was this coming from?
It took me a while to realize what was happening. What I thought was a local and practical issue was part of a fight that was increasingly national and ideological, for an assortment of reasons. Its intensity seemed to say something about Charlotte, too. The sales tax repeal wouldn't have swollen into a Red Giant of a civic issue if Charlotte weren't perceived, in the region and country, as a place where civic issues were discussed, fought over, resolved, and adopted elsewhere. Charlotte, in other words, was becoming a kind of bellwether city for the nation, strategic high ground for issues up for grabs everywhere.
Today we reach the end of the interminable 2016 Presidential campaign, much of it staged in Charlotte, the largest city in the most fiercely fought battleground state in America. The candidates have visited the Queen City five times each. President Obama headlined a Hillary Clinton rally before 8,500 Friday at PNC Pavilion, eight years after he spoke in the rain before an even bigger crowd at nearby UNC Charlotte one day before his election as President.
Has there ever been a year when Charlotte was so much on the minds, lips, and television screens of the nation, for both good and bad reasons? It goes far beyond electoral politics. Seemingly every large-scale issue facing American cities in the 21st century is in mid-flight in Charlotte, destination to be determined.
Inequality in public schools? Absolutely. Income disparity and lack of upward mobility? Worst in the country among major cities. Policing of minority communities? It's been only six weeks since Keith Scott. Managing growth; land use; affordable housing and gentrification of low-income neighborhoods; assimilation of foreign immigrants; the relationships among government, business, and nonprofit interests; climate change and its effects on air and water quality; taxpayer funding for roads and public transit; jobs; LGBT rights—they're all in play here, all discussed with passion and sometimes fury, and every one seems to stand at a crossroads.
"As we see around the country—and around the world—it's cities and regions where these issues are being played out, and Charlotte is one of them," says Bob O'Neill, executive director of the International City/County Management Association in Washington, D.C. "It's certainly one of the great economic success stories of the last 30 years. So people do look to Charlotte as one of the leaders in regional and even national issues. … There's only a few places people would look to."
Supreme Court Justice Louis Brandeis famously referred to states as "laboratories" of an evolving United States in the 1930s. Over the past couple of decades, O'Neill argues, that mantle has largely passed to cities. The roster of growing and influential Southern cities besides Charlotte is familiar: Atlanta, Nashville, Dallas. But there's a blank-slate quality to Charlotte that's brought all of these issues to the fore at the same time—now. It's been only in the last generation that Charlotte's grown from a mid-sized former manufacturing town to a major player, a genuine city. Other cities may be more significant to the region's (and nation's) culture, O'Neill says, but Charlotte's one of a mere handful that's become so significant so quickly.
The others in that bag? That's up for grabs, too, although two cities in particular stand out to O'Neill: San Jose, the country's 10th-largest city; and Austin, the 11th-largest. Like Charlotte, both have grown spectacularly in the last quarter-century. Unlike Charlotte, they've built their growth on a research and technology sector Charlotte mostly lacks.
And that may be both the key to Charlotte's future and its impediment if unrealized. Bruce Katz is a scholar at the Brookings Institution and co-author of the 2013 book The Metropolitan Revolution, which argues that cities have replaced nations and states as the primary engines for policy and economic innovation. Katz, who's visited Charlotte several times, tells me the financial services boom that spurred Charlotte's growth in the 1990s and 2000s won't necessarily assure its continued ascendance.
"The way I think about cities today—which I don't think has really become a major issue yet in a city like Charlotte—is that there's new kind of competition among cities," Katz says. "There are all these emerging technologies that are moving from the laboratories to adoption, such as robotics, autonomous vehicles, genomics … and the question for cities in the U.S. is, can you play in those technologies? If you can, you're set.
"Which cities now seem like they have a shot? Well, I'd say Pittsburgh because of Carnegie Mellon (University, which recently tested a self-driving car), and Atlanta because of Georgia Tech. It comes down to whether you have advanced research capabilities and the talent pool to attract these new technologies, and that has an impact on the local economy, job opportunities, infrastructure, and all the rest.
"Charlotte has a lot of challenges in that regard, because Charlotte right now doesn't have the research facilities to support that kind of economy. When I think of North Carolina, I think more of Raleigh for the development and adoption of these emerging technologies, whereas Charlotte is more of a services center."
The cities that develop that capacity will have the tools to solve whatever civic issues they have, Katz says. The complacent ones won't. They'll stagnate, just like the decaying Rust Belt cities whose fleeing residents Charlotte has gladly absorbed over the last 20 years. The test, he says, will come in the next decade or two.
And that, you have to admit, would be a real kick in the teeth to a city trying, at times uncomfortably, to adjust to life among America's major metropolises. Nothing guarantees Charlotte will stay on the nation's screens or list of desirable cities to move to, just as nothing guaranteed the Queen City's presence there to begin with.
But Charlotte stands for the time being, maybe much longer, as a scale model of urban America, with its skyscrapers, protesters, professional sports, and mutating transit system traversing a landscape in constant flux. It's a contradictory place at a conflicted time in a country that today teeters on some kind of edge. Where does it go from here?
Greg Lacour is a contributing editor for this magazine.