The Story of Mueller's: The Place that Dave Built
The owner of Myers Park's cult-fave burger joint Mueller's died this summer, but not before leaving his secret and his dream with his sister.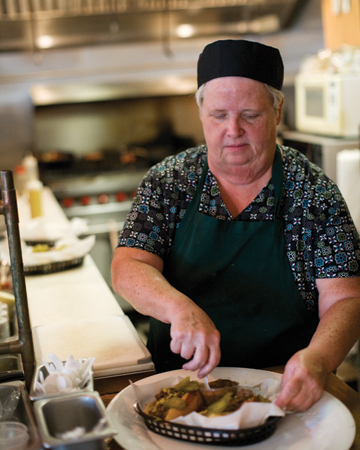 For the longest time as they cooked hamburgers together at their hole in the wall in Myers Park, Dave Mueller would gently scold his sister, Margie.
You're not pressing out the ground beef right, he'd tell her. The seasoning needs to be just so.
Dave loved serving eight ounces of grilled heaven to his customers, then watching their faces light up as they took their first bite, juice dribbling from the side of the bun. This is what brought meaning to his life, friends and family say. He couldn't have her making anything less than perfection.
Margie kept working at it, taking the meat he'd buy fresh each morning and doing her best to shape and cook a burger that would make her older brother proud. Finally, after cajoling, teaching, and tasting, Dave said the words Margie had been waiting to hear.
"You got it."
Then he died.
If a burger can be handed down like some great inheritance, this is what that was. Margie smiles at the memory, and what her brother said to her just before pancreatic cancer claimed him last July at the age of sixty. "The last month, he'd tell me, 'This is your restaurant. This is your restaurant,' " she remembers.
"He liked chocolate and pizza," Margie Mueller says, talking about her brother. "So he figured he'd like them together."
Many Charlotteans have no idea what you're talking about when you bring up Mueller's Sandwich Company. Its location is obscure, and this town has spawned burger joints seemingly on every corner.
That's their loss, the small cadre of loyalists who have lifted the odd place to cult status might say.
Did we say odd?
Mueller's operates seven days a week, 11 a.m. to 3 p.m., out of a little addition jutting from the side of an old house occupied by a real estate company. It's tucked behind a service station, on largely residential Huntley Place, far enough from Providence Road that Dave couldn't have found a better hiding place if he tried. His friend, Vicky Goodbrand, calls it "a cute little location" that reflected his quirky personality. Quirky is one way of looking at it. There are only a handful of seats inside, so the patio pretty much suffices as the restaurant. But in truth, the patio is part of the parking lot, separated from cars by a rickety fence. It's virtually deserted in the cold of winter and heat of summer, so either get your burgers, chicken sandwiches, and such to go, eat fast, or crowd inside. There's one bathroom, so knock first. And don't expect a Sam Adams to complement your burger, because the place is dry.
A snapshot: on a Friday afternoon in September, three painters eat burgers and converse in Spanish in one corner of the patio. In another corner, two women dressed as if they were headed for quiche at the country club share chicken salad sandwiches. In the middle, a guy in a Red Sox cap eats alone. Hanging on a wall above them is a faded sign from the previous owner, a catering company best anyone can make out. It's peaceful on the patio, as patrons chat quietly between bites. The ones with burgers, they have to concentrate a little more on their food, leaning over their plates so as not to get chili, ketchup, and mayo on the table.
This was Dave's place, says friend and Mueller's devotee David Cabaniss. Just a simple lunchtime establishment run by a simple guy.
"He just gave it a personal touch,"
Cabaniss says, "like a burger you'd make at home."
To Dave Mueller, though, and now to Margie, it's never just been about the burgers.
The Muellers (pronounced Muller) grew up on Ideal Way in Dilworth. Their father, Bill, was a toolmaker, their mom, Catherine, a homemaker. The two oldest siblings—Tom, sixty-three, and Marty, sixty-two—had the good sense to steer clear of the crazy food and restaurant business. They work for the U.S. Postal Service. They eat free at Mueller's, of course. From early on, Dave gravitated to the kitchen, displaying the blend of quirkiness and culinary skill that endeared him to friends until the end. "He liked chocolate and pizza," Margie says, sharing one example. "So he figured he'd like them together."
Tennis, the second love of his life, occupied him for a while. He taught the game at summer camps, strung racquets at Olde Providence Racquet and Swim Club, played doubles at Freedom Park until it got dark, then headed with his buddies to Ed's Tavern near his house to play pool and shoot the breeze. Over Bud Lights, he did most of the shooting, the usual bar talk about girls (he was the confirmed bachelor type), tennis, and such. He was a little guy, five feet four, but he made up for his lack of stature, friends say, by holding court and speaking up. A lot.
"When you had a conversation," Cabaniss says, "he'd usually run it. You couldn't get a word in edgewise."
Mike Boston, a friend for twenty-five years, remembers that when Mueller was stringing rackets, he'd talk to his customers about most anything—wine, travel, whatever, it all fascinated him. "A throwback," Boston calls him. "A connoisseur of every subject. A Pied Piper."
He wasn't a complicated person. He just wanted to carve out his own little piece.
But it was always food that captivated him, from the little Bridge Café he opened at the racquet club to the hot dog hut he ran on South Boulevard in South End, where he made more friends than money. Money was never the driving force for him, which explains his Halloween tradition—grilling hot dogs for trick-or-treaters who knocked on his Dilworth door, 550 hot dogs the last Halloween of his life. About the time he opened the restaurant, Mueller was also running a catering business specializing in burgers and hot dogs for private parties. Mary Bryan Smith recalls her fortieth birthday bash in the backyard of a friend's south Charlotte home, complete with margaritas and Jimmy Buffett tunes. She remembers Mueller hauling in his industrial-size grill and making burgers to order for forty friends, including one burger-on-steroids he made especially for her, just to see the look on her face.
"Largest burger I'd ever seen," Smith says.
"He just liked to please people," Margie Mueller, fifty-seven, says. "This was an avenue for him to talk to people.
Then someone would give him a little compliment and that would go a long way."
Says Goodbrand: "He just wanted to create a little something special. He wasn't a complicated person. He just wanted to carve out his own little piece."
Five years ago this December, he and his sister opened Mueller's Sandwich Company. They were technically co-owners, but Margie knew who was boss. She's proud to admit it, even when she thinks back on all the days the brother-sister thing would get in the way and the customers would get some entertainment with lunch. "I think my voice would irritate him sometimes," Margie says. "He'd say, 'You're whining.' I'd say, 'I'm not whining, that's just my voice.' "
They started developing a small but steady clientele drawn by the restaurant's good food and character. There are nine-to-fivers on a quick lunch hour, neighborhood regulars, even the church crowd from nearby Myers Park Presbyterian and United Methodist—folks in suits and ties, trying not to get Sunday lunch on their pinstripes. The raves for Mueller's burgers in the various "Best of Charlotte" competitions were starting to create a mini-buzz.
One article in this magazine noted that Mueller's burgers offer an alternative "in this brave new world of stuffed patties and confusing sauces." Another advised, "Prepare to use both hands." If there is a magical secret to the burger, Margie isn't saying. All she will share is that they use fresh ground beef from Fresh Market, press it precisely (not too huge, definitely not too small), sear it first in the seasoning, then put some more seasoning on the grill and cook the burger in all that flavor. Once it's grilled just so, they stick with old reliable toppings like chili, mustard, and slaw.
It worked. Customers weren't exactly lined up clear out to Providence Road. But Mueller's was holding its own, and brother and sister were developing a rhythm.
Dave would begin each day buying meat, run a few errands, then head to the restaurant. His sister would be there when he arrived, making chicken salad and getting everything ready for the 11 a.m. opening. On those days when they'd run out of lettuce or bread, Dave would walk the thirty yards to the nearby Harris Teeter, five times a day sometimes, back and forth, a contented man with a little restaurant, a great burger, and a chance each lunchtime to please people.
The building is for sale. The buyer, if there is one, could tear it down.
Dave started feeling bad last January, so bad that hot baths were all that eased the pain. He was diagnosed with pancreatic cancer in late May.
They tried radiation, but it didn't work. He kept working right up until the last week of his life. But it wasn't the same, Margie says, as much as her brother tried to fight through it. "The last week, he'd say, 'I'll go get something from Harris Teeter,' but he looked so pitiful," she recalls, starting to cry as she sits on the patio of the restaurant. In the hospital at the end, friends came by to visit. He was never the type for heavy conversations or goodbyes.
Vicky Goodbrand, the friend from Olde Providence Racquet and Swim Club, says she tried to share "food for the soul," about how much everyone missed him at the club and at the restaurant. His old friend, Mike Boston, said he never heard Mueller complain.
Dave died in the hospital on July 26, his family at his side. A funeral Mass was held at St. Patrick Cathedral. A copy of his obit (in which he gave a "high five" to his oncologist) and a photograph of him are displayed at the counter where customers order. A note on the door offers thanks to everyone for coming in and honoring "A rare and unforgettable loving man" with their business.
So now it's left to Margie to press, season, and cook the burgers like her brother did, to keep the restaurant going.
It won't be easy. The building in which they're located, owned by Thies Realty and Mortgage Co., is for sale. The buyer, if there is one in this down market, could tear it down and build condos or an office building, leaving no room for a burger joint. Or Mueller's could stay put, depending on the deal. Boyce Thies, the company's vice president and a friend to the place, says it's up in the air. On a side note, he says he usually gets a burger or hot dog for lunch. Before Dave died, he and Margie had already started looking around. They scouted some uptown possibilities. She'd love to stay in the neighborhood, though, especially with Providence Road frontage, if she could afford it. A baker of sorts, she's already talking about adding fresh bread and dessert to the menu.
But all that will have to wait. It's nearing 11 a.m. Time to start fixing burgers, hot dogs, and sandwiches. Time for Margie to go behind the counter, even it isn't easy and probably never will be.
"Just something will remind me of him, and I'll be cooking and crying," she says.
But if that's what she has to do, that's what she'll do.
"I want to keep Dave's dream alive."