The wedding cast: a closer look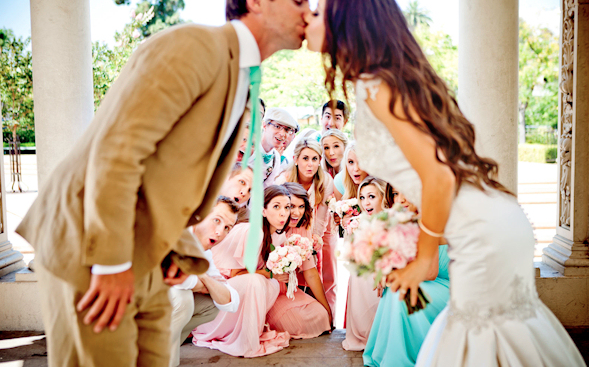 You have your bridesmaids. He has his groomsmen. You're all set, right?
Well, not for most couples. Your attendants play a major role but there are several other characters in the cast of a wedding that you'll want to line up to help make your wedding day go off without a hitch.
Ushers – Ushers are the first people to greet guests as they enter the ceremony. Ushers are usually friends of the groom and help escort guests to their seat; the job is a great way to incorporate friends or younger family members that aren't in the wedding party. Some couples opt to skip appointing ushers and instead have the groomsmen perform the duties of the usher.
Program distributor – We recommend finding two people, usually ladies, to hand out ceremony programs as guests enter the venue. They'll be another first point of contact so it's a great place to put someone front and center, allowing them to be a special part of your day.
Train bearer – Necessary only if you have a dress with an exceptionally long train or plan on donning a cathedral length veil, train bearers help keep the train and/or veil fabric flowing.
Reader – Popular especially in religious ceremonies, having someone read a passage of scripture or religious text is a great way to give a close friend of the bride or groom center stage for a few minutes. Make sure to pick someone articulate and comfortable in front of large groups. If reading from a religious text, it's also courteous to make sure they share the same beliefs as you.
Guest book greeter – It's normal for couples to set up a guest book at the ceremony and reception, as some guests may not attend both. Ask a warm, confident friend or relative to invite guests to sign the book as they enter the venue and make sure no one runs off with that expensive pen.
Favor distributor – This is a great job for a few younger cousins or nieces and nephews. As the reception is winding down and guests begin leaving, they'll be responsible for making sure everyone exits with a party favor (whether it's a cupcake, coozie or homemade jam) to commemorate the occasion.
Day-of coordinator – If you decided not to hire a wedding planner, consider having a Type-A friend or family member help run the show on the big day. From making sure the florists arrives on time to taking up your gifts at the end of the night, a Day-of coordinator who's intricately aware with all your hard work of wedding planning will help take the stress off the couple on their wedding day. Make sure to give them all the details and points of contact a few weeks beforehand.