This Recipe Won a Student $5,000
Johnson & Wales student chefs compete in cooking contest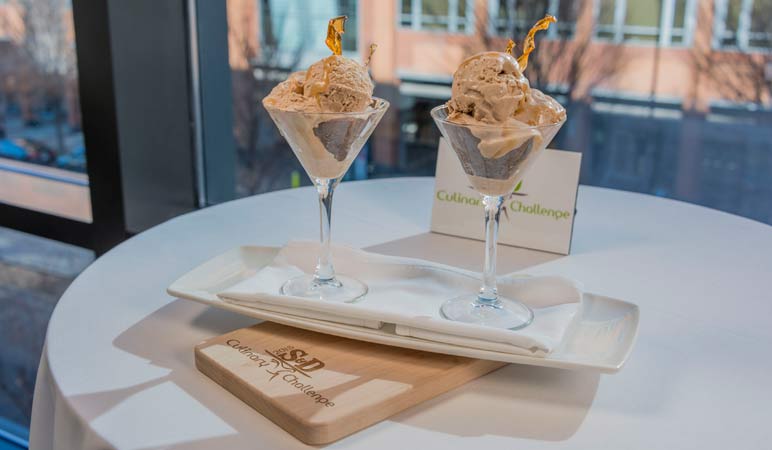 Johnson & Wales' top students competed in a cooking competition this week, putting together recipes that used coffee and tea from the event's sponsor, S&D Coffee and Tea. Eleven students, from freshman to seniors, battled for the title of 2015 S&D Culinary Challenge winner. All of the recipes had to contain coffee or tea extract, and chefs came up with recipes using ingredients from waffles to pork belly.
Chef Jim Noble, owner of Rooster's and The King's Kitchen, mentored the students throughout the contest, while judges included Clark Barlowe, owner of Heirloom and a JWU grad, as well as representatives from McDonald's, The Capital Grille, and S&D Coffee & Tea. Freshman Gillian Howard (left) took home the grand prize of $5,000 with her "A Tennessee Date Night," a coffee-infused date cake with tea and lemon ice cream.
So while you're home on this "snow day," take a lunch break, head to the store, and recreate this taste of summer. You'll need an ice cream maker for the cold piece, so keep that in mind when shopping. If you don't have one, you may want to buy some pre-made ice cream and add some candied dates and lemon curd… or find a warm alternative until the snow melts.
A Tennessee Date Night
YIELD: 6
PREP AND COOK TIME: 8 hrs. prep, 30 min. cook
INGREDIENTS:
¼ cup heavy cream
¼ cup sugar
4 tbsp. butter
½ lemon, juiced
2 cups heavy cream
½ cup milk
¼ cup corn syrup
½ cup sugar
2 tbsp. cornstarch
3 oz. S&D Black Tea Extract
¼ cup lemon curd, prepared
2/3 cup candied dates, chopped
2/3 cup S&D Espresso Coffee Extract
2/3 cup brown sugar
6 oz. flour
4 tbsp. butter, softened
1 tsp. baking powder
2 eggs
(Ice Cream Maker Needed for recipe)
RECIPE PREPARATION
For the ice cream, heat cream, milk, S&D tea extract, and corn syrup in a large saucepan until simmering. Be careful not to boil. Meanwhile, mix sugar and cornstarch until combined. Slowly whisk dry mixture into simmering cream. The cream will begin to thicken as you continue to whisk. Pour cream into an airtight container and allow to cool in the freezer for at least 2 hours. After mixture has been chilled, put it in the ice cream maker and mix according to manufacturer's directions. The lemon curd can be dropped in by the spoonful at this point, or it can be incorporated once the ice cream has been removed from the maker. Use a butter knife to swirl the curd in the cream. Cover and place in freezer to firm up while the cake is made.
For the cake, soak the candied dates in the prepared coffee while the other ingredients are mise en place. Remove coffee soaked dates and add to a saucepan; bring to a simmer. Remove from heat and puree in a food processor. In a kitchen mixer bowl, cream the butter and brown sugar. Add the eggs one at a time and beat on low speed. Add the pureed dates. Combine the baking powder and flour together, then add into the wet ingredients. Pour mixture into greased, individual baking molds. Bake at 350 degrees for 12-15 minutes. The molds should be a little wet when a toothpick is inserted into the center. Remove from oven and let chill on a wire rack.
For the toffee sauce, melt the butter in a saucepan. Add the sugar on medium to low heat and stir periodically. Let the mixture bubble and turn a caramel color. Squeeze the juice of half the lemon into the pan. The mix will turn from sugar lumps to more of a sauce-like texture. Remove from heat and pour in the cream. Whisk to incorporate. Serve the sweet tea with lemon ice cream atop the coffee cakes and drizzle with the toffee sauce. Indulge!