Three Mothers, Separated by 2,000 Miles, Are Bound by Love for Their Kids
As Mother's Day nears, meet Lacey Williams and her nontraditional family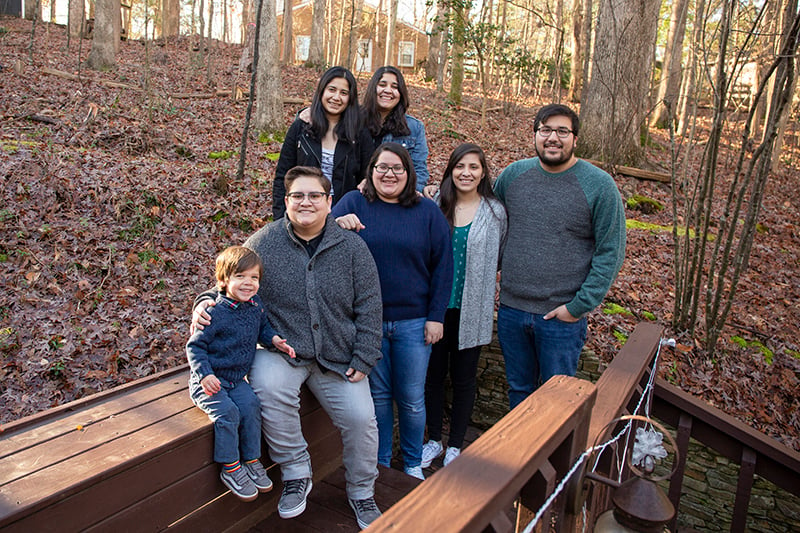 LACEY WILLIAMS AND HER PARTNER, Laura Maschal, were shopping for holiday decorations at Target in December 2011 when Williams' phone rang. Armando Cruz-Martinez, a 17-year-old who worked with Williams at Latin American Coalition, was calling to say he needed a guardian and a place to live or he would have to move to Mexico.
Armando's mother and his six younger siblings—Valeria, Maria, Sandra, Leslie, Jocelyn, and Juan—had joined their recently deported father in Guanajuato, Mexico, in 2010. Armando's parents were undocumented immigrants who had lived in the United States for 20 years, so their seven children were American citizens. But his mother couldn't find work because of her immigration status and, once his father was gone, couldn't afford to stay. Armando remained in Charlotte with his uncle to finish out his senior year at East Mecklenburg High School. But by late 2011, his uncle had run into money problems, too.
Williams was the youth program manager at LAC, where Armando volunteered. Her professional support of the Latino community had never crossed over to her personal life. Maschal suggested he move in with them, which Armando did before the year was out.
Williams gave Armando a digital camera for Christmas. He photographed every room in the house, even the inside of the refrigerator. "It was this really interesting moment of him discovering how other people lived," Williams says. But, she adds, "He had a lot of survivor's guilt because he was eating and his family was not." Armando graduated 13th in his class at East Meck the following spring while the newly married Williams and Maschal sat beaming in the audience.
***
IN MEXICO, ARMANDO'S MOTHER, Maria Teresa Martinez-Contreras, worried—about Armando and his separation from the family but also about her four eldest daughters, who were growing up in poor schools and amid gang activity.
When Williams and Maschal suggested that Valeria and Maria join their brother in Charlotte, Martinez-Contreras hesitated. But, with a translator's help, they spoke often over the phone. The women, all mothers in different ways, gradually grew closer. "She was always worried that we'd forget about her," Armando says. "As the years went by, she got to know more about Lacey and Laura." She began to refer to them as las señoras—the ladies.
Valeria and Maria moved to Charlotte in 2013. Two years later, when gang members began to follow Sandra and Leslie home from school, Martinez-Contreras asked las señoras to take them, too, and they did.
They embraced family life. Williams and Maschal bought a Honda Odyssey minivan and a house in southeast Charlotte. In July 2016, Maschal gave birth to their son, Esmond—Ez for short—and the household grew to eight. Williams and Maschal didn't adopt or foster any of Martinez-Contreras's children; they didn't want to sever her parental rights.
"It's a weird relationship," Williams says. "On the one hand, we're raising her children, and she's still the mom. What does it mean to be a parent of kids that aren't yours? We were always super-cognizant that they have a parent. It's just a messed-up immigration system that's made it that they're not with their parents. …
"We would have intentional conversations with the kids about what kind of bravery and courage it takes to send your kid hundreds of miles away from you. Their mom is a hero."
***
I FIRST MET WILLIAMS in 2000 when she was a student at Queens University of Charlotte. She coordinated music and cultural events for a student organization, and I was the staff advisor. Back then, we would sometimes butt heads—a typical student-versus-advisor relationship.
The Florida native developed an interest in advocacy work after graduation in 2004, working for get-out-the-vote programs that year in low-income African-American communities in Orlando. "I think it was the first time I really saw, in stark black and white, racial inequality," she says.
Back in Charlotte and working for LAC in 2012, Williams coordinated a clown protest of a neo-Nazi rally. The protest's motto was: "We're dressed as clowns, but you're the ones who look funny." The protesters used noisemakers to drown out most of the rally's speeches, and a video from the event went viral.
Today, at 37, Williams works for the City of Charlotte as coordinator for the Civic Leadership Academy, a free 12-week program for adults who want to learn about city government. She hopes to direct graduates to city advisory boards.
Her principal job, though, is mom. Ez is almost three. Armando, 25, graduated from Queens in 2016. Valeria, 24, studies early childhood education at Central Piedmont Community College; Maria, 22, is a junior biology major at Queens; and Sandra, 21, studies interior architecture as a freshman at UNC Greensboro. Leslie, 19, is a senior at East Meck and looks forward to attending college in the fall.
***
WILLIAMS RIDES an electric scooter to our meeting uptown in November. She wears bright yellow socks covered with pink and purple cow heads. They're Andy Warhol socks, part of her growing collection of themed footwear. Most days, she posts a photo of her feet on Instagram. She says it brings her a little joy to battle the grief.
On October 15, 2017, Maschal went to the hospital with a severe headache. The doctors ran tests, found nothing alarming, and discharged her after three hours. On the way home, she vomited in the car and was so disoriented that Williams took her right back to the hospital.
She had suffered a stroke, and doctors told Williams her wife wouldn't survive. Maschal died two days later.
Almost every day for nine months afterward, Williams posted a photo and story about Maschal on social media. Lately, her posts focus on Ez. "I know Laura is proud of the little dude Ez is becoming," Williams wrote in a July Instagram post to mark Ez's second birthday. "He's so sweet and loving and precocious. Just like her."
Williams and I discuss what she's lost—and gained. "A lot of people look at me, single with six kids, and think that must be harrowing," she says. "Honestly, I just feel lucky that I have them. I feel like we have this really cool thing that we created here. I never knew that I wanted to have a big family, and if it weren't for Armando, we wouldn't have realized what else there was in the universe."
VANESSA INFANZON is a freelance writer in Charlotte. Follow her on Instagram and Twitter: @morethanVMI.