Tinned Seafood's Rising Reputation—And Where to Enjoy It in Charlotte
Sardines may be the missing ingredient on your charcuterie plate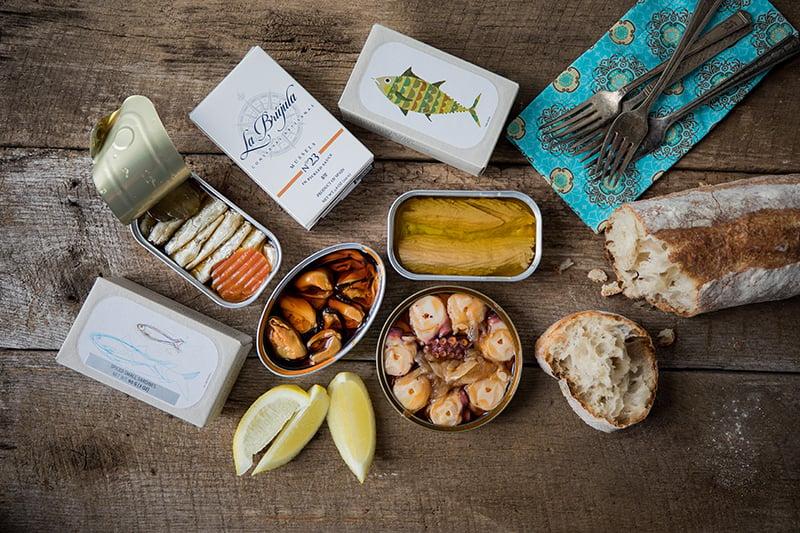 READING "TINNED SEAFOOD," many diners prepare for the smelly whiff that comes when you open a can of tuna. Adventurous eaters who have traveled to countries such as Portugal or Spain, however, recall salty sardines shining from a tin—a delicacy called for on a warm evening spent with a glass of vinho verde. And because of that, tinned seafood's reputation is on the rise.
Rachel Klebaur, owner of Orrman's Cheese Shop, has a large tinned seafood selection at her stall in 7th Street Public Market. The silver- and gold-tinged cans come in cardboard boxes with elegant logos and fish-themed artwork pretty enough to keep on display. Inside, fish—sardines, salmon, and, yes, tuna—can be simple or seasoned. The spiced sardines, for example, by Portuguese brand Jose Gourmet, lay without heads or tails below pickled vegetables. They have a fresh shimmer and leave a lingering spice, and pair well with a toasted baguette.
The Spanish octopus in oil with onions helps ease you into the idea of seafood from a can; it's tender and flavorful and nearly as good as what you'd find on a plate on a tapas menu—though with a $17 retail price tag, it's nearly as expensive. The tin on the tuna fillets rolls back as you open it to reveal large pieces of tuna, not shards of what you hope is meat in a traditional American can.
Klebaur believes that tinned seafood is gaining popularity, and on a recent night at Crêpe Cellar, I saw she might be onto something. Under the charcuterie section, the NoDa restaurant's menu had small box labeled "Cans," and listed were Jose Gourmet sardines and trout pâté, served proudly in tin.