Tips for Choosing Your Invitation Style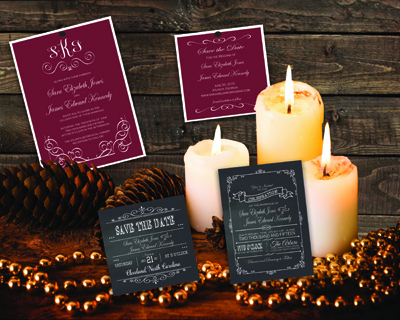 We asked Laurie Louis, owner of LaurieLouis.com to give our brides some tips on how to choose your invitation style. Here is what she had to say:
Wedding planning can be overwhelming. Here are a few things to consider prior to sitting down with an invitation company to design your wedding invitations. The two biggest things to consider are budget and style. There are several different printing processes for modern day invitations. Learn about the most popular below.
---
Digital/Flat Printing:
This is generally the best option if you are on a budget and perfect if you are in a hurry. The ink lies flat and generally works better on smooth paper. Because of the way it's printed, the ink colors and designs are limitless.
Thermography:
Thermography is a middle of the road option similar to engraving but a cheaper version. Thermography uses special ink mixed with a powder compound that is raised with heat. It produces a "glossy" look instead of the engraved "matte" look and is not as detailed as an engraved invitation, but it also works as a great alternative to the higher cost engraved invitation.
Foil Stamping:
Foil Stamping is a process that includes heating foil to create dimension. Taking foil, heating it and stamping it onto the paper, creates the stamping. Plates are generally created of each color to build the design. Because of the process, foil stamping tends to be costly but if you want gold or silver in your design, it tends to be the best option.
Letterpress Printing:
Letterpress printing is the opposite of engraving in that the design is pressed into the paper instead of a raised design. Letterpress generally uses 100% cotton type paper and a plate is created for each color. Because of the detail of the design and cost, it is generally suggested to limit your colors to two or three.
Engraving:
This is the most traditional and oldest form of printing. Lettering and designs are etched into a metal die, inked and then pressed against the paper. Unlike thermography, the lettering is sharp and intricate and the price is costly. If your wedding is one of elegance and sophistication and you can afford the price, you should consider engraving.
---
One final note to think about prior to sitting down to creating your design is to think about your wedding theme and colors. Do your due diligence prior to your meeting by looking at designs and inspiration boards so that you have an idea of what you are looking for. Not all invitation designers do all processes but whether it's rustic, traditional, beach or formal and your colors are black and white, a hint of gold metallic or blue and navy, there is a printing process for you. Good luck in your wedding planning!