Tips for stress-free wedding planning
After chatting with recent brides, we picked a few of our favorite tips on how to keep the stress of planning a wedding from getting the best of you.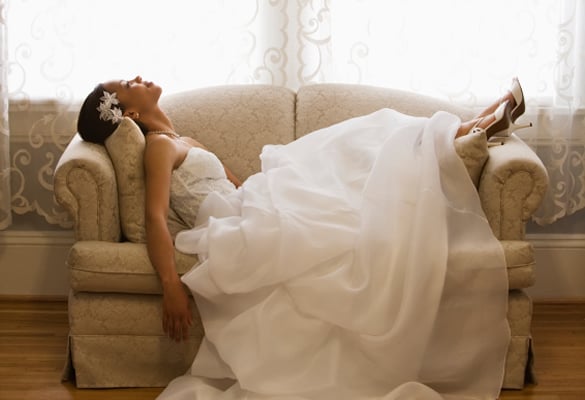 If planning a wedding has you in a haze, you're not alone. It's surprisingly common for brides to feel overwhelmed during this magical time in life and we're here to assure you that's OK! Being engaged is wonderful but it would be naïve to think that it comes without its share of stress and worry. So grab a cup of coffee, take a few deep breaths and sort through our tips we've gathered from recent brides on ways to manage the stress of wedding planning and ensure that everyone involved has a happily ever after.
Get some alone time.
We can't stress this enough. It's important to take a few hours (or at least a few minutes) to yourself. It's easy to get overwhelmed with people to meet, things to do and parties to plan. Sit down, take some deep breaths and clear your mind. Remember what's important.
Do what makes you happy.
For a few hours, stop thinking about taffeta, dahlias, color schemes and fondant. Remember what you did in your free time before you got engaged? Do that. Whether it's baking, painting, shopping or reading – do it!
Get a massage.
As if you needed an excuse to head to the spa! Massage therapy has a plethora of proven benefits including reducing stress, alleviating pain, improving sleep and boost immunity. Take an hour to yourself and your body will thank you.
Delegate tasks.
"Type A" brides, I'm talking to you. Don't be afraid to let your mother, maid of honor or sisters help with the tedious parts of wedding planning like stuffing envelopes and confirming vendors. It's OK to ask for help.
Exercise.
Taking care of your body is crucial. Aim to get physical exercise four to five times a week, even if it's only for 20 minutes. Exercising releases endorphins which lower stress levels. So when your guest list is nearing 200 and your venue only holds 150, lace up your shoes and go for a run.
Spend one-on-one time with your fiancé.
It's easy for your conversation to turn to wedding talk every time you're with your husband-to-be. Fight the urge to bring up the latest development in floral arangments and instead make it a point to schedule a date where you table wedding discussions for the night.
Journal.
Writing is therapeutic. Buy a journal and catalog your engagement journey – every detail from the shoes you tried on to the way you're having a tough time choosing bridesmaids. It will help get things off your mind for a while and will serve as a fun memento of engaged life for years to come.