To Council Members Who Voted For RNC: Any Regrets?
'Yes' vote takes on new meaning after 'Send her back!'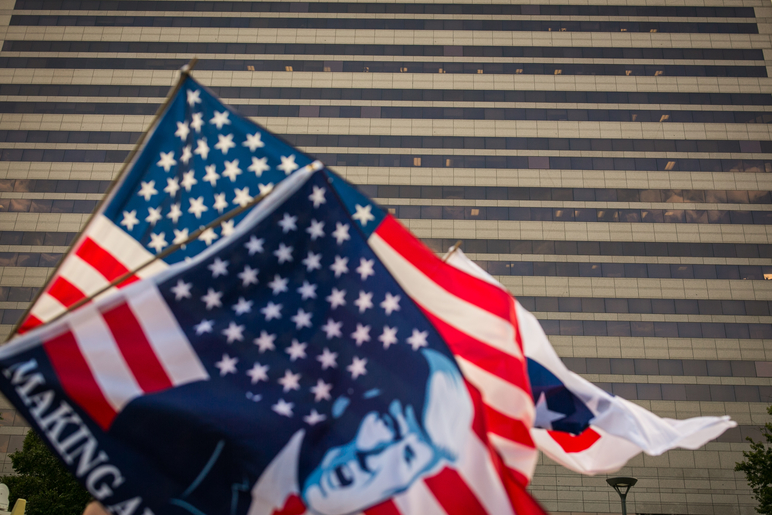 This post has been updated.
The Charlotte City Council's 6-5 vote to accept the bid for the 2020 Republican National Convention happened July 16, 2018, a year ago this week. One year and one day later, at a rally on the East Carolina University campus in Greenville, North Carolina: "Send her back!"
I thought it might be instructive to ask City Council members who voted "yes" if they had second thoughts.
"No, I don't have any second thoughts," said Greg Phipps, one of four council Democrats who joined the two Republicans, Ed Driggs and Tariq Bokhari, in the majority vote. Phipps is not running for re-election in November. "I stated that night when I voted—and I still feel the same way—that democracy is something that's bigger than Donald Trump or the Republican Party."
The chant in Greenville, he said, is "part of democracy. They can say things. Their speech is protected … I think you have to resolve that at the ballot box. It's offensive and racist, but it would have been offensive and racist wherever it was."
Sure, but RNC 2020 isn't happening anywhere else—it's happening here, from August 24-27 next year, and the potential for similar scenes, or worse, is apparent. Justin Harlow—among the five council members, all Democrats, who voted "no" on the RNC bid—told WFAE Thursday that he'd be working this weekend on a resolution that condemns Trump's tweeted and verbal attacks against U.S. Rep. Ilhan Omar of Minnesota and three other freshman members of Congress, all of them racial minorities and female. But despite some rumblings among Charlotte Democrats to rescind the RNC invitation, it didn't appear likely Friday.
"Things like (the "Send her back!" chant) are evidence of the very unfortunate direction our national politics have taken, and there's no doubt that the president is inflaming those," Driggs told me. Nonetheless, he said, he trusts assurances from Charlotte-Mecklenburg Police that they can handle the RNC crowds, and believes a successful convention under such fraught circumstances would enhance the city's reputation. "I wouldn't be pollyannaish and say we didn't recognize the risk," Driggs said, " but the judgment was, on balance, was that it would be something beneficial to Charlotte."
Of the council members I've been able to reach from the "yes" side of the vote—I've not heard back from Bokhari or Democrat James Mitchell, and Democrat Larken Egleston and I have been playing phone/text tag—Mayor Pro Tem Julie Eiselt seemed most conflicted; when we spoke Thursday evening, she told me she was struggling to accept what she'd heard from the crowd in Greenville. Eiselt issued a statement Thursday evening that said, in part, "I believe that Charlotte is a city that is inclusive, accepting and welcoming to all people, even to those with whom we disagree … However, the behavior of the president, and his supporters who chanted 'Send Her Back' at yesterday's rally in Greenville, was quite simply reprehensible."
When we spoke by phone an hour or so later, Eiselt's voice occasionally shook with emotion. "I think he's a despicable human being, and (Republicans) have to figure it out. It's not our convention, it's their convention," she told me. "I supported it because I think there are some reasonable people in the Republican Party. Maybe I'm wrong, but I still believe that."
I pointed out that while it may be the Republicans' convention, the council still owns its vote to accept it—and that condemn the actions of people when you're welcoming them to your city is an awfully fine line to walk. "I get that," she said. Eiselt ran for office largely on public safety grounds, and she said, as Driggs did, that she trusts CMPD to keep people safe on Charlotte's streets at convention time. "When the chief of police says we've got this," she said, "I'm not sure it's my place to say they don't."
She paused. "I'm not really sure what else to say. This isn't political for me. I was unaffiliated my whole life before I came here. Public safety is still my concern," she said. "That might not be the best answer, but it's the one I've got."
UPDATE, 11 a.m.: Mayor Vi Lyles issued a statement via Twitter this morning that reads, in part, "As an inclusive city that welcomes all people, we open our doors to many, including those attending the 2020 RNC. However, the city of Charlotte is no place for racist or xenophobic hate speech, and we simply will not tolerate it." The statement makes no mention of the possibility of rejecting the RNC.